Rwandan coffee washing stations face another year of dwindling margins as low volumes and high cherry prices conflict with expectations from international buyers.

Early signs of strong farm-gate prices are starting to show, with farmers fighting over saplings to increase productivity.

In this blog, we look into the reasons why the price of Rwandan coffee is staying strong as the futures market shows signs of cooling down and the impact of this conflict throughout the supply chain.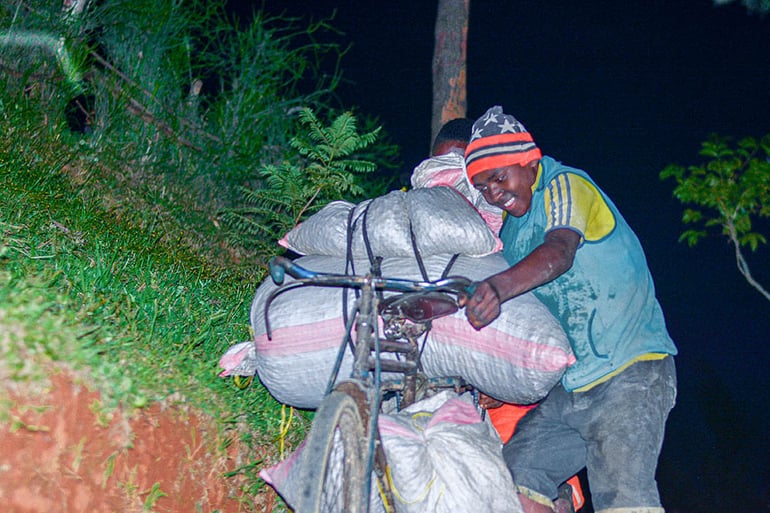 Scenes from the previous harvest at Gasharu CWS member farm (Photo: Gasharu Coffee)
The New Season is Nearly Here

Fully Washed coffees are already being processed and dried in Rwanda ahead of the sales window in June. There will be less coffee available this season, up to 50% less output in some washing stations, as 2023 is an "off-year" in the country's biennial cycle.

Late rainfall between September and December 2022 also affected productivity. On the positive side, the second most important rainy period in Rwanda between March and May brought good weather to support bean development.

A smaller production also encourages farmers to improve selective picking to increase their earnings as they get premiums according to quality. So cup scores are expected to be good as a result.

The number of bags on Algrano shouldn't change from previous years. But we'll have more variety from new sellers offering Anaerobic and FW lots, including a coffee grown on Gishamwana Island in the middle of Lake Kivu.

Roasters can already pre-order samples below.

High Cherry Prices vs Lower Market Prices

Cherry prices are high for the second consecutive year and concerns have been raised by the three exporters consulted for this blog: Clarisse Ilibagiza Nzungize of COOPAC (representing Gishamwana Island, Kabirizi Washing Station (Organic), Nyamwenda Washing Station and Rulindo Washing Station), Jean Luc Rwamasirabo of Jerika Coffee, and Valentin Kimenyi of Gasharu Coffee.

The first two have been recently onboarded and will be offering coffee for the first time in 2023.

Ongoing season at the shores of Lake Kivu managed by Coopac (Photo: Coopac)

Market prices have dropped significantly from the previous season. In May 2022, the ICO Indicator Price for Other Milds (Rwanda's category on the commodities market) averaged 260.42 cents of dollar per pound. In January 2023, the average was 206.76 cents.

But in February, NAEB announced that it was going to maintain the minimum cherry price at 410 Rwandan francs per kilo, the same as last year and 65% higher than in 2021 (Rwf248/kg).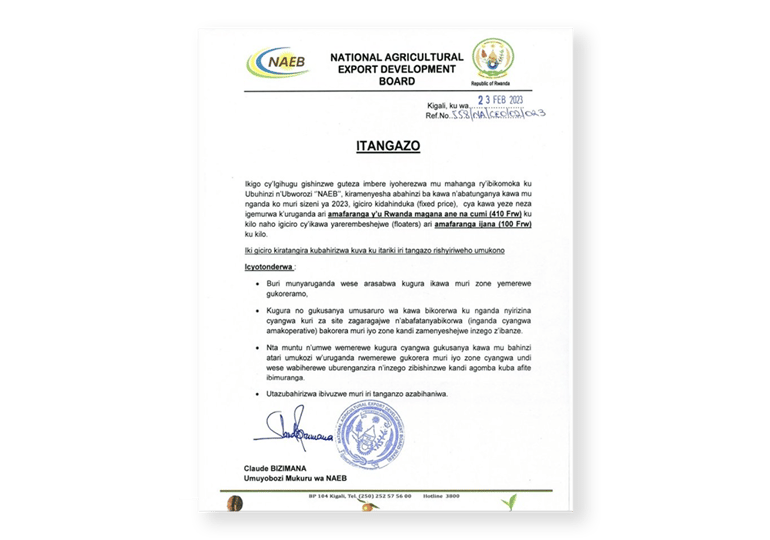 NAEB announced that it would maintain farm-gate prices to 2022 levels

As we saw in 2022, the minimum price is quickly surpassed when volumes are low. Scrambling to secure cherries, competing washing stations are already forking out up to Rwf650/kg. Multiply that by seven and you'll get a farm-gate price of around US$4.00 per kilo of green…

NAEB's decision to keep the 2022 farm-gate price was based on the inflation of goods and services, which averaged 15.3% from January 2022 to January 2023. It was also influenced by an upward trend in market prices, which have been recovering since hitting an 18-month low in the first month of the year.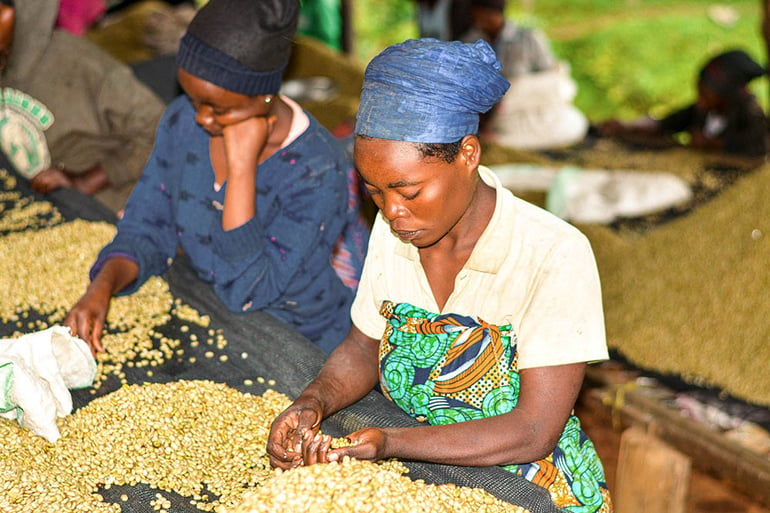 High prices encourage farmers to pick better and plant more (Photo: Gasharu Coffee)
Food, Fuel & Fertiliser Inflation

Inflation in Rwanda is only starting to decrease. In April, the government reduced the price of fuel, scrapped the VAT on maize flour and rice and fixed lower prices for potatoes, three staple food items. This is part of a wider tax reform recently approved to tackle the cost of living crisis and boost the economy.

For washing stations, there is still a question of whether fertiliser prices will decrease in 2023. Exporters were paying high fees to receive their fertiliser allowance from CEPAR (Coffee Exporters and Processors Association of Rwanda), which has only been reduced in May 2023.

The association purchases fertilisers, mainly NPK (nitrogen, phosphate, and potassium), at a discounted rate and distributes them to member washing stations according to the volume of containers they export. The washing stations then redistribute the fertilisers to farms.

This means that even though fertiliser prices don't influence farm-gate prices in Rwanda, the increase is passed onto the cost of green by washing stations as part of their cost structure alongside electricity, fuel and exporting fees.

Such price pressures, combined with the impacts of inflation on the buying North, are pushing Rwandese washing stations to source lower grades to offer at cheaper rates. As they can't reduce the price paid for cherries, they're having to reduce their margins to stay competitive.
Washing stations are being asked to ship all FTO before August (Photo: Jerika Coffee)
Fairtrade on a Tight Schedule
Beyond prices, Fairtrade-certified washing stations are also concerned about the recent increase of the Fairtrade minimum price to US$1.80 per pound, 40 cents per pound more than the previous price.

Buyers of FT coffees are in a race to sign all contracts before August when the new minimum will be implemented. This puts pressure on exporters, who normally sell coffee throughout the year.

They also expect certain buyers to switch from Fairtrade to Rainforest Alliance as there is no bottom price.


As explained by Fairtrade, "For all types of contracts (including fixed price contracts and price-to-be-fixed contracts) signed on or after 1 August 2023, the new Fairtrade prices must be respected".

The organisation clarifies that price-to be-fixed contracts signed before 1 August 2023 will respect the Fairtrade Minimum Price of $1.40/lb, not the new price of $1.80/lb.
Younger Trees Coming to Production
The pressure might ease in 2024, but it's still too early to say. Current cherry prices have encouraged farmers to embrace better practices to improve quality and productivity. Washing stations have also been distributing a large number of saplings over the last two years.

RAB (Rwanda Agriculture Board) has been incentivising the replacement of old trees, one of the biggest barriers to better productivity in the country, for the new RAB C15 variety.

On top of being resistant to rust and coffee berry disease, the hybrid of Kent and C canephora displays great potential for quality at high altitudes.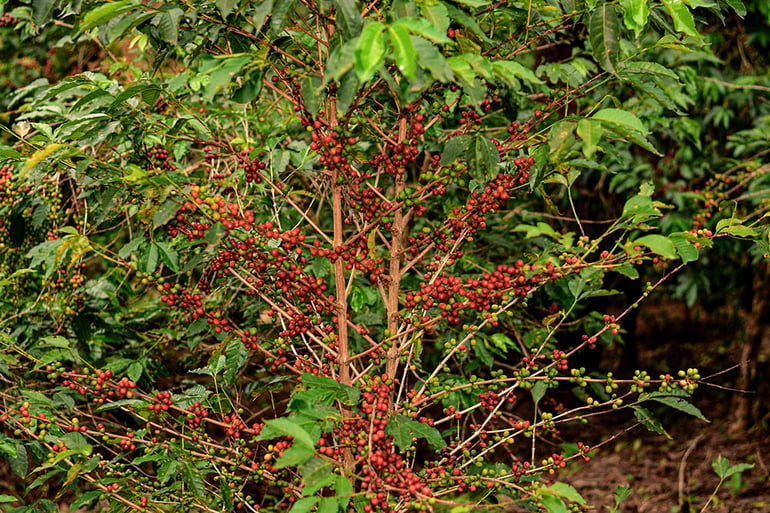 A new wave of young trees should come into production in the next few years, boosting Rwanda's productivity (Photo: Gasharu Coffee)

In a similar trend already seen in Ethiopia, exporters of specialty coffee are buying more land to expand their production with more control over the quality, making them more competitive in the micro-lot and the competition markets.

We'll have to wait a couple more years to see the full effect of this move and higher yields due to replanting. In the short term, it seems like the price of Rwandan coffee is staying put and the expected price slump of 2023 proves to be more of a hiccup than a trend.
Rwandan Coffees on Algrano

Harvest: February to June
Offer period: June to August
Shipment: August and September
Warehouse release: From January 2024


This blog was amended on May 11th. Fairtrade contracts are being contracted and fixed before August, not shipped as the previous version stated.