Mount Elgon's region is one of the three major Arabica-producing areas in Uganda, next to the North-West and the South-West of the country. The extinct volcano, located on the border with Kenya, is home to two smallholder cooperatives that are now Verified Sellers on Algrano.
In this article you'll be able to:
MEACCE and BIACE Basic Facts

Created in 2017, Mt. Elgon Agroforestry Communities Cooperative Enterprise Ltd (MEACCE) is located in the district of Mbale and has around 3,000 members. Right to the East, in the district of Bududa, is Bushika Integrated Area Cooperative Enterprise Limited (BIACE), founded in 2010 and with just over 500 active members.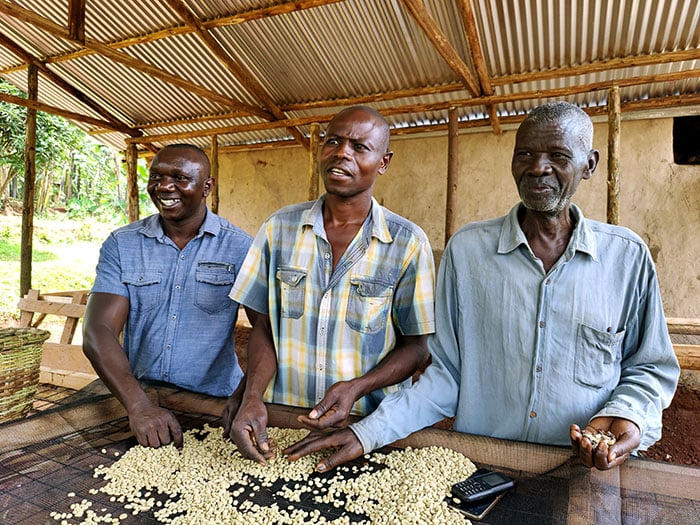 Mt. Elgon Agroforestry's team in Mbale (Photo: Algrano)


What Is Bugisu Coffee?
Bugisu is the name of a grade or classification of Washed Arabica in Uganda that specifies a terroir. It refers to coffee beans produced in the sub-regions of Bugiso (also written Bugishu in some cases) and Sebei.


Coffee Supply Chain in Uganda

Both Mt. Elgon Agroforestry and Bushika are secondary-level cooperatives. This means that they are owned by a number of primary cooperatives. All decision-making happens at general assemblies, and elected representatives of coffee-farming communities are deeply involved.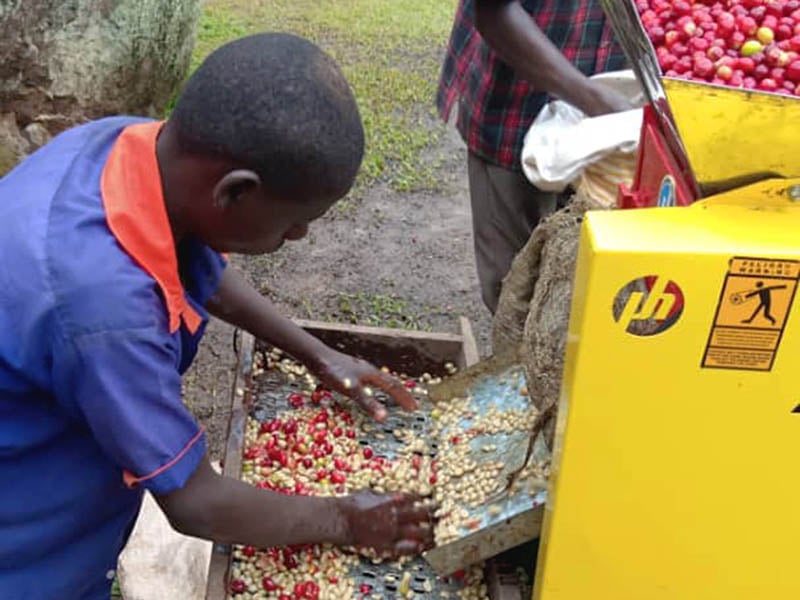 Coffee farmers sell either cherry or parchment, washed by themselves, to coops (Photo: Mt. Elgon Agroforestry)
---

As marketing bodies for base-level organisations, these two cooperatives have two main jobs: to find green coffee buyers for their members and to invest all profits back into their communities in the form of social and environmental projects.

Despite the recent growth in the popularity of Uganda's coffee, smallholders still struggle to make a living - and this is not because of coffee prices alone.

According to the Ugandan Coffee Development Authority, coffee growers have less than 1 hectare of coffee. Their yields vary between only 500 kg and 1,600 kg of coffee per hectare.

See More Facts on our Uganda Origin Page.

Why Cooperatives Are Important for Small Coffee Producers

Such producers have two main buyers for their beans: coffee merchants who come and go opportunistically (oftentimes looking for cheaper coffees they can smuggle into Kenya), and cooperatives.

The second option comes with many additional benefits. Cooperatives certify their members to get better prices and invest in farmer training, product development and income diversification.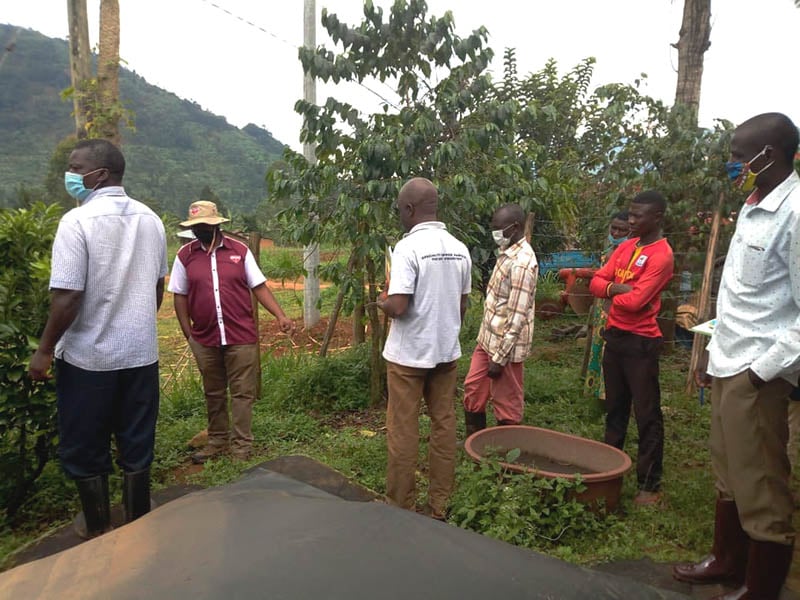 Providing training to smallholders is one of the primary functions of cooperatives in Uganda (Photo: Bushika)
---

They also produce their own organic fertilizers to distribute to the community, funnel external resources and promote initiatives to improve the finances of families, like savings groups.

In other words, cooperatives are fundamental for small coffee producers in Uganda. This is why we are happy to welcome Mt. Elgon Agroforestry and Bushika to the platform this October. Their samples start to arrive now, as the peak harvest in high-altitude farms kicks in!

What You Need to Know About the 2022-23 Coffee Harvest in Uganda [Harvest Report - Free PDF]


"We see Algrano as a joint market initiative," starts Luke Wepukhulu, Mt. Elgon Agroforestry's Operations Manager.

"I and the board are convinced that the marketplace is a very good opportunity for us. We will be exposed to a big number of buyers. Maybe they wouldn't have a lot of confidence in us because we are new. With Algrano, it can be easier to secure a contract.


⛴️

Uganda Shipping Information

Sales: from October to mid-January 2023
Shipping period: February to April 2023
Warehouse releases: available from May 2023
Destination warehouse: Vollers Bremen (DE)

>>For inter-warehousing timelines, click here.




Registered Female Coop Members Get More Money

A great example of the work done by cooperatives in Uganda is the premium they pay for female parchment. Mt. Elgon Agroforestry is very much aware that women do most of the work in the supply chain and get the least payback. In Uganda, they can't even own land.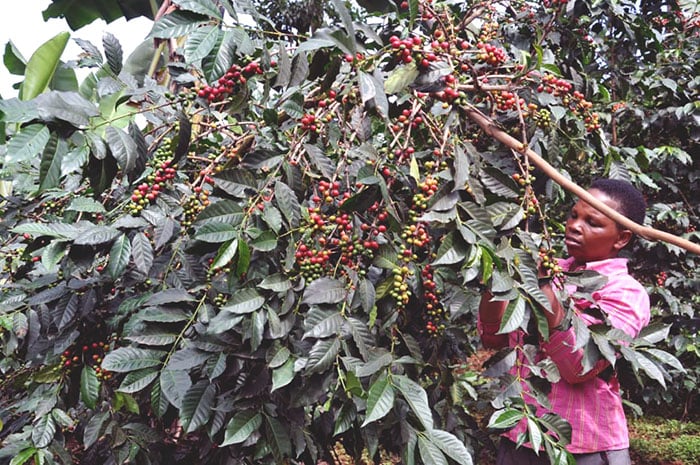 When husbands give coffee bushes to their wives, they can have their own money (Photo: Mt. Elgon Agroforestry)
---

With a price premium of around 100 Ugandan shillings per kilo of cherry, Mt. Elgon Agroforestry encourages men to give some coffee bushes to their wives. "They see a chance that more money will come in," says Luke.
How Much Is a Kilo of Coffee in Uganda?
According to Mt. Elgon Agroforestry, the price per kilo of cherry in the 2022-23 season varied from 2,000 to 2,500 Ugandan shillings. This is about US$0.52 and US$0.65. 100 shillings doesn't seem to be much in comparison. But it's enough to incentivise men to give up coffee trees to their wives…


To get the premium, women have to be registered members of the cooperative with their own coffee bushes. The money is paid to their hands and belongs to them. If they didn't demand this, Luke believes husbands would just send their wives with coffee they didn't own.

"Women are better planners than men in the family," says Luke, whose wife's grocery shopping lasts much longer than his. "They should be empowered financially and in terms of leadership."

Coffee Prices Series [Includes Where to Go for Price Discovery]

The cooperative also targets women for their savings groups in villages. By learning how to manage earnings and savings, they have more money for medical bills, school fees and their own expenses.

According to Luke, this changes how men perceive women: from a financial burden to business partners.

Agroforestry and Other Sustainable Farming Practices

Another point of focus for the cooperatives is agroforestry management. Both Mt. Elgon Agroforestry and Bushika invest in intercropping, the simultaneous cultivation of various crops in the same space.

This improves soil fertility and biodiversity. It also supports farmers with income diversification.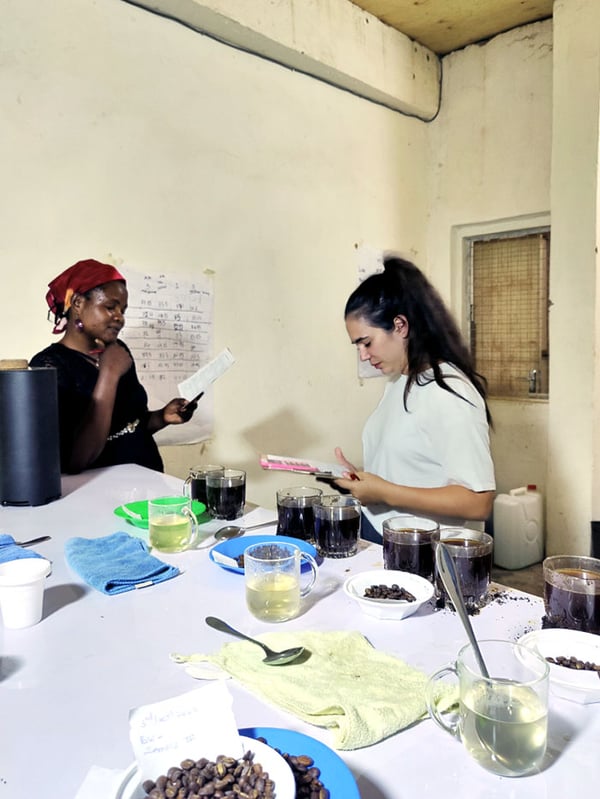 Intercropping improves the biodiversity of Ugandan coffee plantations and brings extra revenue (Photo: Algrano)
---

Having started with a focus on dairy, all members of Bushika have a least one of two cows. Bosco Agufibo, Manager of Quality and Certifications, explains that this is a great way for the cooperative to produce organic fertiliser for the farmers.

"Inputs are very expensive, so we normally promote the use of local materials which are available. Bushika has a program to support the production of fertiliser from cow manure. First, the farmers collect the dump. Then we put it into a biodigester to produce a liquid we give back to them. This helps to stabilise production."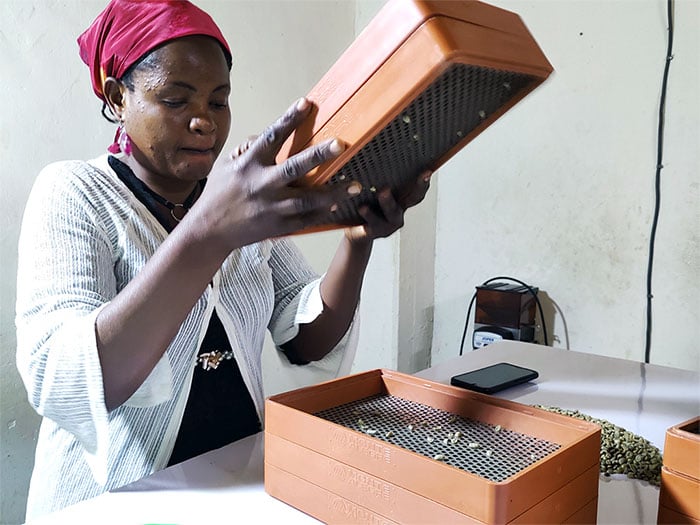 With the growing demand for specialty coffee in Uganda, coops are investing in quality (Photo: Algrano)
---

Coffee Quality: How They Grade and Process Beans

Both cooperatives buy and blend coffees from their primary groups. They buy mainly parchment, which is processed by the smallholders themselves, or cherry. The difference between lots is mainly about screen size.
How Is Coffee Graded in Uganda?


The official grading for Arabica in Uganda focuses on screen size and defect tolerance:
| | | |
| --- | --- | --- |
| Classification | Screen Size | Defect Tolerance |
| | | |
| | | |
| | | |
| | | |
| | | |
| | | |
| | | |
Other grades include UG (ungraded), Triage and Mixed Arabica. These refer mainly to dry milling residue.

Ugandan coffees are also referred to as Drugar (Natural Dry Uganda Arabica), Wugar (Washed Uganda Arabica other than Bugisus) and Wur (Washed Uganda Robusta).


Investing in Raised Beds for Natural Coffee

But the cooperatives are already investing in processing infrastructure to cater for the demand of specialty coffee buyers.

"Today, most buyers prefer Arabica naturals, which we are currently not doing," says Luke. He says that Mt. Elgon Agroforestry wants to invest in natural process micro-lots.

"We received a grant from a customer to put towards drying facilities. We're also investing in training staff for coffee selection, and training farmers on quality assurance and economics," he explains. "We are very determined."

Buying cherry will allow the cooperative to have more control over the final quality. However, it can be more expensive than buying parchment once all the costs are added down the line.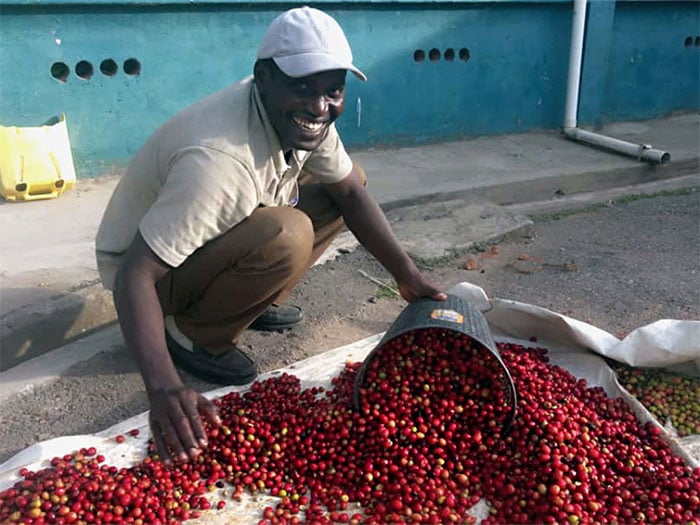 All the work towards quality developed by coops is endangered by the activity of local merchants and speculators, that buy anything they can get (Photo: Mt. Elgon Agroforestry)
---

Bushika can already produce naturals but their demand is irregular. For this reason, Bosco explains that they only separate coffee for dry processing upon request.

The cooperative is currently more focused on sustainability credentials. They became Fairtrade earlier this year and are about to receive their organic certification!

Demand for Ugandan coffee is growing and the cooperatives are worried about competition with local merchants. These are buyers that go to the farm to buy coffee cash in hand, which farmers can hardly resist.

They come and go, buying coffee when it's cheap and holding it to sell off-season or when the price goes up. This results in inflation, raising the price of all coffees.

Though this is not necessarily bad for producers, it can squeeze the operational margins of coops. "It's a case of selling to survive," Luke reflects.


☕

Results of the Onboarding Samples
Coffee: Bushika AA, 1500-2300m
Score: 87.25
Description: Stewed fruit and flowers on the nose.Tastes like an apple in your mouth! A thousand shades of stone fruits: apple, peach, apricot, plum, and pear. Super orangy. The body is smooth and tea-like, elegant and soft. The acidity is mild and lactic.

Coffee: Bushika A, 1500-2300m
SCA score: 85.5
Description: Aroma of lemongrass and citrus fruit. Tastes like a cooked red apple with hints of floral (chamomile), white tea, and dried apricots. Very balanced and coating. The acidity is mild and malic and the aftertaste suggests dried fruits, with lots of sweetness.

Coffee: Mt. Elgon Agroforestry A+ Organic
SCA score: 85.0
Description: Citrusy and crisp with notes of red fruits such as red currant and cranberry. Also has notes of green tea and lemon. Nice and smooth, with medium body and medium citrussy acidity which is well balanced, creating a harmonious cup.

Coffee: Mt. Elgon Agroforestry Plot 24/26 B+ Organic
SCA score: 84.75
Description: Very pronounced in the nose with an aroma of red berries, red flowers and stone fruits, which translated into the cup. Also tastes like milk chocolate. The acidity is medium-high, a mix of citric and tartaric (when cooled down), and the body is medium-high.


New samples will arrive throughout October 2022. If you want to be notified via email, go to /coffees, filter the list for Uganda and click on Save Search!