El Salvador is a divided country. Political conflicts such as an agrarian reform and a civil war, combined with low market prices, left the agricultural sector scarred. There are currently seven coffee producer guilds operating independently (many times in competition) in the country. One of them stands out for its efforts to unify the sector and bring growers together through education. That group is AMCES (Alianza de Mujeres en Café de El Salvador), the local chapter of the IWCA (International Women's Coffee Alliance), currently offering their coffees on the El Salvador Discovery.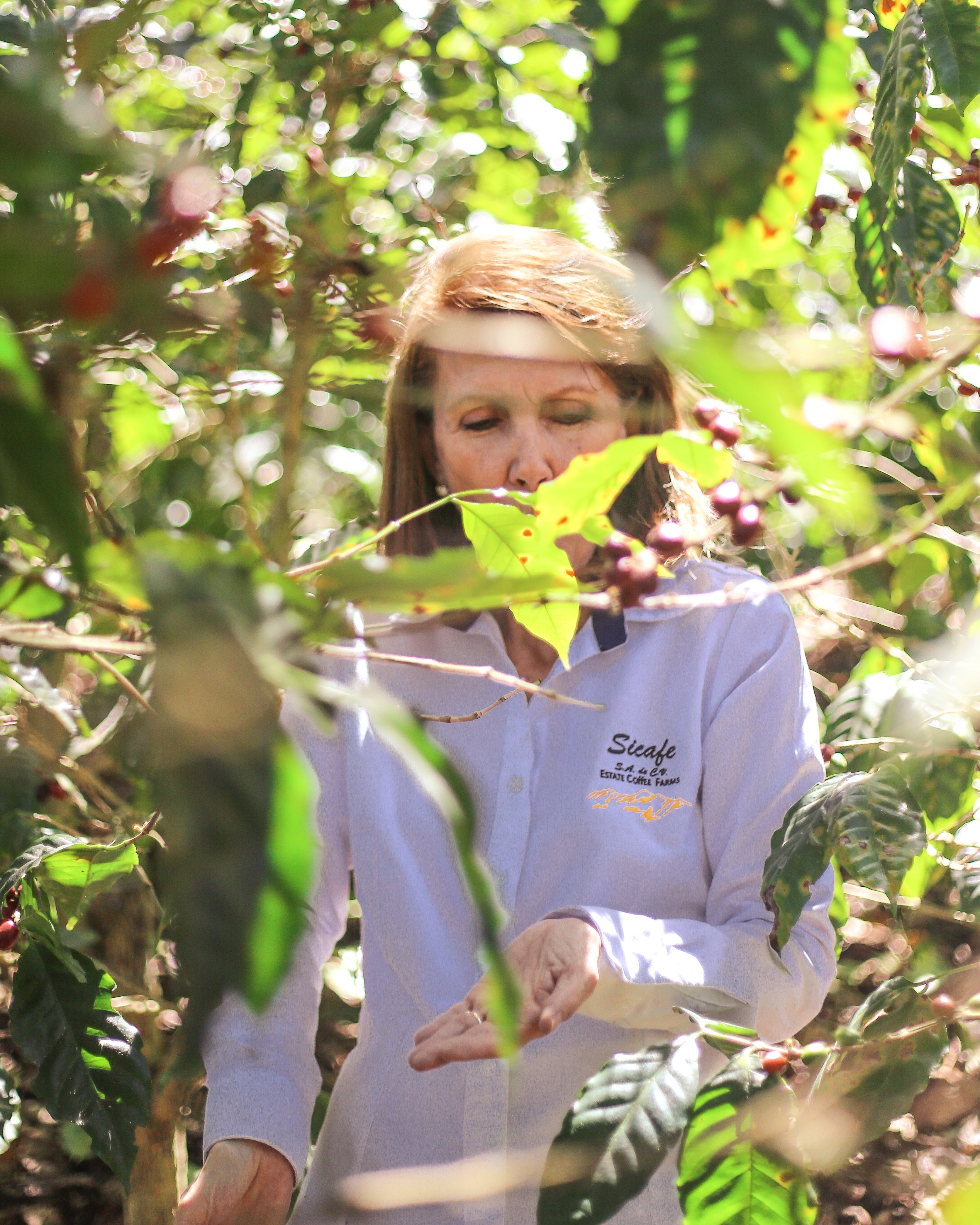 Women were invisible in El Salvador's coffee sector until the 2000s
Looking back to El Salvador's history
Ines Maria Ortiz, former director of Renewable Resources for El Salvador's Environment Ministry, is one of the growers who volunteer at AMCES. She explains that, in order to understand the current challenges faced by coffee producers in the country, we need to look back. They are rooted in the country's history and go back to the 1950s, after the two World Wars. Ironically, that was also coffee's golden age, when prices skyrocketed due to the soldiers' new taste for the drink. "At the same time, many start growing coffee in medium and lower areas. Offer surpassed demand and prices started going down," she says.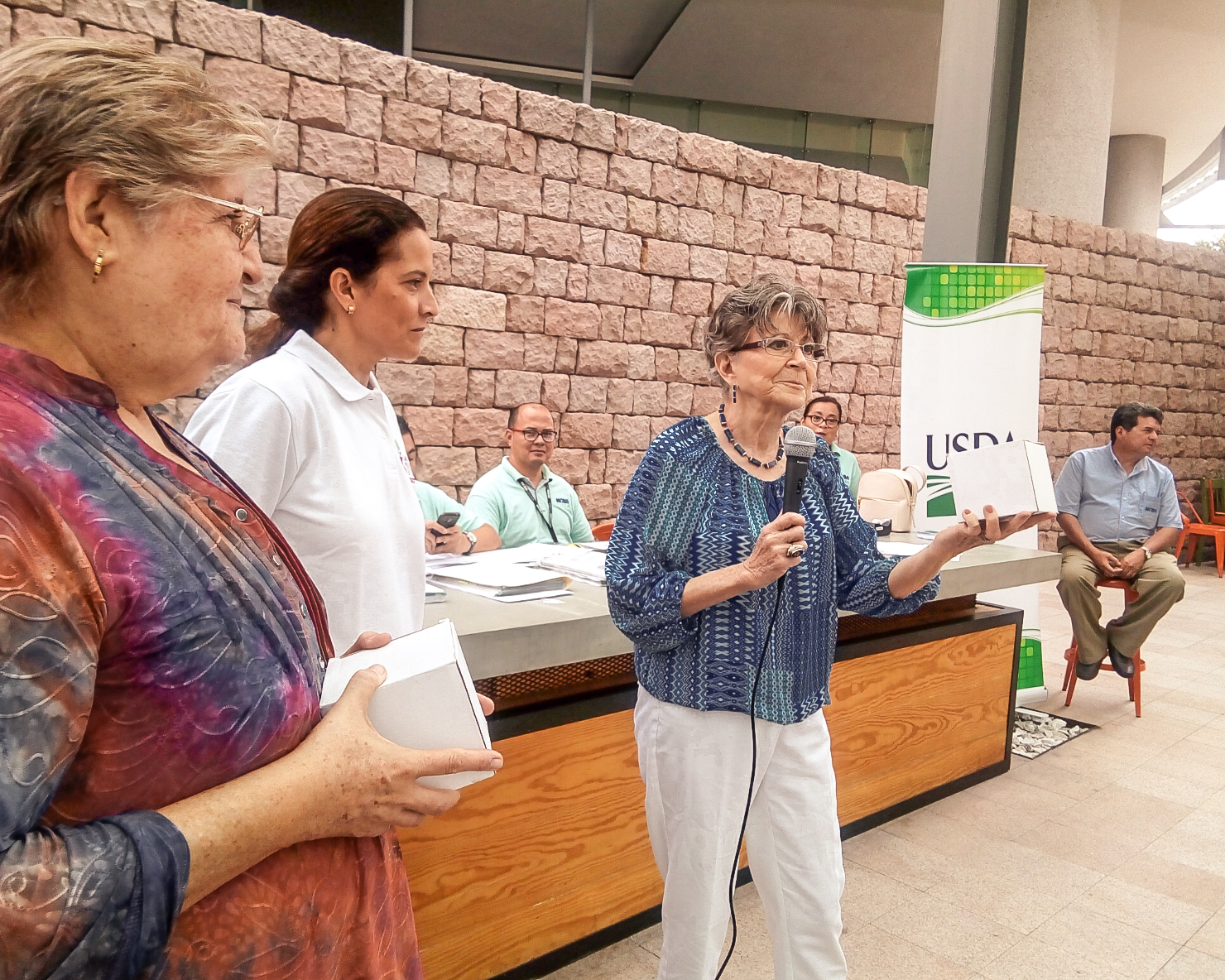 Ines (left) during an event to launch the Women in Search of Quality initiative. Next to her (centre) is Lily Pacas, former board member and now Executive Director at the Salvadoran Coffee Council

According to Ines, the world's increase in supply led by Brazil drove prices slowly down, a trend reinforced by Vietnam's novel robusta production. "The producers that had joined the coffee sector in the 1950s and didn't have established relationships started going into debt." In the 1980s, when the government introduced the agrarian reform, many medium-size growers lost their land. "The last phase of the reform, called Land for the tiller, included the expropriation of small plots a producer would lease to others." Right after the reform came the civil war.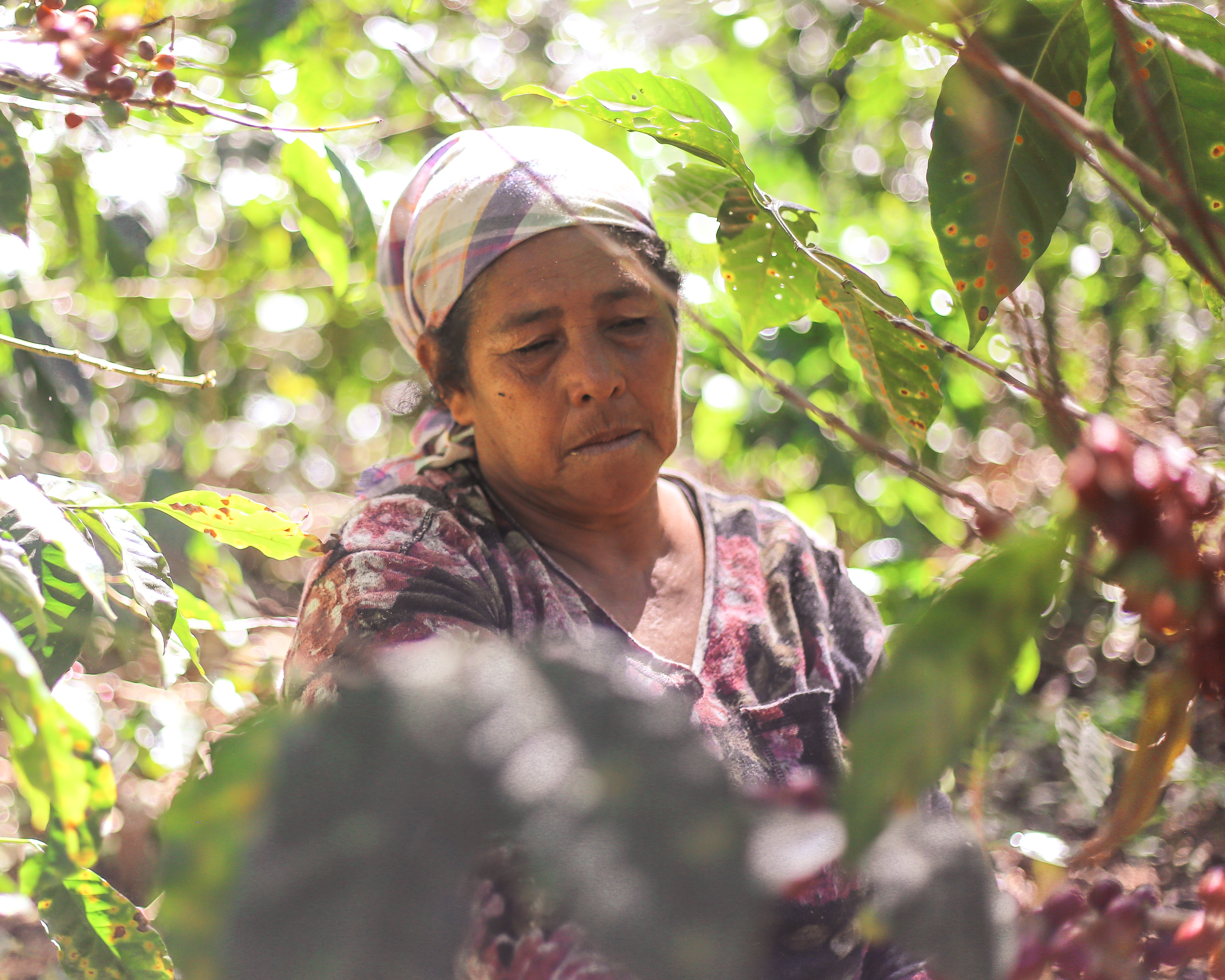 Debts and lack of financial management affected most small and medium-size growers
How debt and politics led to division
The war lasted from 1979 to 1982 and broke the country's economy. The debts of coffee growers were such that they had to mortgage their land to get loans. "I myself had to take a loan and we all went under the D credit category. That meant we couldn't get more credit from anywhere else," Ines recalls. "The initiative came from the Banco Multisectorial de Inversiones, now the Development Bank." Some coffee associations had become politicized and the government took a step back.
By the 2000s, coffee-growing had become so risky that, according to Ines, "the love for coffee started to wane". When the leaf rust outbreak hit Central America in 2012, "president Mauricio Funes didn't declare a state of emergency so that the government didn't have to allocate funds to tackle the crisis. There was no investment and around 60% of the plantations were lost." Debt was already forcing producers to abandon their lands and that was the final straw. The associations representing growers became very fierce in protecting their own interests and aggressive in competition.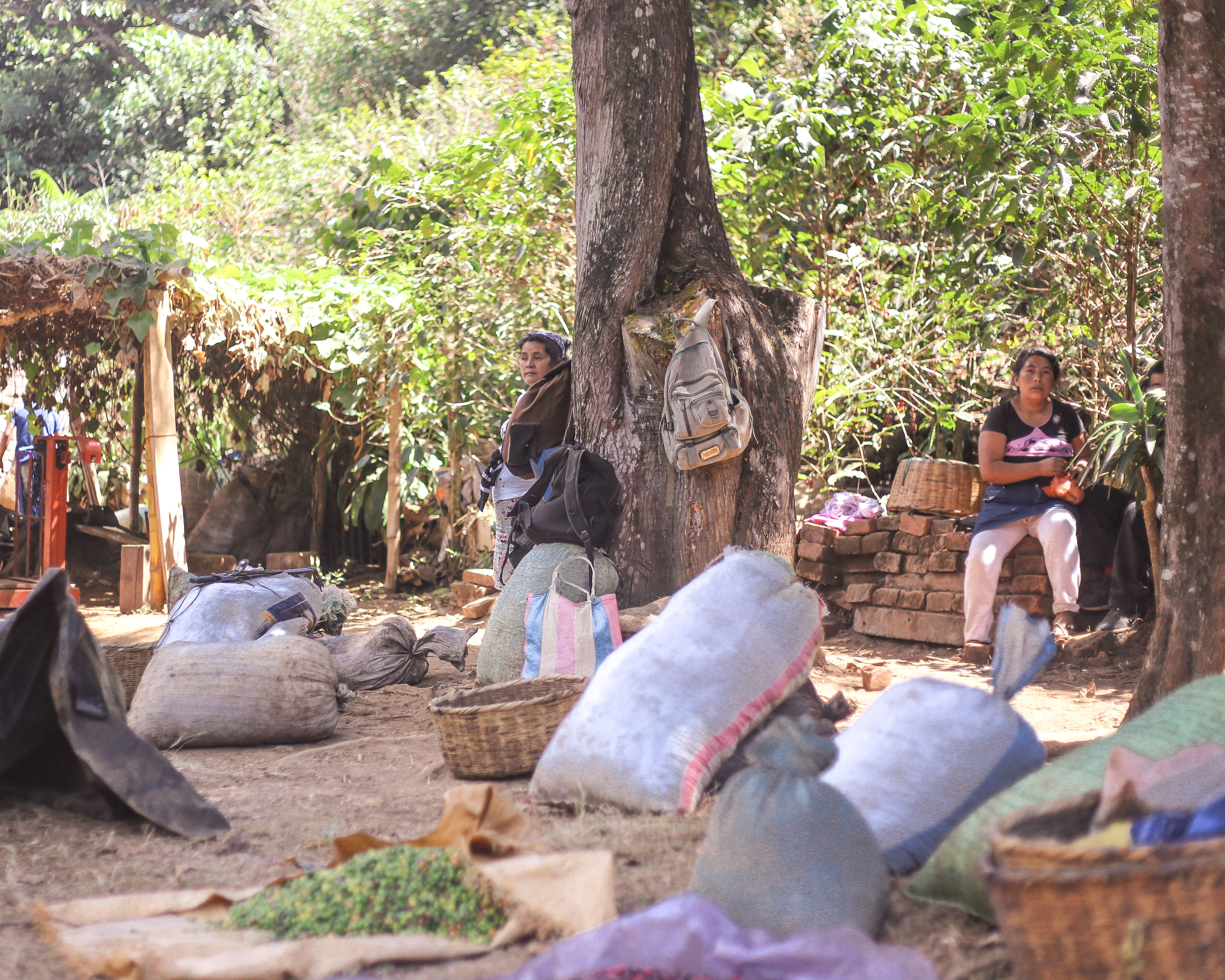 With little to no way to access credit, many growers left their farms
Leading education to create community
Female producers were virtually invisible before the 2000s despite amounting to 35% of the producing force. AMCES only obtained legal status in 2008. However, the guild has been standing out from other associations ever since. Less politicized than its counterparts and led by a group of businesswomen involved in managing and commercializing their family's farms, AMCES is one of the most active coffee guilds in El Salvador. They organize multiple projects in leadership building, education from seed to cup and climate change mitigation.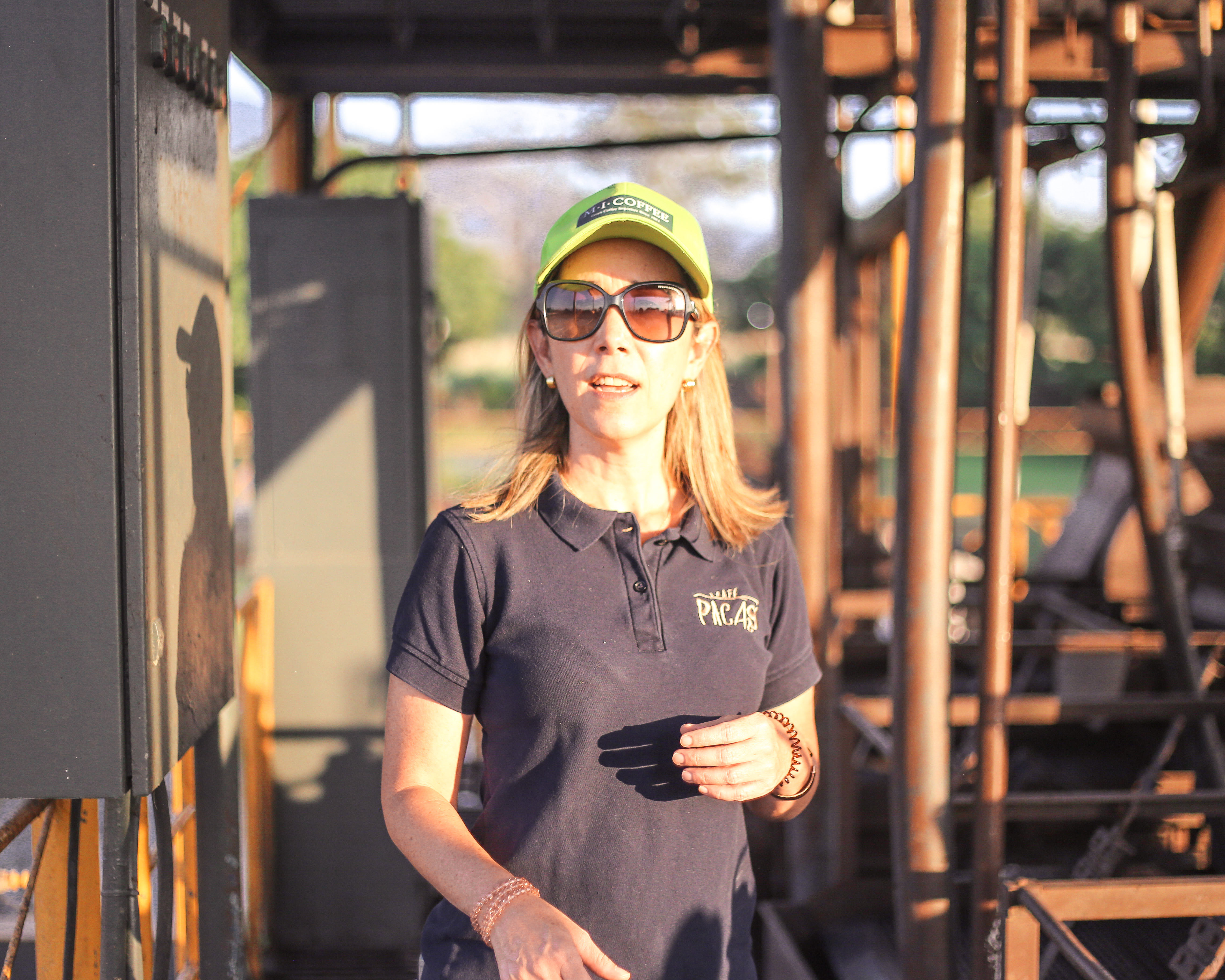 As part of AMCES board of directors, Maria Pacas organizes cuppings and workshops
Maria Pacas, head of marketing and sales for Café Pacas, is part of AMCES board of directors. She organized algrano's first exclusive female cupping session this February with the guild's president Maria Elena Botto and the secretary Carmen Elena Silva, all showcased in the Discovery. For Maria, AMCES main results are being achieved through educational projects, opened not only to members but to all coffee growers in the country, including men. "In sharing knowledge we are also creating community, something we lack in El Salvador. In AMCES we have unity," she says.
Training growers to cup, sell and export
AMCES cannot solve the country's historical problems alone. And they don't want to. By empowering growers to become more independent, they hope to build a strong community than can solve problems together. Their list of activities is long: AMCES secured a donation of 600 water filters for female producers to reduce health problems, partnered with foreign organizations to offer micro-financing for entrepreneurship of women in coffee and training in growing techniques, offered education in cupping and in how to sell to the specialty market.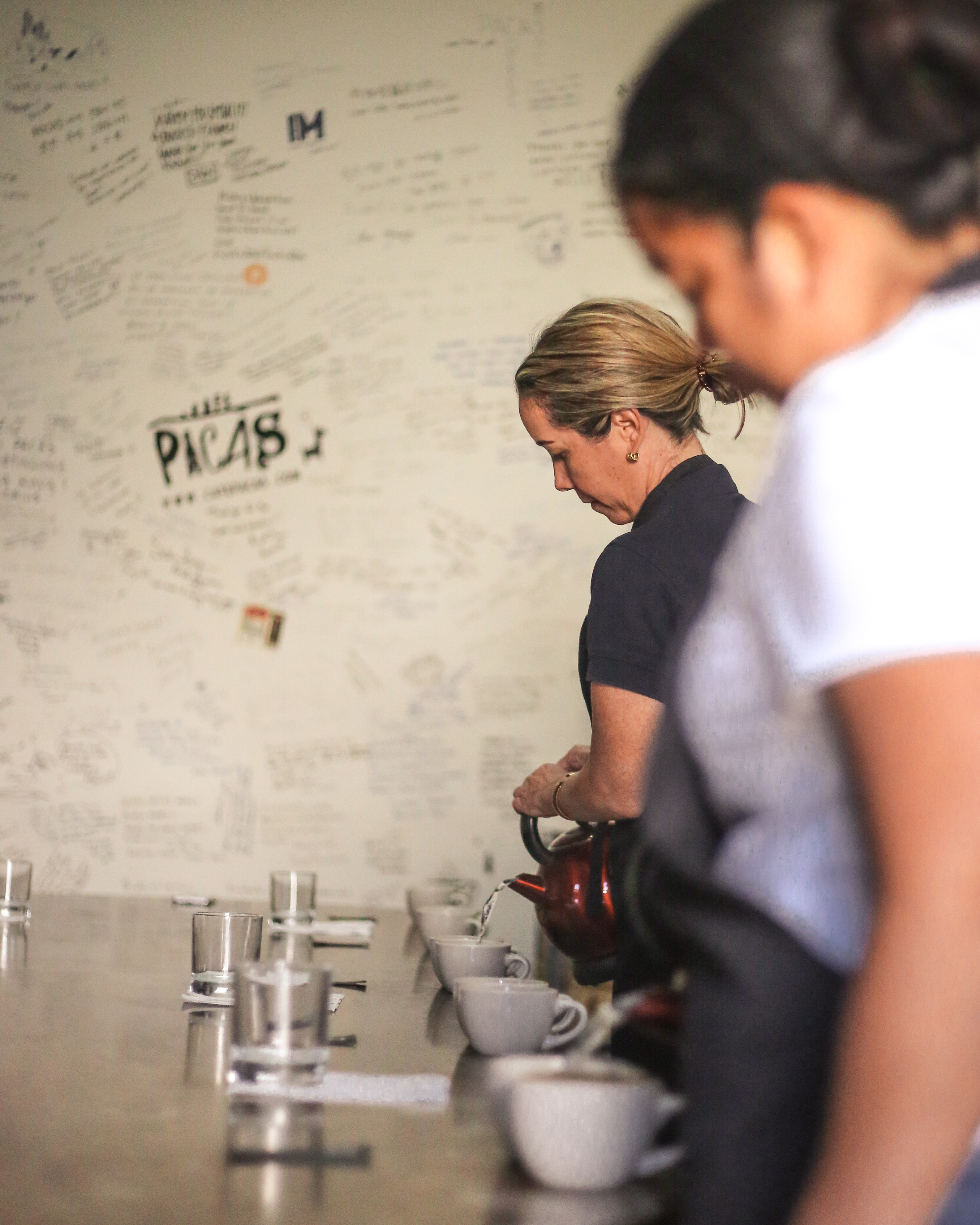 Maria Pacas preparing the cupping table during algrano's visit in February
"We also had a practical workshop on the importance of good picking practices. At the end, everyone tasted coffees in which the cherries had been picked at different maturation stages to understand the impact it had on the cup," Maria recalls. The group has promoted their first of a series of workshops about how to export coffee and has partnered with Emory University in Atlanta to offer coffee diplomas to female growers through a project called Grounds for Empowerment.
The future is female: starting a new chapter
AMCES' intense schedule of activities is helping to make women more visible and respected in the country. People are paying attention. "We are doers. Our focus is to create and execute programs that will benefit coffee growers," says Maria. Creative and hardworking, these women are setting the bar higher in El Salvador and trying to inspire the sector by example and through action. "It is extremely enriching and it gives me great satisfaction to see women that cupped their coffees for the first time not long ago selling directly all over the world."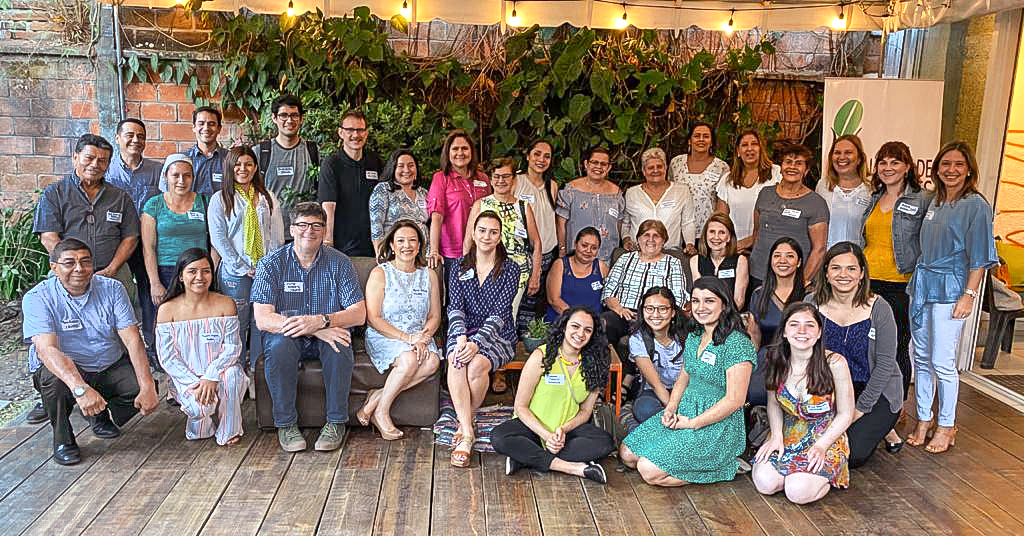 Members of AMCES with the Grounds for Empowerment team
With talks between the guilds to create a unified coffee "federation" and a woman - Lily Pacas - in charge of the Salvadoran Coffee Council, optimism is once again setting the tone of coffee discussions in the country. "People need to work together," Ines stresses. After decades of snowballing problems, it seems that El Salvador might be starting a new chapter. Looks like the future will be female.