The year 2020 has showed all of us the enormous potential of digital. Even the most conservative industries were forced to move their operations online wherever possible. And coffee was no exception. To explore the power of digital even further, we interviewed Dusan Maticic from GOAT STORY - the coffee brand that has technology built into their DNA. He told us about multiple unexpected plot twists in the history of the company driven by the team's passion for technology and good coffee. Read the full interview to learn the brand's story, what brought them to roasting and how digital channels can help a small roastery promote great products and stand out.
Dusan, why are you into coffee? How did GOAT STORY start?
Well, there are two stories to tell here and these two somehow connected in October 2017 ...
First, the story of GOAT STORY ... The company itself is called EQUA and started as a producer of glass and stainless water bottles 10 years ago. But in reality it's much more than that with the whole workflow similar to a (digital) marketing agency.
In 2014 an idea for a reusable coffee cup came up and GOAT Mug was born. It's a controversial product. You either love it or hate it because of its unusual design. I guess a lot of people love it, as it raised just short of half a million US dollars on Kickstarter and to this day around 170K of these horn-shaped mugs were sold. But one thing is certain – GOAT Mug introduced our brand to specialty coffee through coffee festivals and this is how the team became obsessed with coffee.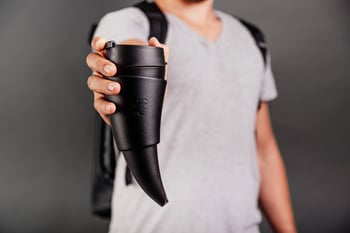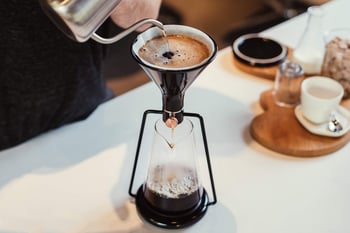 The next step was GINA, a smart filter coffee brewer with an integrated scale that connects to a dedicated app. The beginning of this product is actually funny – the team used a Chemex for brewing but they always forgot to pack a scale to the festivals. The basic idea was born – a filter brewer with an integrated scale. The whole concept evolved (a lot) and in 2016 GINA hit Kickstarter and raised over half a million US dollars.
This is when my (GOAT) story begins. I joined the team in October 2017 as a brand strategist (and basically the marketing guy for the brand). I've been a huge coffee lover since my childhood (I used to steal sips of coffee from my parents' coffee cups when I was a kid) but have never really explored the specialty coffee world. When I joined GOAT STORY this quickly became my ... well ... job! I started to learn about origins, processing methods, the do's and dont's of specialty coffee. But most of all, I began developing my palate which is actually the core of everything.
A couple of months after I joined the team, I asked the CEO (Anže Miklavec) when we are going to start offering our own coffee. His answer was clear: "Never! We are a coffee tech company, we develop kick-ass coffee gear and roasting our own coffee is not an option." Well, that changed quickly ... Less than a year later I was already roasting sample after sample. "Just for fun" we said. But things got really interesting when we noticed that roasting our own coffee opens up a whole new dimension in coffee.
I've been roasting in our in-house roastery since September 2019. And it's been quite a ride since then. We starter roasting for our office espresso and brew bar (a team of 40+ drinks a lot of coffee, you know!) and two coffees for our Cold Brew Kit which is a nice cold brew maker where we supply the coffee preground in filter bags for really easy brewing.
Things got interesting when we offered a limited version of two coffees to the public just in time for the 2019/2020 holiday season – a clean and crisp Kenya Ndaroini washed coffee and Colombia La Marianela natural that we got through Algrano. The feedback was amazing. People loved the coffee and we were now confident enough to push out our whole coffee line.
In mid-March we introduced our Specialty Coffee by GOAT STORY. Since then we have roasted over four tons of specialty coffee. I would have never dreamt of that a year ago. But hey, I love roasting coffee if people enjoy it. So the more I roast, the more people are happy drinking it ;)
What is at the core of GOAT STORY? What makes your brand special and what are the core values?
The team behind GOAT STORY is passionate about specialty coffee ... but I believe all small brands that work in this field share the same passion. You need to understand that we are a small team in a larger company. While there are more than 40 people working at the company for both brands, the GOAT STORY team consists of basically not more than 10 people. We have a very strong product development team with 3 industrial designers plus 4 mechanical and electrical engineers. They are true magicians and what they are working on right now is truly mind blowing. Yes, we have several new coffee projects in the pipeline and we just introduced ARCO, a new coffee grinder that combines the convenience of an electrical grinder and the freedom and grind quality of a hand grinder.
Then there's our CEO Anže Miklavec who is pushing the limits when it comes to new ideas. Of course there are design and sales teams who work for both brands. Oh, there's the marketing department – Gašper just joined the team a couple of weeks ago and took our social media presence to a new level. And myself.
And then there's our coffee lab and roastery. That's my happy place ;) I dedicate about 60% of my time for profiling, cupping, roasting, packing, sourcing new coffees and 40% for marketing.
But the common denominator of the team is that we all share a passion for specialty coffee. And we dedicate a lot of time for education about specialty coffee – I want to make sure that every member of our team understands what we're dealing with; what's the point of specialty coffee, why do we need to pay more for our green beans than commercial brands ... We're generally raising awareness about specialty coffee in our team and through our customers network and social audiences.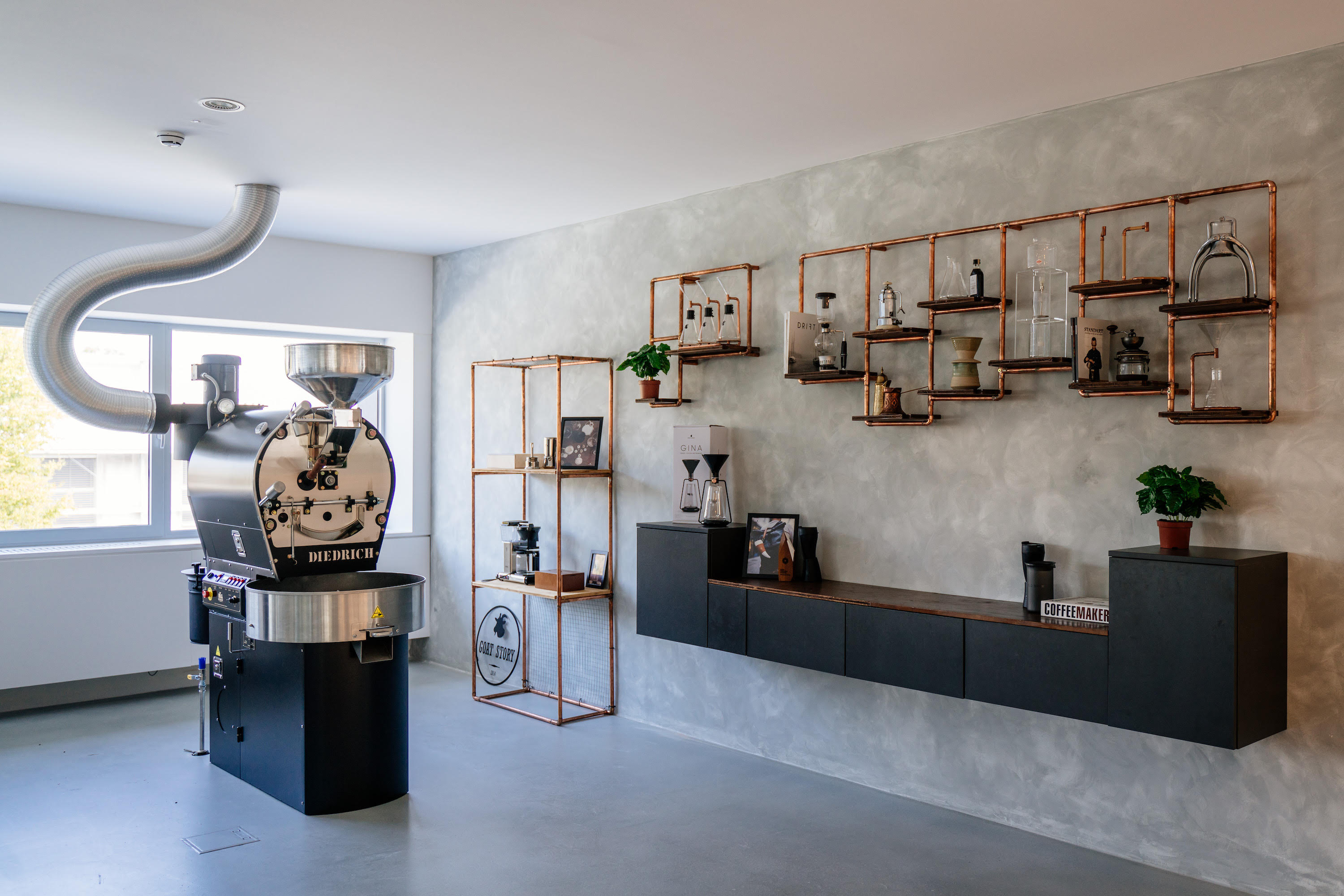 In a nutshell, GOAT STORY's core values are innovation, passion for what we do, quality control and of course – good times while doing all that. We're a very young team, our CEO is 34, most people are in their late twenties or early thirties. I'm actually the oldest guy in the company at 41.
What's the role of technology in the modern coffee industry? How does it help to create new coffee experiences?
Well, to be honest, I'm old school when it comes to coffee. I am the "hands-on" guy who likes to get his hands dirty. But I'm lucky to be in a company that is very tech-driven. All the way – from development of products to sales and marketing. We like to think of ourselves as a digital-first company and in reality, 90% of our B2C sales are digital. And our marketing approach is practically 100% digital. That is why we are looking to partner with companies that share the same approach and Algrano is surely on top of the list of tech-driven companies in a very traditional industry that is coffee sourcing.
We have to face the fact that our lives have turned digital. The new wave of coffee lovers are 25-40 year olds who have grown up in a digital and tech-inspired world. They get their information and inspiration online. The coffee industry needs to follow that. What's the use of roasting the best coffee in the world or making the best coffee machine out there if you can't get the word out? Classical marketing doesn't cut it here, because specialty coffee is still a niche market. That's why it needs a niche marketing approach that is – digital.
How do you find the right coffees? What is the most important for you when looking for a new green coffee supplier?
Finding the right coffees to offer our customers is one of the fun parts of my work! It's a never ending process of getting samples, roasting, cupping, brewing. We try a lot of coffee samples. A LOT! But we make the process a bit more complicated because we try to test each coffee first at the cupping table and then as filter coffee and/or espresso.
I don't care much about cupping scores. Of course the score can give you the first impression of what level of quality to expect. But it can be misleading sometimes.
One great example is the Colombia La Marianela that we got through Algrano – it had a fairly low score of 84 but it turned out to be a spectacular coffee that deserved a much higher score. Sometimes it simply takes a slightly different roasting approach to get the most out of it. I extended the roast a bit and found the sweet spot a bit darker than I expected. The result was an explosion of flavours!
And that's what I'm looking for in a coffee – flavour. I don't care much for trends in roasting. Sure, I like lighter roasts, but if I see that a particular coffee doesn't react well to it, I won't have a problem offering a darker roast if the flavour is better. But on the other hand, that means that you need to work a bit harder to develop a roast profile for each coffee. But in the end it's worth it.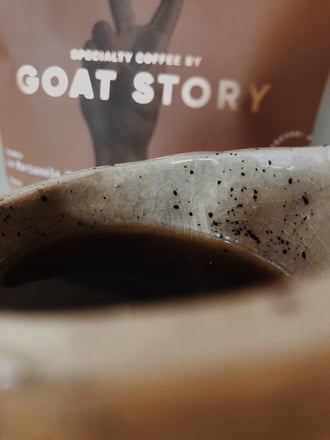 As for choosing a coffee supplier – I was in contact with most suppliers in Europe and in the end you simply "feel" who's a match for you. That's a bit how our partnership with Algrano started actually. At World of Coffee in Berlin Susanna from Algrano came to our stand looking for me. She told me that they are just starting a cupping session with some coffees that I simply must try. It was one of the coffees from that cupping table that completely blew my mind. If she hadn't come over to get me to the cupping table, I would have missed out on one of the craziest coffees out there.
And of course - the coffee needs to be good and I really appreciate if my green coffee supplier can give me as much insight about the coffee farm as possible. That's why I like Algrano, it's so nice that I can talk directly to the farmer! I was thrilled to be able to talk directly to Pablo of La Marianela, discuss the coffee, make plans and so on. It's nice to be able to do that, as we're not yet in a position to visit origins and farms and source our coffees directly.
Buying green coffee online - what are the benefits?
I really don't know any other way other than buying green coffee online. Yet. We're all spoiled in our personal lives with online shopping. And it makes sense that we transfer that process to our business, right? Sure, I'd love to spend a few months in a year visiting farms, sampling coffees, closing deals. But we're a really small roastery. Trips to origins cost money. You need to sell a lot of coffee to be able to justify a trip to Colombia or Ethiopia. We're not there yet, that's why online is the only way to go.
Why Algrano?
I like the idea that there's a company that is using a new approach in a traditional industry. I actually learned about Algrano when I joined GOAT STORY. I was curious about what Algrano was trying to achieve and quickly embraced the idea. And it gave me the opportunity to get a truly exclusive coffee from Colombia this year, as La Marianela is making a super small batch of their natural coffee and we'll be practically the only roaster in the world who will have it. YAY!
What do you think is the next big thing in coffee?
I wish I knew :D
I do believe that people are slowly recognising that there's more to coffee than just coffee. I see the change in our small country where the culture of drinking coffee is quite low. It's similar to the change in beer culture where craft beers are on the rise. Of course, specialty coffee will never be mainstream. But more and more people are aware that there are better coffees out there and with the rise of micro roasteries they now have the possibility to actually taste them.
Globally, I believe that there will be a big hype about new processing methods – anaerobic fermentation is on the rise right now. But in a couple of years I believe we'll be back to the basics. To be honest, I still haven't found a »special process« coffee that would knock me off my feet. OK, i've tasted a few, but the price is usually outrageous and can not be sustainable at a larger scale. There are superb coffees that are processed in a traditional way. And these are the coffees that will get more people drinking specialty coffee instead of the commercial coffees they have been drinking until now. The special processed coffees are, of course, great, but it's a really small niche.
Bottom line – the next big thing in coffee are the people that enjoy it. And I believe that the in the next few years we will see a steep rise in people who enjoy specialty coffee instead of the commodity beans they were using until now. It's the logical path!
***
Are you a roaster considering buying a coffee directly from a grower? Sign up to Algrano (it's free) and start meeting growers and browsing their amazing coffees.