With the end of La Niña, the weather improved. Most producers expect a small recovery this year and more productivity in 2024.

Domestic prices for parchment started to drop, but new tax and labour reforms put producers' profitability at risk.

Colombians are focusing more and more on demands from Asia and the Middle East, which they claim to be better-paying markets.

Specialty coffee farmers are modelling themselves on Panamanian producers, investing in new varieties and new fermentation methods.




Did EU and US Demand for Colombia Drop?

The specialty coffee sector in Colombia has changed a lot in the last three years. In 2019, we met farmers producing their first bag of honey-processed coffee.

When we visited them again in April 2023, they were exporting all their production to specialty coffee buyers and helping others export too.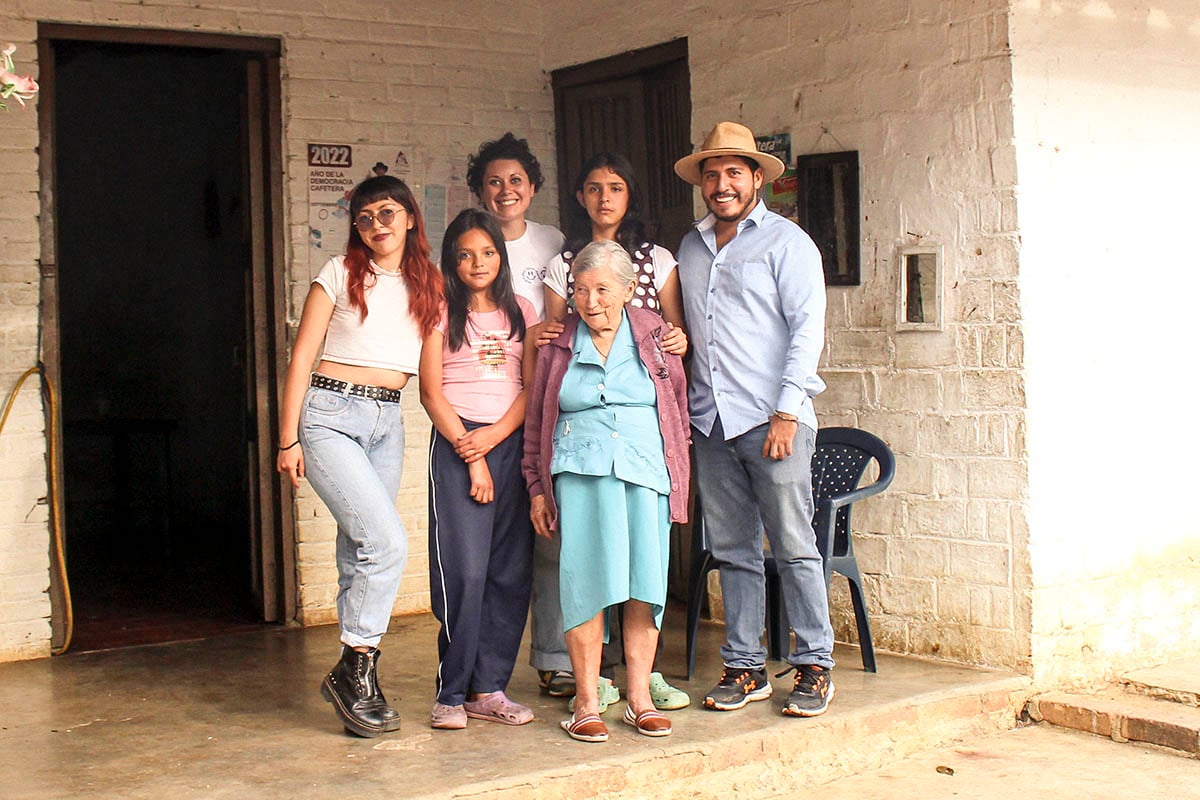 With Felix Alberto Torres and family at Finca Hoyo Frio in Curiti (Photo: Laura Torres)

That's despite the price boom seen in 2021 and 2022. This April, the Specialty Coffee Transaction Guide team shared a chart at the Sensible Coffee Pricing Salon showing that the price evolution of Colombia has been on a steep curve in the last few years, even more so than other countries.

Roasters already know this. We've heard that many are considering other origins - such as Peru or Honduras - to replace their Colombian coffees.

Data from Sensible Coffee Pricing Salon. The full graph can be found here

In speaking to producers, we also heard how importers reduced their orders by two, maybe three containers. Some stopped working with small farms altogether.

Is this just a temporary problem or something that could have deeper consequences?

When we last visited Colombia to attend the Foro Café 2023 in Socorro, Santander, we talked about this to some of the producers we work with: Felix Alberto Torres (Café de la Torre), Oscar Daza Bautista (Hacienda Cafetera La Pradera), Liliana Caballero Rojas (Hacienda Casa Blanca), and Santiago Salazar (Hacienda El Calapo).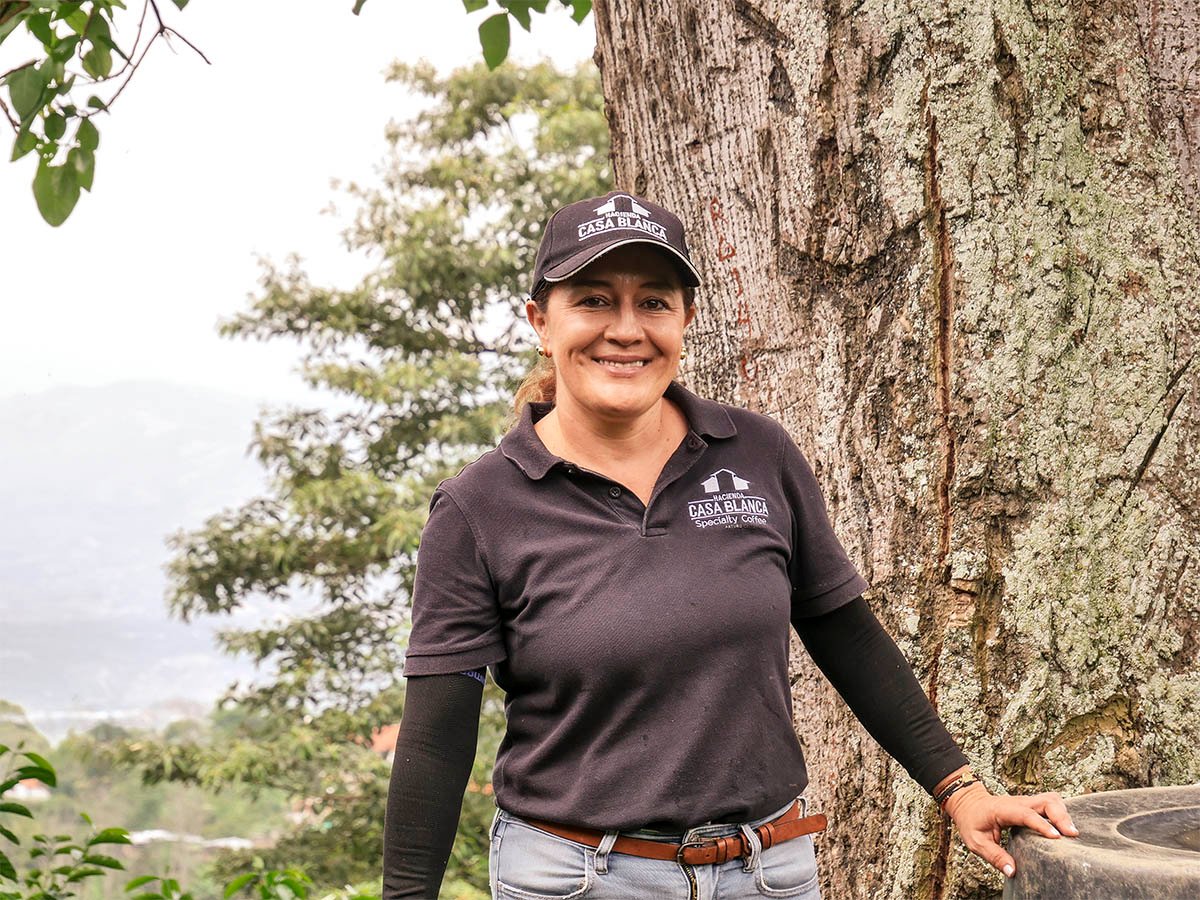 Liliana Caballero at her Gesha farm on the outskirts of Bucaramanga (Photo: Algrano)

The four producers represent a small percentage of farmers focused on specialty coffee in the country, but spending with them gave us a good overview of what's been happening in Colombia.

All of them have samples currently available on Algrano's marketplace.


We also spoke to Julian Alberto Gonzalez Espinal, General Manager of Cafenorte in Norte del Valle del Cauca; Juan Pablo Casas, Operations Director at Medellin-based Clearpath Coffee; and Gaiza Pujana, co-founder of Coffee Graders in Tolima.
Producers Are Sending Better Coffee to New Markets


On one hand, Colombian producers are investing in new varieties more and more. Gesha is no longer rare (the "golden seed" as it used to be called).


New types of existing varieties are being planted in volume, such as the Caturra Chiroso, the Bourbon Aji and the Bourbon Papayo.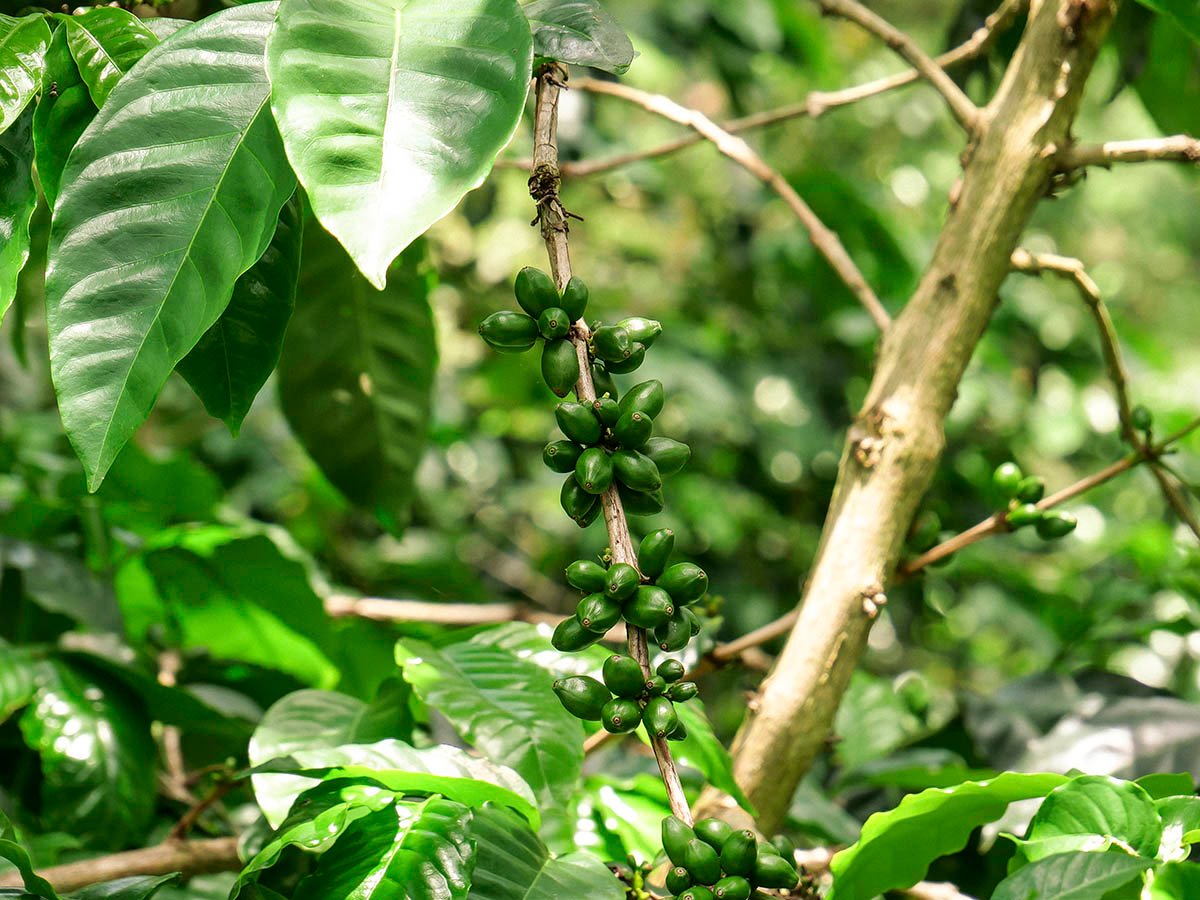 Santa Rita, a variety discovered by Santiago Salazar on one of his farms (Photo: Algrano)


These producers are also the powerhouse of co-fermented and infused coffees, bringing experimental processing to the mainstream. And though the weather is too humid for long periods of sun-drying, they're managing to produce large volumes of Naturals too.


Colombians are modelling themselves on Panamanian coffee producers, which are mentioned regularly in conversation. This is great for innovation and quality. But it also means that price expectations are going up.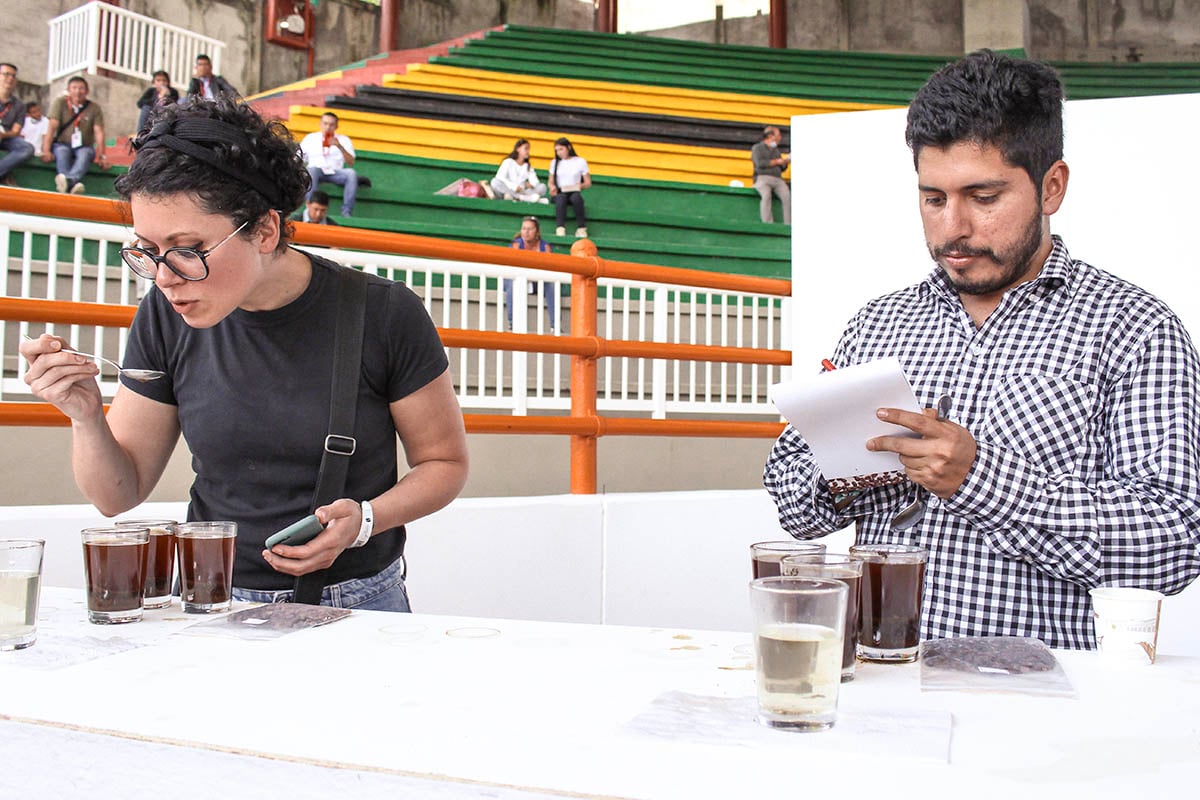 Cupping table at Foro Café, with Naturals, prolonged Anaerobic Fermentation, Co-Fermented and Infused coffees (Photo: Laura Torres)

On the other hand, Colombian coffee farmers are roasting more for internal consumption - Hacienda Casa Blanca has recently opened a popular new café in Bucaramanga and an Instagram channel called Coffee Media is widely respected by consumers and producers alike - and diversifying their export markets.


Historically, the United States and Europe have always been the biggest buyers of Colombian coffee. But emerging markets in Asia and the Middle East have become more important recently. And they pay better.


Julian Espinal of Cafenorte says that the Chinese and Korean markets "continue to accept negotiations at much higher price differentials compared to other markets such as Europe and the United States".


Felix Alberto Torres of Café de la Torre agrees. For him, the Asian market is "one of the best" for prices at the moment. Producers are also focusing on Arab nations.


Though cultural differences and logistical challenges lead to slow growth, it's only a matter of time before that changes.
Are Prices Readjusting to Pre-Pandemic Averages?

These price expectations and quality improvements clash with the current direction the market is taking.

In the domestic market, prices started to go down. The cost of a carga (125kg) of parchment has been on a steady decline since October 2022. On May 26, the Federación Nacional de Cafeteros (FNC) published a rate of Col$1.844.857 (US$417,00), which is down 12,5% from the same week last year.


The FNC puts this down to the devaluation of the American dollar, which reached the levels of April 2022, and news of the dry weather in Brazil, which favours the current crop and contributes to a downward price trend.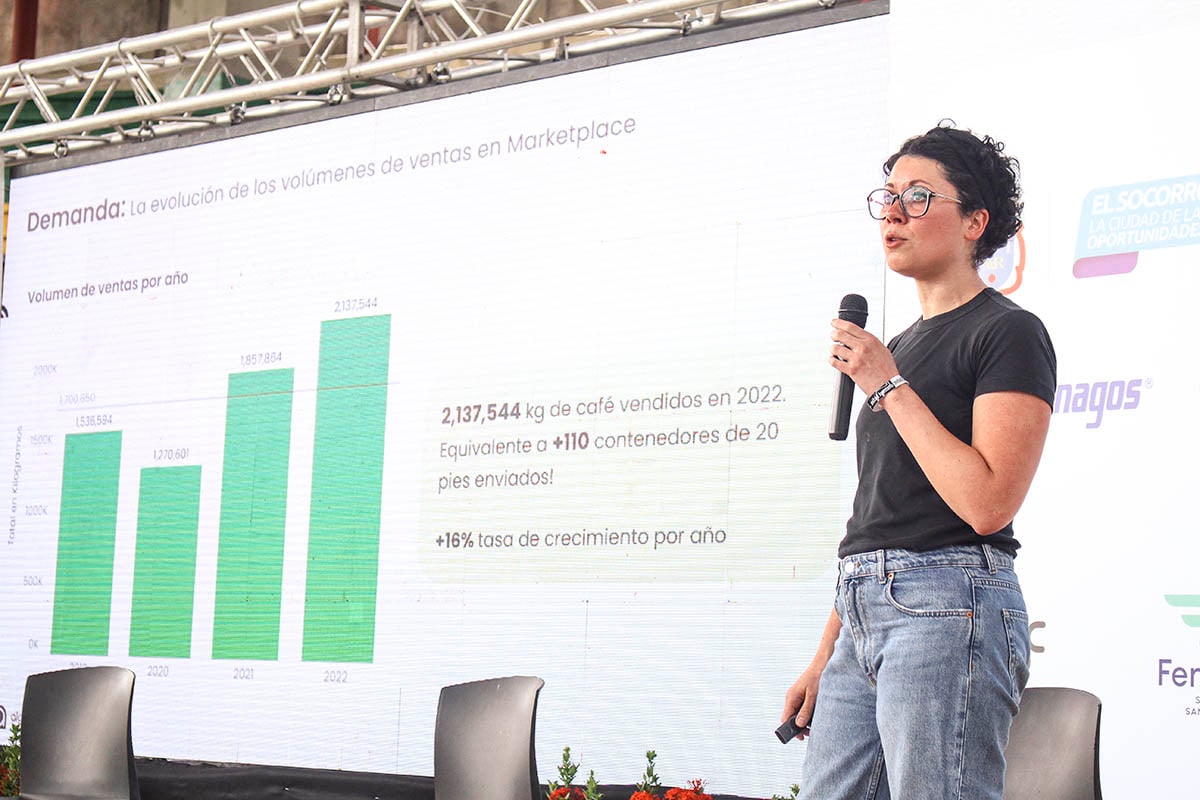 Discussing demand for Colombian coffee at Foro Café 2023 (Photo: Laura Torres)

Recently, CONAB reevaluated the expectation of the Brazilian harvest to 37,93 million 60kg bags. This is mainly due to increased yields in the main producing regions - from 24,81 bags per hectare to 25,62 bags per hectare.


Prices in Brazil have also dropped below R$ 1.000,00 per bag and the tendency is that many producers will try to hold their stock.


Differentials for Colombian Milds are also at the lowest level since February 2020, down more than 30% compared to April 2022 and averaging 46,00¢/lb.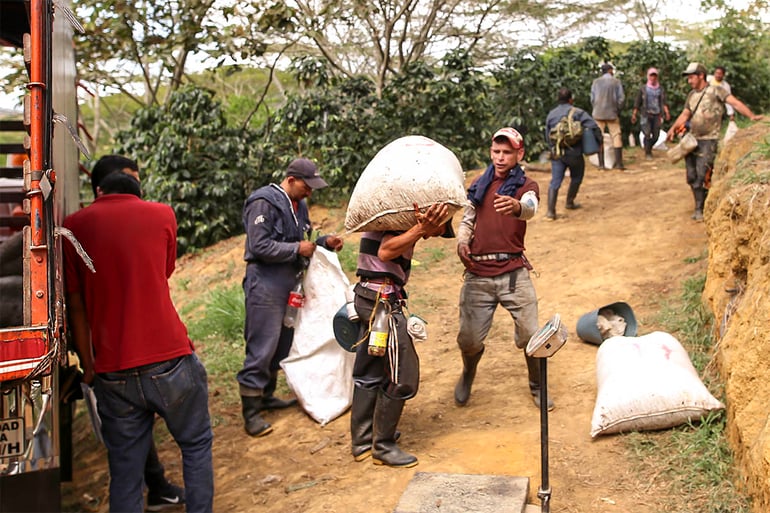 Prices for the carga of parchment are down but labour costs are up (Photo: Algrano)

For Juan Pablo Casas at Clearpath Coffee, this means prices are readjusting or returning to historical levels as logistics and demand normalise after "one of the craziest years in the industry at a global level".


Historically, differentials for Colombian coffees have ranged from 15,00¢/lb to 25,00¢/lb.
Production Volumes Won't Recover (Much) This Year

The industry at large expects prices to go down, hence commodity buyers waiting for Brazil to pick up before contracting Colombian coffee.

Growing inflation in consuming countries - UK supermarkets started replacing coffee jars on their shelves with display-only ones to reduce theft - will continue to be a bearish factor for the market.


But Colombia's production dropped 6% between January and April in comparison to last year, which was already a low productivity year.


Combined with news of lower volumes in Vietnam and potentially in Indonesia, this supports ICO's projection that "the world coffee market is expected to run another year of deficit, a shortfall of 7.3 million bags".


The ICO Composite Indicator Price, which is less influenced by short-term market dynamics, shows Colombian Milds had resilient growth in April.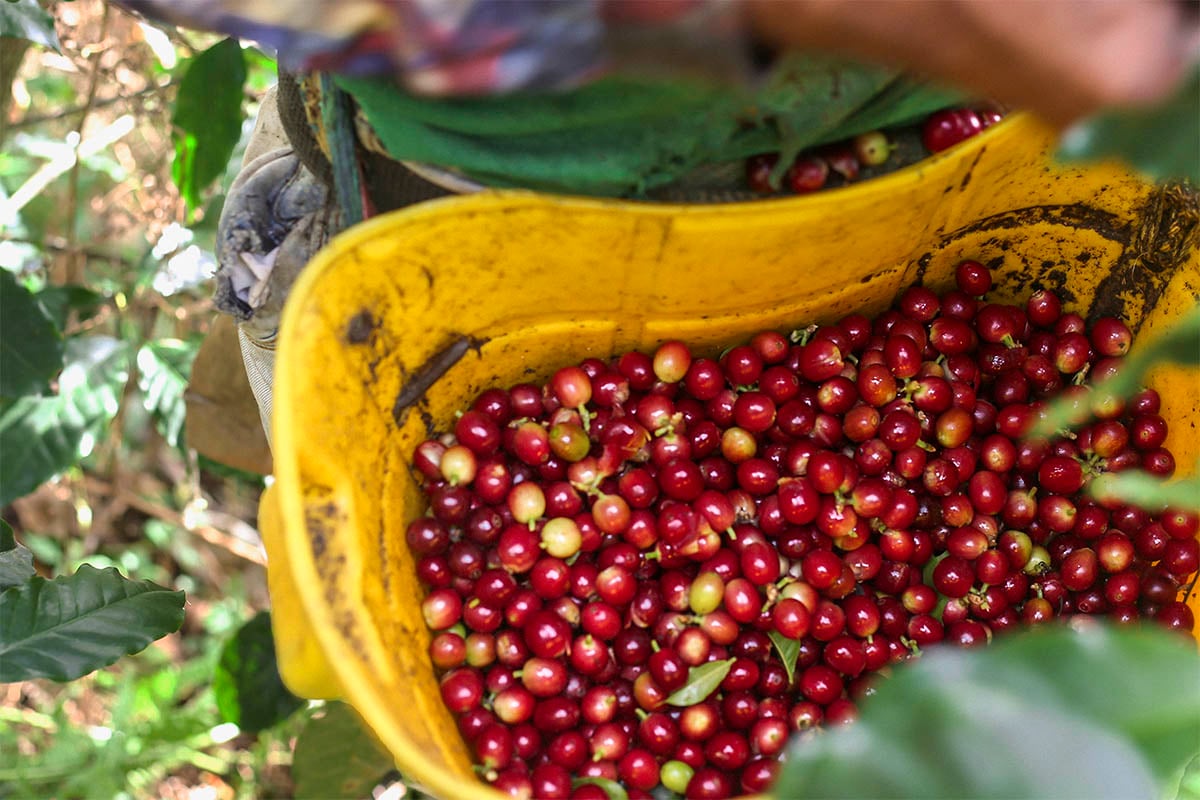 Colombia's had a promising start but dipped again in Feb and March (Photo: Algrano)

The productivity landscape is varying a lot from region to region. Julian Espinal says that Cafenorte is registering 60% less parchment being delivered to their collection centres in Norte del Valle del Cauca.


In Huila, Juan Pablo Casas says that the department didn't do well in February and March but their mitaca (April-May) has recovered in quantity and quality. He expects 2023 to be a very productive year.


The latest USDA Coffee Annual forecasts an increase in production of 3% this year to 11.6 million bags "driven by improving weather conditions". The Colombian Institute of Meteorology (IDEAM) announced that La Niña ended in early 2023.


Producers in the Coffee Axis are still struggling with rain, but the North and the South of the country have entered a dry phase. And they are relieved.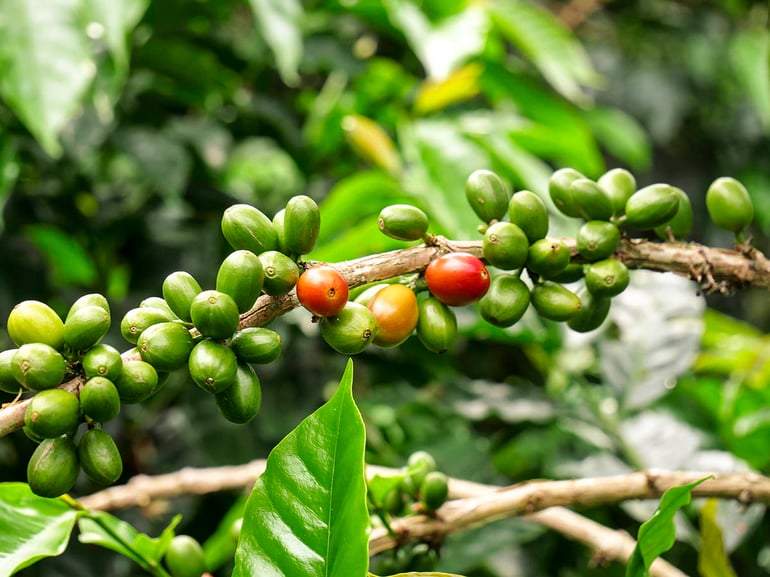 Most of Colombia is no longer struggling with too much rain (Photo: Algrano)

Gaizka Pujana of Coffee Graders says producers in Tolima have had up to 30% less coffee during La Niña. But he is not concerned about the upcoming El Niño as the farms in the area are protected by large portions of forests, keeping good levels of humidity for production.
Fertilisers Are Cheaper. But That's About It
Some production costs have started to go down, especially when it comes to imported fertilisers. But this might not have an immediate effect on prices.

Last September, the new government of President Gustavo Petro introduced a tax reform that struck indignation among farmers all over the country.


The reform overrides tax benefits in the agricultural sector, which allow producers to write off 40% of gross income as labour costs. Coffee is a labour-intensive crop in Colombia, accounting for over 60% of costs.


The measure was implemented to boost revenue generation for the government and will eat into producers' margins.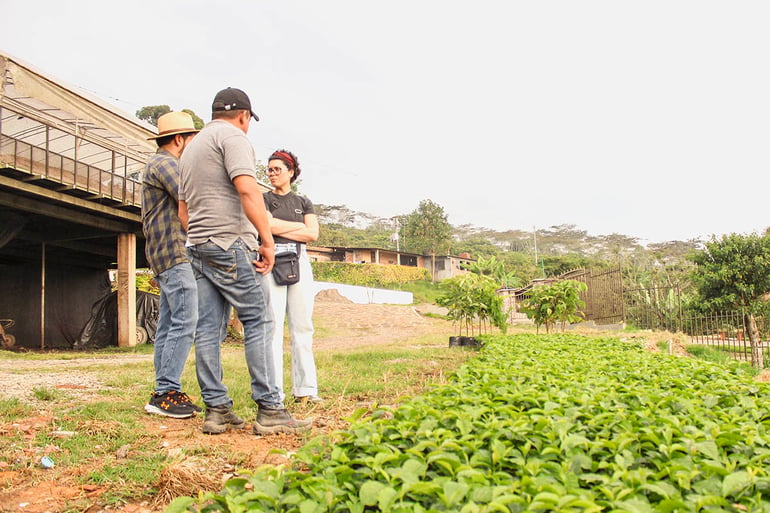 Oscar explained how the new tax reforms are affecting profitability (Photo: Laura Torres)

Juan Pablo Casas explains that the tax bill got 5% higher so far. Their bigger concern is around reforms to formalise rural labour, including for seasonal workers. Producers will incur more costs to register workers and pay contributions.


He also pointed out that the price of petrol doubled in the last eight months, increasing costs to run machinery needed to maintain the farms such as chainsaws, pruners and fumigators.


In Gaizka's view, producers' profitability will decline this year. Costs are still 40% to 50% higher than they used to be. For him, the main cost is transport. Moving a container to the port went from US$1,000 to US$2,000.
Is This a Transition Period for Colombia?

In Aratoca, Santander, Oscar Daza of Hacienda Cafetera La Pradera decided to get ahead of the curve and register everyone that works at the farm.


He now counts on 60 permanent employees that run a variety of jobs year-round, including picking during the harvest season.


Colombia's current cost structure and new tax reforms might make producers less flexible with pricing.


At the same time, they are fearful that the Brazilian harvest might drive prices down further and make Colombian coffee less competitive, pushing producers to double down on new markets.


As with Peru, there seems to be a tug-of-war situation. Cooperatives like Cafenorte are especially concerned about the impact on smallholders.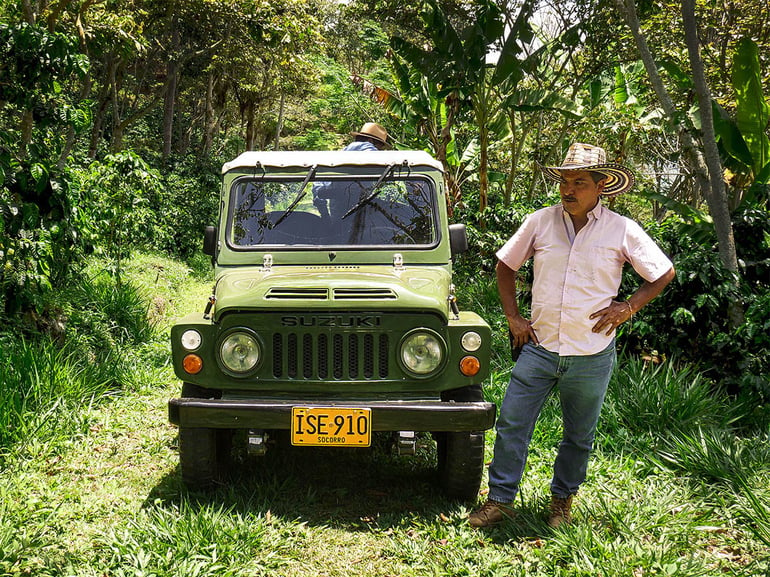 Having invested continuously in sustainability and quality, producers like Santiago want to have their price needs heard (Photo: Algrano)

For Julian Espinal, "a decrease in production can significantly affect them" in the current economic climate.


Coffee buyers in Europe and the US still love Colombian coffee and big names have a strong presence in these markets.


But with growth in demand in Asia and the Middle East, it's hard not to wonder if this is a transition period for specialty coffee in the country.


Will Colombia's best coffees be destined for Asia and the Middle East in the future? Will processing methods and flavour profiles shift due to the preferences of new consumer markets?


Super fermented coffees might have already peaked over here, signalling a possible comeback of clean profiles. That's not the case in Asia.


Producers like Liliana are increasingly exploring new markets (Photo: Algrano)

For now, producers still believe they can make it in Europe and the US. And there are coffees of outstanding quality available for roasters to explore.


Producers on Algrano have coffees from farms with incredible shade cover, such as Santiago's Fully Washed Castillo, or from social impact projects, like El Puente Blend - Natural.


There are organic coffees processed in mills powered by solar energy, such as Oscar's Citric Punch. And small exclusive lots from well-known regions (Chiquita Tabi Anis Natural, from Palestina) micro-regions with little visibility (San Fernando - Xeridas, from Meseta de los Santos).
Colombian Coffees on Algrano


Peak harvest: March-June (Central, South) and October-December (North)
Offer period: May to August
Shipment: August-October (US) and September-November (EU)
Warehouse release: From November (US) and December (EU)