July Update
Though coffee producers have managed to increase their earnings in the last couple of years, the Peruvian sole's exchange rate against the American dollar has fallen, affecting how exporters pay producers.
Cesar Marin of Chacra Don Dago in Junin reports that currency fluctuations and market volatility have pushed the farm's export business to unprecedented extremes despite the encouraging harvest.
He also points to the arrival of Anthracnose and leaf rust in the area, which is a factor of concern for producers - especially those who adopt organic and biodynamic practices.
Fair Trade USA also announced that it will freeze prices until the end of 2023. The new minimum price will be implemented by Fairtrade International on August 1st.
The announcement was received with a backlash from the industry, with Marika de Peña of CLAC-Fairtrade accusing Fair Trade USA to put the interests of markets before the interests of producers.
A network of Fairtrade organisations in Latin America, Africa, Asia and the Pacific released a note requesting Fair Trade USA to reconsider its decision, stating that the price increase was decided after a long and widespread process of consultation driven by a collective request.
"The Fairtrade Minimum Price was updated as a fundamental step to address human and environmental risks directly related to low coffee prices," they wrote.


A New Season With Extra Challenges

Having written a number of harvest reports by now, I'm not surprised by how challenging the season can be for coffee producers. But this year's harvest in Peru stands out, with a list as long as your arm of obstacles.

Setting the stage, the harvest started in the midst of an ongoing political crisis. Rain has disrupted roads and logistics. Buyers are restrained and exports are down by a lot.

On top of that, producers are concerned that Fairtrade's minimum price will affect demand and slightly panicking about the EU Green Deal. And let's not delve into the financing crisis, a topic too lengthy to explore on this page.

Ironically, this is also the first time in a long while that coffee producers in Peru have money in their pockets… They have been renovating their plantations, expanding and fertilising.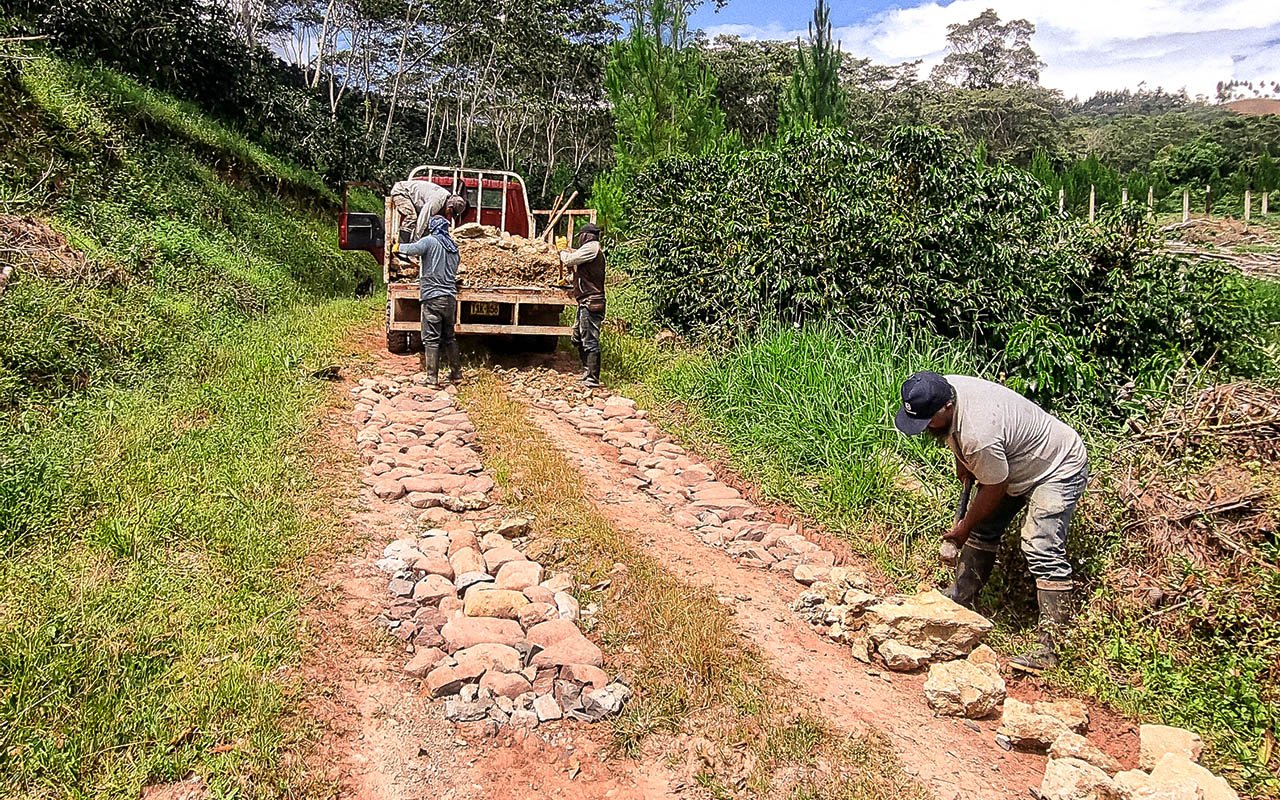 Fixing the roads towards the farm ahead of the harvest (Photo: Finca Rosenheim)

I couldn't help but draw a parallel between this chaos and Daniel Kwan and Daniel Scheinert's latest film, Everything Everywhere All at Once.

Coffee farmers are not "verse-jumping" between universes, mind you. But the current challenges are so diverse and so many that this could be absurdist fiction.

There's always a silver lining though. The quality is meant to be good. We have already received the first samples and there are more to come later this month and early in June.

Volume & Quality: So Far, So Good
There is more optimism among our Peruvian partners around the 2023/24 coffee harvest than what we saw last year. Back in 2022, production dropped 14% and inflation and speculation drove internal prices to peak levels (900 Peruvian soles!). The weather didn't help either.

Yet, this year's crop promises to be even more eventful.

This May, we discussed the harvest with a producer, an association and an exporter, respectively: Mark Bolliger of Finca Rosenheim in Villa Cruz, Pasco; Katherin Hernández of Limcof (Asociacion de Productores Agropecuarios Lima Coffee Perú), in Jaén, Cajamarca: and José Rivera of Origin Coffee Lab, also Jaén.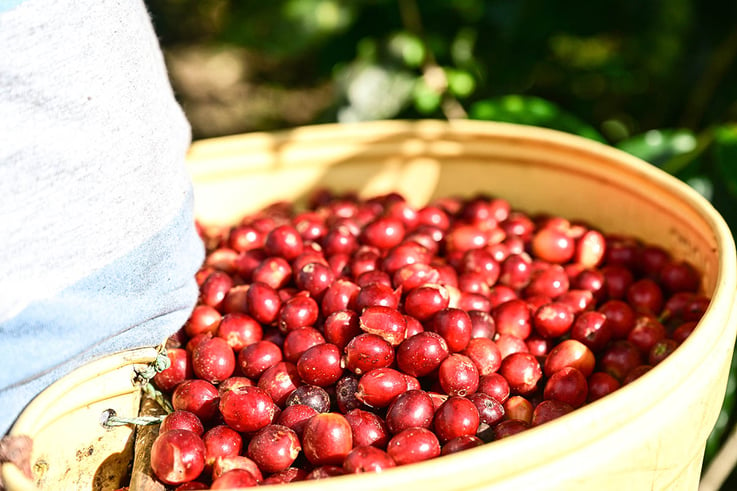 Better prices are leading to more investment in quality (Photo: Origin Coffee Lab)
All three report a good start to the season and expect volumes to recover from 2022. This is the second "off-year" of the cycle, so production won't return to 2021 levels yet. Based on the lower zone harvest (under 1,500m), which started in March, Peru's National Coffee Board predicts 12% more volume this season.

The weather has been rainy, but not unusually so - at least on the farm level. All stages of bean development progressed well and producers say the quality is promising.


Prices received in the past couple of years also encouraged better fertilising and more investment, which is starting to pay off.
More Money in Farmers' Pockets

Mark says this is the first time he has money left this early in the harvest since he took over the farm from his parents in 2012. It's also the first time he managed to sell all of his micro-lots.

In previous years, he ended up gifting the remains of unsold experimental lots to workers.

Better prices are being reflected both in farm management and producers' quality of living. Limcof members have been replanting and investing in new varieties like Gesha, Bourbon and Caturra, moving away from Catimor and improving productivity.

Members of the association have also acquired better machines for pulping, built polytunnels to dry more coffee and have been delivering beans to the Limcof's collection points in their own vehicles.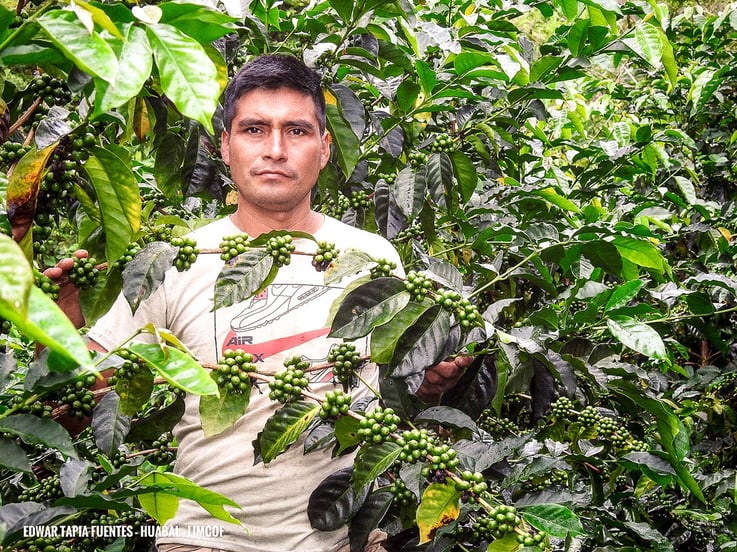 The weather supported good development and volume is increasing (Photo: Limcof)
Silent Buyers

But coffee exports from Peru have dropped a staggering 70% in the first quarter of the year. To some extent, this was an inevitable drop from 2022. Then, Peruvian exports were inflated by a lack of supply from Brazil.

It was also influenced by a wave of political protests (and resulting roadblocks) provoked by the removal of Pedro Castillo from the presidency after an attempted self-coup in late 2022.

At Origin of Coffee Lab, José sees the widespread buyers' silence as highly unusual. Domestic prices dropped around US$30,00 per quintal compared to last year's average and coffee is being sold at around US$200,00 or 730 Peruvian soles/quintal.

Having received requests to ship coffee as late as January 2024, he believes international buyers are carrying large stocks. It's hard to predict when trade will resume and he doesn't know what to expect.


High prices for Ethiopian coffee have also slowed sales of certified coffees. José worries buyers could turn to Peru in search of cheaper organic beans. That could be good but it could also drive prices up.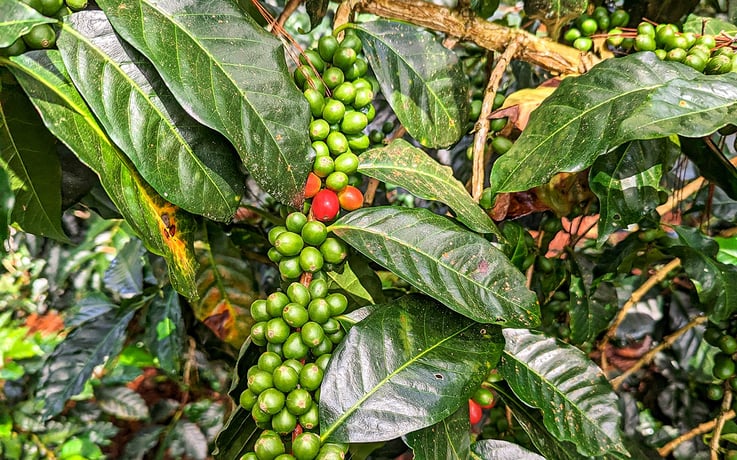 First signs of maturation at the farm this year (Photo: Finca Rosenheim)
The Impact of Fairtrade's New Minimum Price

Fairtrade's announcement of a new minimum price in March is another factor slowing sales. Buyers are cautious to contract because they want to pay the old premium.

Producers want to benefit from the new floor price and contract after August. In José's words, it's a tug-of-war situation.

At Limcof, Katherine suggests buyers of certified coffee, especially Fairtrade Organic, were not prepared for the price increase. Some might be forced to drop the Organic certification to save US$0.40/lb.

José is also concerned that Fair Trade USA hasn't yet confirmed it will implement the new minimum price.

The certifier, which is independent of Fairtrade International, announced in April that it would launch its own consultation with the North American coffee industry to "better understand the possible repercussions of a significant increase in the price for Fair Trade Certified coffee".

Though the certifier hasn't shared a timeline for the consultation process, Fair Trade USA stated on its website that it will "provide regular updates on timing with a goal of notifying stakeholders of our decision, along with further guidance ahead of the Fairtrade International effective date of August 1".

A possible decision to carry on with the current pricing standards could create an uneven playing field for green buyers from different countries.


When contacted, Fairtrade International assured, "the whole Fairtrade System has agreed on and accepted the new Fairtrade Prices for Coffee, including our stakeholder Fairtrade America".


Fair Trade USA's last update was on May 3rd, moving forward with public consultation
And Then There Was the EU's Green Deal


The Peruvian coffee sector is also grappling with the new set of regulations adopted by the European Parliament to curb the consumption of commodities that drive deforestation around the world. The law will take effect after being signed off by European ministers, which could happen any time soon.


The new law stipulates that coffees produced in areas deforested after December 2020 can't be sold in the EU market. Importers who fail to provide evidence of compliance will be heavily fined - at least 4% of the company's annual turnover.


Though most coffee farms in Peru date from before 2020, recent high prices have encouraged farmers to expand their production and plant more coffee in new areas. Peruvians are also pergamineros and carry out wet processing at the farm, blending cherries from different parts of the farm.


With that in mind, it's hard to imagine that the level of granularity demanded by the new law - plot level traceability - will not affect producers. José also stresses that high-altitude farms in Peru are not as well suited for shade-grown systems due to temperature and humidity.


In April, Peru's National Coffee Board announced the country could lose 50% of its exports to Europe. Currently, half of the country's production is sold to European countries.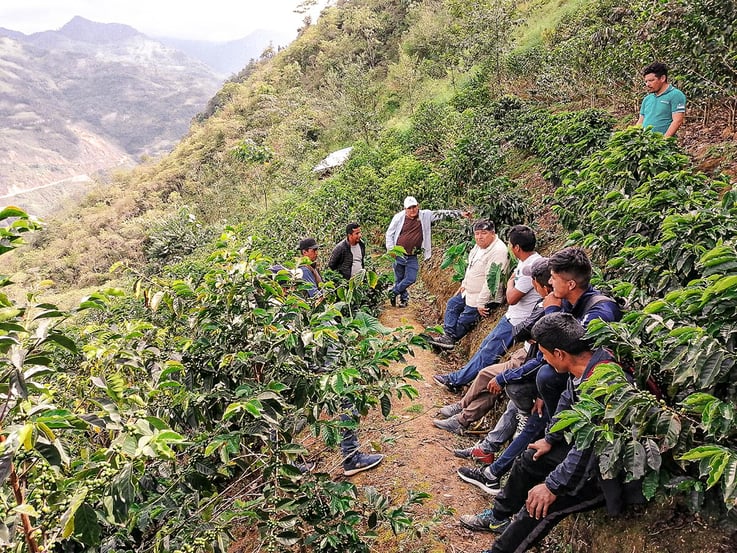 The Coffee Board fears Peru might lose half of its exports to the EU (Photo: Limcof)
Keep Calm and Carry On

It will be easier for farmers like Mark to navigate these waters. Finca Rosenheim is a 40 hectares farm that sells only its own coffees. He still has to deal with high inflation, labour and fertiliser costs. But he admits being surprised at how well the harvest is coming along so far.

Aside from having money left from the last crop, Mark has been investing in a quality control lab and office at the farm. He recently introduced a system to treat residue processing water, started turning coffee pulp into fertiliser and bought a new - used - mechanical dryer he's been flirting with since 2021.

Limcof's agronomists are also developing their own fertiliser. The lack of alternative routes from Lima to Cajamarca means that any problem on Panamericana Road disrupts their supply. And if the rainy weather reported earlier this year wasn't such an issue at the farm level, it did affect logistics.

Origin Coffee Lab is engaged in an "aggressive" traceability project. In recent years, producers that work with the company started to receive visits from Enveritas staff at the request of North American buyers to verify the traceability of their coffees.

Enveritas verifies the location of each producer and surveys farmers to compare their practices and work conditions against others in the area. A request received with some level of caution at first, it's now being expanded by Origin Coffee Lab to cover 100% of their coffees.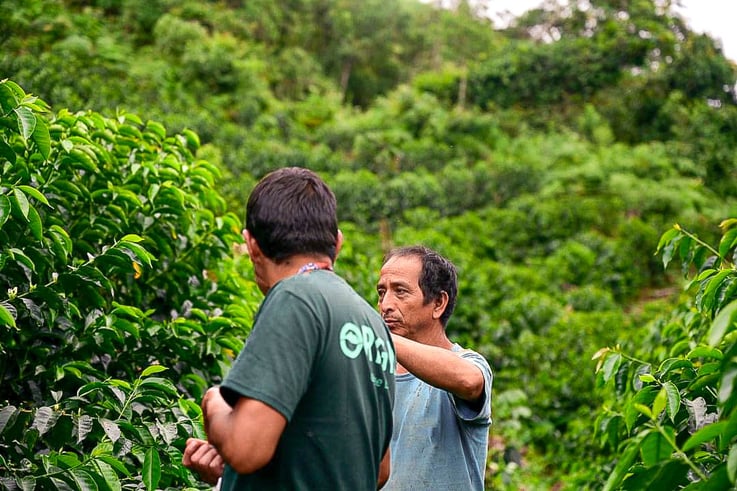 Despite uncertainties, the sector continues to invest in sustainability and traceability (Photo: Origin Coffee Lab)
Peruvian Coffees on Algrano

Peak harvest: May to October
Offer period: May to February 2024
Shipment: August to March 2024
Warehouse release: From November