The rise of specialty coffee in Myanmar is nothing short of stellar. In this blog, you'll learn how producers improved the quality of their beans and what's behind their success.
All this from the lenses of three specialists who witnessed this progress first-hand and worked with farmers shoulder to shoulder.
Doing a Lot in Very Little Time
The story of specialty coffee from Myanmar fits into a 10-year window. But what producers in this country managed to achieve in this short space of time deserves a standing ovation.
Coffee has been grown in Myanmar since 1885, brought in by British missionaries. And the government tried to use coffee to replace poppies (used to make opioids) in the 1980s.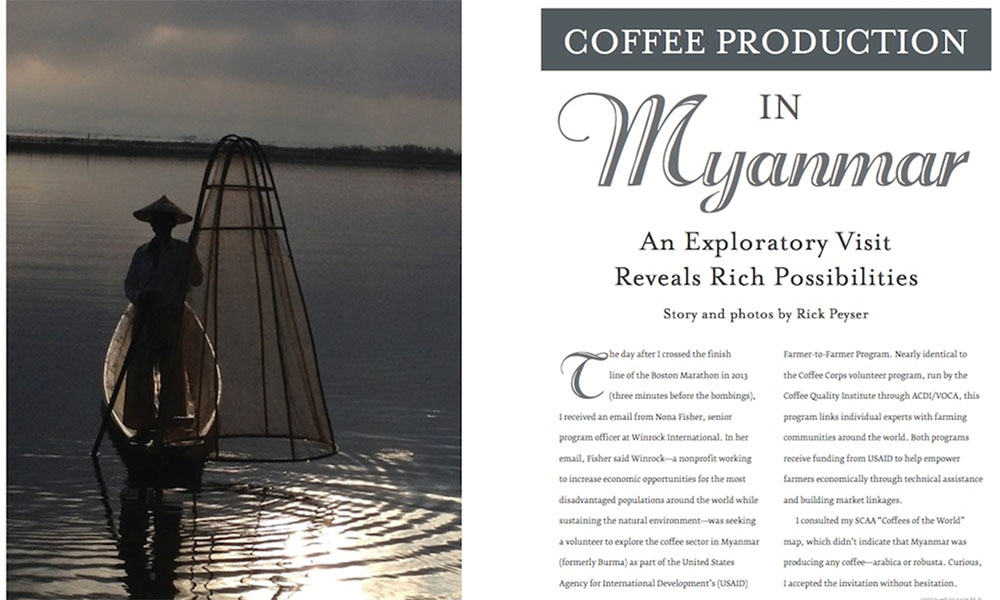 Photograph by Roast Magazine
But the country's potential for specialty was only "discovered" in 2013. That year, then-roaster Rick Peyser visited Myanmar and detailed his experience in an article published by Roast Magazine in 2014.
>> Learn more about Myanmar here.
"The Worst Processing in The World"
The 130 pre-specialty years were precarious. "Post-harvest in Myanmar was probably the worst I had seen so far in the world," remembers food scientist and former Q Grader instructor Mario Fernández.
Working with the Coffee Quality Institute (CQI) at the time, Mario first visited the country in 2015. He coordinated the coffee arm of a project implemented by Winrock International and CQI with USAID funding in Southern Shan State. He also taught processing and analysed hundreds of samples.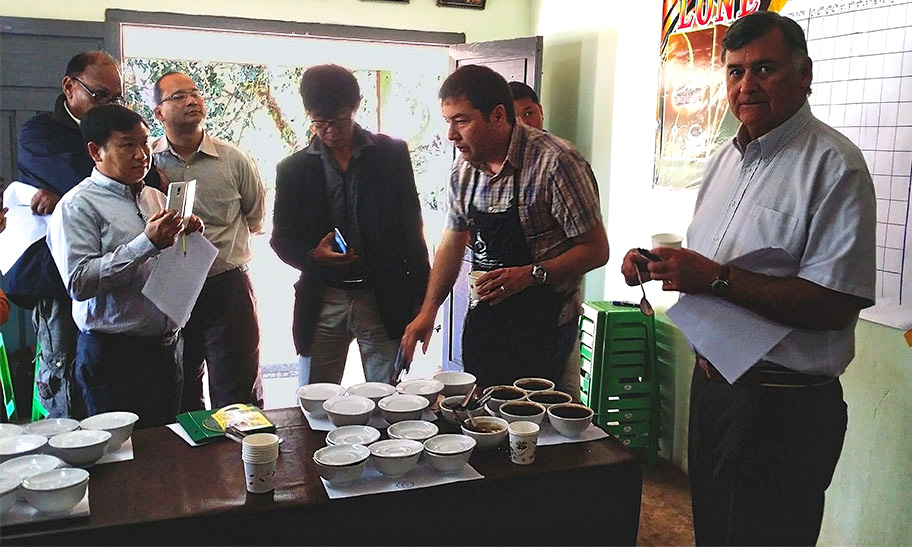 Photo by Mario Fernández
CQI brought coffee consultant Marcelo Pereira Magnere to support the project (he would later work with Winrock as part of their coffee team).
Marcelo had been helping smallholders in Ethiopia to improve quality and worked previously in Yemen, training producers in dry processing.
"When I got there, I found out that there was nothing," Marcelo starts. "The volumes were low and the quality was bad. And it was expensive."
Despite the rough start, Myanmar went from zero to ten in no time. And the CQI team loved it. Marcelo remembers his time there as "the most amazing experience I have ever had" and Mario claims producers were "the sweetest people I'd met".
Marcelo explains why Myanmar coffees are great and why this is an exciting origin.

90+ Potential Confirmed
The USAID Value Chains for Rural Development project involved farmer training in everything from farm to cup plus quality competitions. The first time the coffees were roasted and cupped, judges scored the lots at around 83 points.
But CQI did further experiments, cleaning defects in samples. "We realised that the potential was huge. The coffee could get to a 90+," says Marcelo.
Between 2015 and 2018, the number of samples scoring above 85 points went from zero to 26. Competition-winning scores were higher than 87 points for three years. And one coffee scored 89.58.
There are many reasons behind Myanmar's meteoric rise. Beyond CQI's project and funding for modern wet and dry mills, they involve terroir, varieties, culture and determination.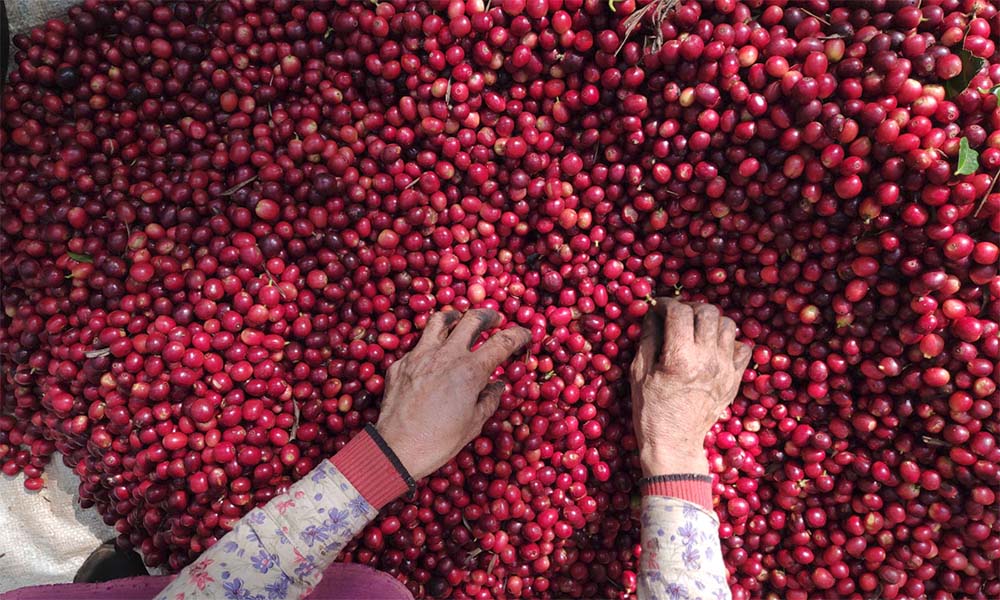 Photo by Mandalay Coffee Group
Why Coffee from Myanmar Is So Good



1. Myanmar's Terroir and Varieties
Coffee is grown mainly in the highlands of Shan State and Mandalay District, where altitude averages around 1350 masl. Mario compares the region of Ywangan, in Southern Shan, to the state of Guerrero in Mexico.
"Myanmar coffee is similar to Atoyac coffee, which has nothing to do with your average Mexican coffee. It's very fruity and spicy. The geographical conditions of Guerrero and Ywangan parallel each other. The climate, altitude and latitude are also very similar."
The harvest happens during the winter monsoon. "The air is crisp, the sky is clear... It's beautiful during the harvest season. It lends itself to making excellent Naturals. You can dry the fruit very easily," Mario explains.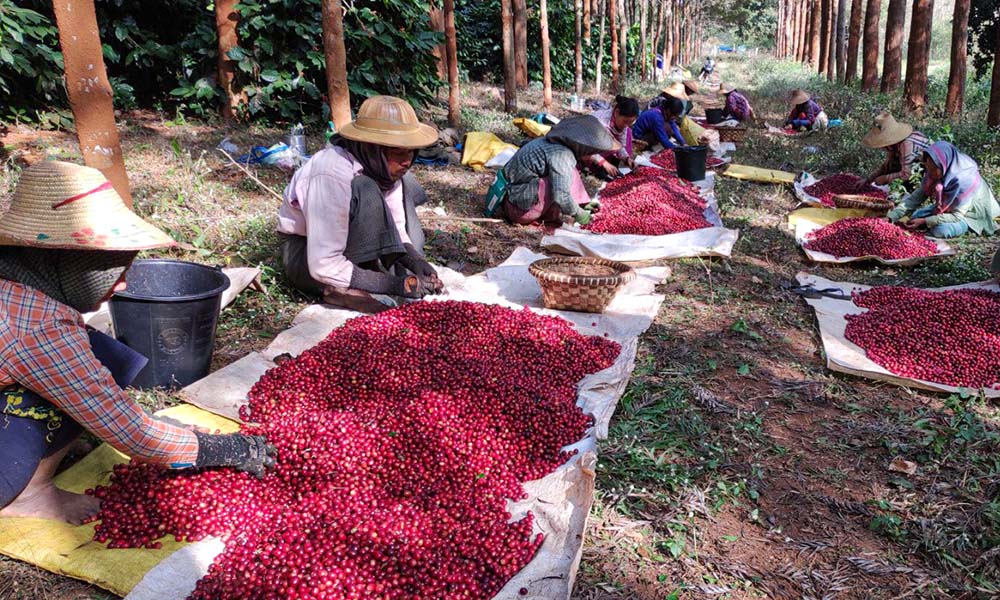 Photo by Mandalay Coffee Group
Lack of access to water sources and sunny days are the reasons why the project decided to train producers on dry processing.
Mario also remarked how dense the forest cover was around coffee plots - "one of the densest shade covers I'd ever seen with much biodiversity".
The main variety in Shan State is Catuaí and, in Mandalay, Catimor. There are also a small number of Indian varieties. Smallholder coffee in Ywangan is organic by default.
2. Myanmar's Culture (and Female Determination)
Even before the project kicked off, both Winrock's and CQI's teams knew producers would excel at training. They got that from observing how communities organised themselves and kept their villages.
"The people were very poor but they had big and beautiful monasteries in all the villages. The monasteries made them organise and use the little money they had to make the place nice. So I said to myself 'These people have the capacity to organise'," Marcelo remembers.
Communal land for agriculture - including coffee - is also common in Myanmar. So coffee belongs to the community, not an individual farmer. If they decide to change something, they have to do it together.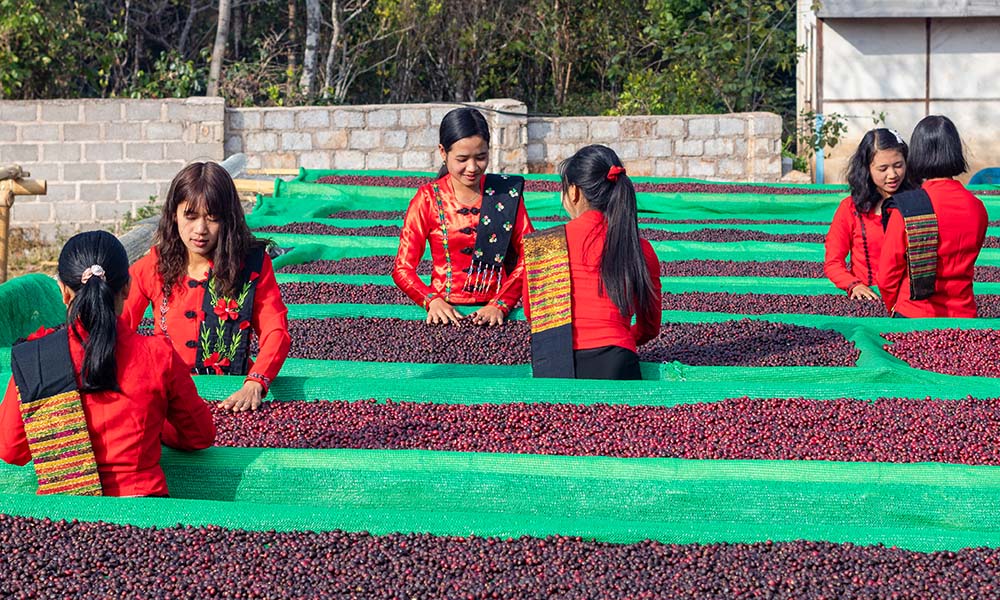 Photo by Shwe Taung Thu
Coffee is also still a secondary crop in Myanmar, behind tea, soy, rice and others. "People work really hard all year round on those crops. However, from December to March, the weather is so dry they can't harvest or start new crops," Marcelo explains.
This is a quiet period in rural Myanmar. "When we introduced quality coffee processing, it was very welcomed because we filled a labour gap."
Marcelo says women, who would normally stay at home at this time, embraced coffee even more than men.
"Today, the most important coffee leaders in the region are women. I dare to say the success of the project in Ywangan was the result of women's determination, boldness, and attention to detail."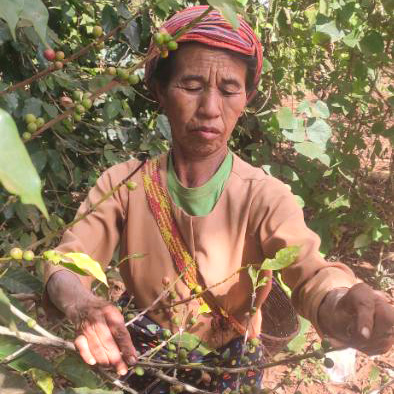 Lisa Conway, CQI's Senior Director of Partnerships, adds that Myanmar's culture lends itself to attention to detail.
"Laborious work to produce something isn't an alien concept to them. Women spend hundreds of hours making small items. So specialty coffee production fits into their culture of taking care of things to produce something of high quality," she says.
The country was also coming out of years of isolation, transitioning from a military regime to a civilian government with a democratically elected leader. "As a nation, they really wanted to open up to the world and get up to speed. They realised their coffee practices were very rustic," Mario concludes.
>> Is it ethical to source coffee from military-ruled Myanmar?
Q Processing Gone Viral
Mario, Marcelo and Lisa all agree that farmers in Myanmar embraced CQI's training and modern coffee handling in general. "They willingly embraced best practices and never looked back," Lisa says.
For her, the scale of the project also helped to create a solid foundation for the local coffee industry. "As they were adopting good practices, the scale of the project was pretty manageable. This probably lent itself to how quickly it spread."
The project ended in 2018 and, by that point, international buyers had been visiting Myanmar and buying containers of good quality coffee for years.
The news of Ywangan's success went viral on Facebook. More farmers wanted to get trained. So villagers began training villagers.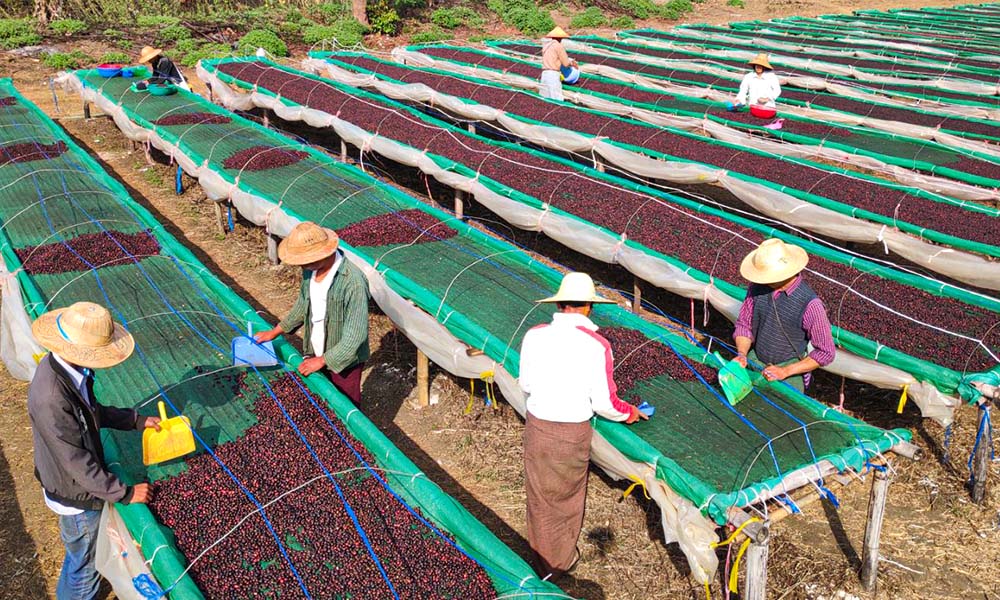 Photo by Mandalay Coffee Group
By the end of the VCRD project, CQI had trained and accredited 17 Q Graders (seven women and 10 men), 20 Q Generalist Processors and 30 Q Professional Processors.
Producer groups formed clusters and associations to facilitate post-harvest and sales. In less than five years, they built the infrastructure they didn't have for 130 years.
"We surpassed 15,000 smallholder farmers trained in good processing and agricultural practices. The last survey showed we didn't leave a single farmer behind in the entire Ywangan region," Marcelo adds.
What's at Stake Now
Today, this work is at risk. The country's return to a military government means most foreigners are not allowed in. Further training can't happen. Of the initial 17 Q Graders, only two still have an active certification.
If buyers and consumers turn their back on coffee from Myanmar now, smallholders can go back to the "dark ages" - as Marcelo puts it.
Myanmar Coffee on Algrano
| | |
| --- | --- |
| ​​Harvest | December to March |
| Order period | Mid-March and April |
| Shipment | May to September |
| Warehouse release | From October |