Deforestation has become a common ground for Peruvian coffee. By promoting the planting of timber trees, cooperatives promote reforestation and facilitate access to smallholder financing in Peru.
---
The city of Jaén in Cajamarca, Northern Peru, is home to two new cooperatives on Algrano. Aroma del Valle and Ecoforest source coffee from similar areas. Yet their coffees are very different.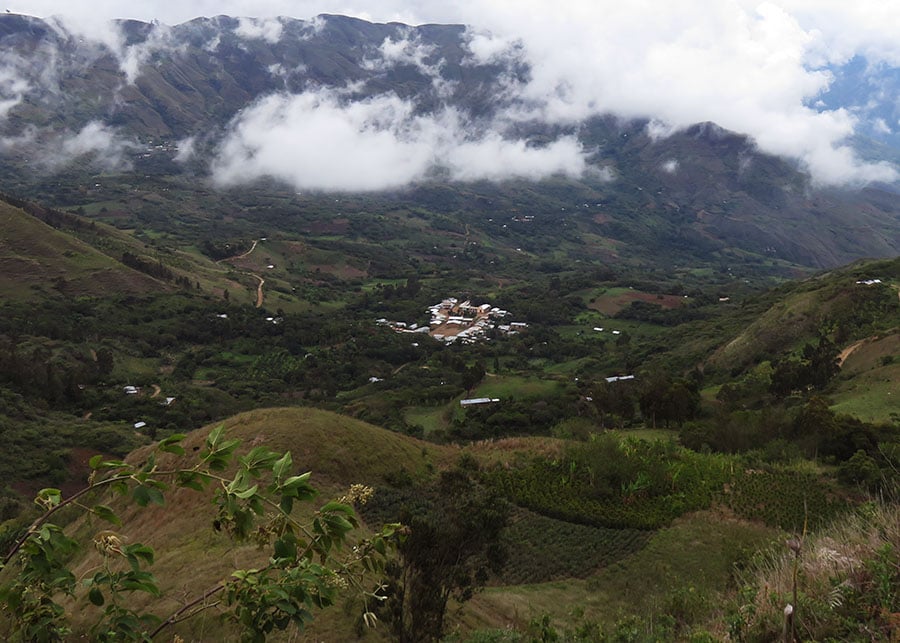 Coffee farms in the Cajamarca region (Photo: Aroma del Valle)

Aroma del Valle, founded by brother and sister Iván and Merly Cruz Rivera in 2015, focuses on micro-lots and 85+ coffees. They featured in Cup of Excellence's winning list twice. And they have a strong base in the high-altitude Cutervo province.

Managed by Percy Daniel Paredes Arévolo, Ecoforest focuses on certifications: they are UTZ/RFA, Organic, Fairtrade and C.A.F.E. Practices certified. Founded in 2014, the cooperative has a strong social and environmental focus.

They also have good quality, but focus on a range between 80 and 85 points on the SCA scale. They pride themselves on consistency, claiming that not a single buyer has had an issue with their coffee in the last eight years.

>> Learn More About Peru on Algrano's Origin Profile Page!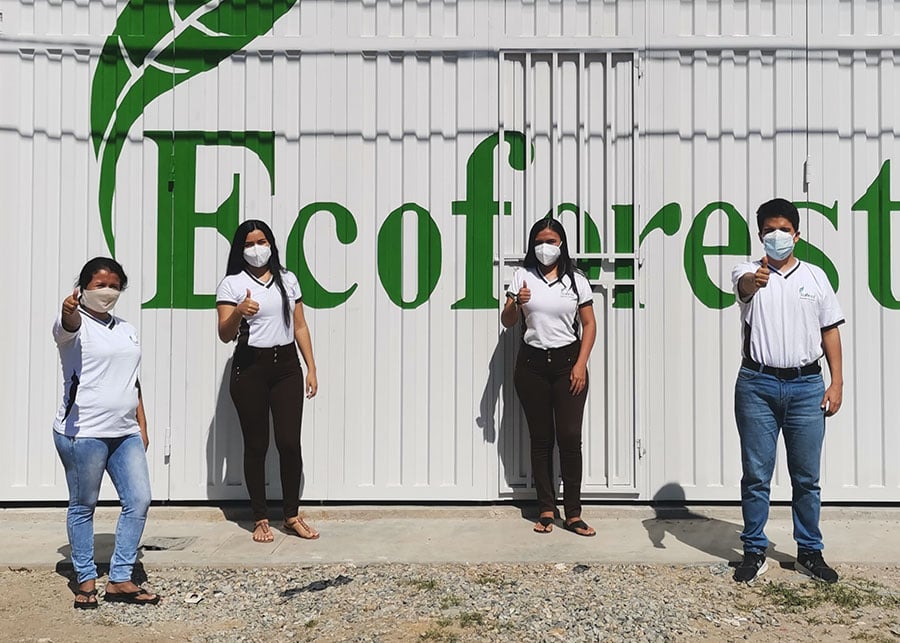 Ecoforest receives dry parchment in their Jaén warehouse (Photo: Ecoforest)

Climate, Consistency and Certification: the Three Cs of Ecoforest

Ecoforest has 402 members equally distributed around 25 villages or bases in the regions of Cajamarca and Amazonas plus a handful in Lambayeq.

The coffee producers are all smallholders with up to three hectares of land in the midst of Peruvian's tropical highland jungle.


| | | | |
| --- | --- | --- | --- |
| Region | Province | Districts | Members |
| | | Chirinos, San Jose de Lourdes, Huarango, La Coipa | |
| | | Huabal, Las Pirias, Bellavista, Jaén, Santa Rosa, San Jose del Alto | |
| | | | |
| | | | |
| | | | |

The cooperative started in 2014 with only 32 members selling coffee in the domestic market through Peruvian traders. "Our coffee reached foreign clients through their intermediation," Daniel remembers.

"But in 2022 we started working on direct contracts with no traders involved. All communication is direct with the client. It's still a very small percentage of our sales but we're working to increase it."

They have four lots on offer on Algrano.com. Two are regional blends and two are community blends. All have the same level of traceability.

From Cajamarca
PE-154 Comite Gramalotal 001A: a blend of coffee beans from 35 producing families of the same committee, called Gramalotal, in the district of

Bellavista, Jaén

. It has a marked profile of

dried fruits

, a juicy body, citric acidity and a pecan-like aftertaste.

PE-158 Peña Blanca 002B

: a great coffee from six family farms in the district of

San José del Alto in Jaén

. Described by Algrano's quality lab as a "

comfort coffee

", it has notes of orange, apples and almonds. A very smooth and balanced cup.

PE-157 Ecoforest 002A

: a regional blend created around flavour that represents 83 families in the villages La Cascarilla, El Huaco, Romerillo and El Triunfo in

San Ignacio and Jaén

. Combines

apples, plums, and berries

. Super sweet and syrupy.
From Amazonas
PE-155 Ecoforest 001B

: another regional blend, this time from small villages in the

Utcumbamba

province such as El Palto, La Soledad, Nuevo Amazonas, and La Libertad. It has your typical Peruvian coffee profile with notes of

apple, almond and chocolate

. Sweet, balanced and with mild acidity.
⛴️ Peru Shipping Information

Sales: until mid-January 2023
Shipping period: December 2022 to February 2023
Warehouse releases: available from April 2023
Destination warehouse: Vollers Bremen (DE)

>>For inter-warehousing timelines, click here.


Certified Organic With an Organic Mindset

The best word to describe Ecoforest is "organic". Not only because of the certification and the cooperative's environmental values. But because that defines its quality and commercial strategies.

Ecoforest doesn't want to grow too fast. Or to have too many customers. Or to rush into experimental post-harvest methods.

They do things at their own pace.

Visiting the Ramirez family in the Gramalotal community (Photo: Ecoforest)

"Our main long-term strategy is to improve the quality of our production. And that this quality reflects in the final product. Experimentation takes time," Daniel starts.

"With the help of technical assistance, our producers have been improving their soil, production and farming practices. This was key for us to start exporting in 2016." Now that their consistency has shown to be flawless, they're ready for the next step:
More experimentation

Direct sales
The organic approach is also reflected in Ecoforest's concern for the environment. They run a wide agroforestry project to encourage reforestation and promote shade-grown coffee.

The objective of the program is to distribute timber trees that producers can plant in their plots.

According to Daniel, this is good not only from an environmental point of view. Peru's "green banks" facilitate credit lines for smallholders who grow timber trees as a way to mitigate irregular extraction and deforestation, and ultimately reduce the country's carbon emissions.
>> How Smallholder Coffee in Peru Can Help Roaster Tackle Carbon Emissions.


The Green Banks Promoting Agroforestry to Tackle Climate Change

Nearly 60% of Peru is covered by forests. The country has the second-largest extension of the Amazon rainforest after Brazil. At the same time, Peru has a problem with illegal logging and timber extraction.

Timber extraction is the main reason behind the decrease in the country's primary forests. As a result, deforestation is one of the main drivers of carbon emissions in Peru.

And satellite data evaluations have shown that most deforestation takes place in the plots of smallholders.

This is why some banks in Peru decided to focus on reforestation and the management of timber products. The focus on sustainability development started in 2014, after COP20 in Lima.

In very rough terms, the idea is this:
A smallholder requests a loan to finance the harvest

The value provided by the timber harvest act as collateral for the bank loan

Less risk decreases interest rates and makes repayments cheaper

Banks can offer more loan products to smallholders


Aroma del Valle: From Cutervo to the World

Aroma del Valle buys dry parchment from 42 villages or bases, explains Iván Rivera. They are distributed in three provinces of Cajamarca: Cutervo, Jaén and San Ignacio.


| | | | |
| --- | --- | --- | --- |
| Region | Province | Districts | Members |
| | | Huabal Jaen, San Jose del Alto, Las Pirias | |
| | | Coipa, Tabaconas, Huarango, San Jose de Lourdes, Chirinos | |
| | | La Capilla, Callayuc, Querocotillo | |
Currently, they have two lots on offer on Algrano: PE-165 from Callayuc, a district of Cutervo where most of their members are; and PE-166 from Tabaconas, a district of San Ignacio.

Iván tells us that the cooperative creates lots based on flavour profile and location. Geography does the job as Cutervo producers are above 1900 masl and Jaen or San Ignacio are above 1400 masl, a 500-meter difference.

"The Callayuc coffees are very distinct from the San Ignacio ones. They tend to be sweeter and more complex. We separate the fruity coffees from the chocolatey ones, the ones above 86 points, etc."

>> Reducing the Roastery's Carbon Emissions By Supporting Organic Coffee Farming in Brazil.

Yet their Tabaconas coffee doesn't disappoint in quality compared to their Cutervo blend. The first is fruitier and the second is more floral. It's a matter of taste.

"There are micro-lots all over the place but in Cutervo 90% of the coffees come out scoring above 84 points," says Iván.

"It's a new zone because it used to be sold to local merchants without traceability until recently. They traditionally harvest the cherries one day and wash the coffee the next. There is a default period of fermentation."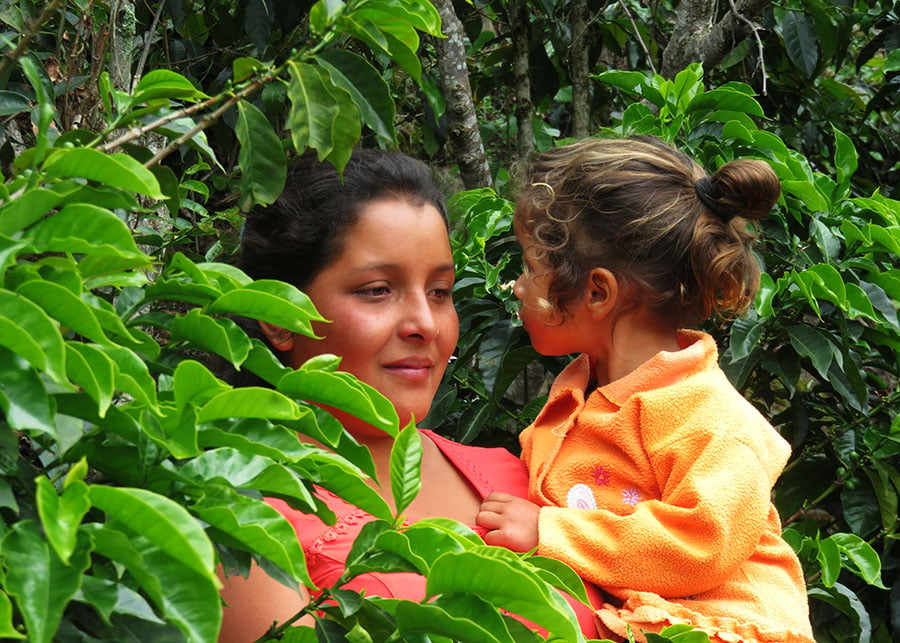 Both cooperatives support the work of female coffee producers in Peru (Photo: Aroma del Valle)

Embracing Coffee Reforestation in 2023

From the start, Aroma del Valle grew their bases around transparency, technical assistance and paying above the local market. They started with 40 producers and now have 698, of which 25% are women.

Their coffee farmers have 2.5 hectares on average and tend to have other subsistence crops such as corn and bananas.

"In Cutervo, most farms are small and the work is done by the family alone. In Jaen and San Ignacio, they are bigger, from 8 to 10 hectares, and they hire workers from Piura."

Despite the strong quality focus, Iván stresses their socio-environmental projects.

The cooperative is planting 100,000 trees for timber across the 48 bases in 2023 and has educational partnerships to provide training to the sons and daughters of farmers.