Colombia's illegal armed groups pose a great challenge to communities stricken by poverty and unemployment. In the department of Valle del Cauca, a small organisation is fighting this reality through rural development. They joined Algrano to find better markets for campesinos' coffees. Learn about Peace Crops and taste the project's first coffee on the platform!
---
Most coffee producers on Vallenpaz's network have between 0.5 and 3 has (Photos: Vallenpaz)
---

Cosechas de Paz (Peace Crops) is a project developed by Vallenpaz, a small not-for-profit organization based in Valle del Cauca, Colombia. They were created in the early 2000s, following a mass kidnapping of parishioners in La María church, in Cali, in 1999. The kidnapping, the largest in Colombia's history, happened on a Sunday during the celebration of the eucharist. Nearly 200 people were taken hostage by the National Liberation Front and one person was killed.

According to Harry Allmendinger, who manages the project, "this was a wake-up call to many business owners in the region. They felt they had to do something in the rural areas to bring new economic opportunities and keep illegal groups away". At that point, a group of local NGOs, big and small businesses, universities and religious organisations decided to join efforts to promote rural development. This is how Vallenpaz was born.

Attacking the roots of the problem

The organisation works with producers of many different crops, from fruits and vegetables to cacao, banana chips and coffee. They cover Valle del Cauca, Cauca and Nariño, three areas where there is armed conflict with with illegal groups (guerrillas, paramilitary and drug trafficking groups). "We work on rural development, giving integral assistance from technical and agricultural support to commercialisation to campesinos," Allmendinger explains. A Swiss-Colombian living in Cali, he discovered Algrano in September 2021 when visiting a roaster and decided to get to know the platform.


The Peace Crops label in a Colombian supermarket and the NGO's coffee shop in downtown Cali (Photos: Vallenpaz)
---

After receiving funding from the European Union to build a coffee shop in downtown Cali and help promote the products of campesinos, Vallenpaz started dedicating more attention to coffee, trying to open markets for the producers they work with. They currently stock the shop with all sorts of products sold under the Cosechas de Paz label, with the goal of supporting "communities at risk, on the borders of illicit plantations and where armed groups transit".

The Peace Crops label follows three main pillars:

Clean production: Minimising the use of toxic inputs and using resources such as water and energy efficiently. Minimising toxicity in the emissions generated by the production process. Recycling and correct disposal of waste. Reduction of the environmental impact of products.


The organisation provides technical support, working on quality and environmental practices (Photos: Vallenpaz)
---

Cutting the middlemen: The label seeks to connect farmers with the market so that they can sell their crops at fair prices without the additional costs of intermediaries. The producers take their crops to associations from where they are distributed throughout the region.

Production in zones of conflict: With each Peace Crops item purchased, a farmer receives the necessary income to recover his or her way of life in peace and, if necessary, to abandon the cultivation of illicit crops.

Smallholder coffee traded the right way

Most coffee producers linked to Vallenpaz are smallholders, with half to 3 hectares of coffee trees and no direct access to the international market. As this is their first year on Algrano, Vallenpaz introduced the platform to a group of interested farmers and asked who would like to put coffees on offer. The brothers Saulo and José Henrique, members of the Asociacion de Cafiicultores de Guadualito and co-owners of Finca Vista Hermosa, were the first to come forward, sending samples of a Fully Washed Castillo that would make for a great espresso.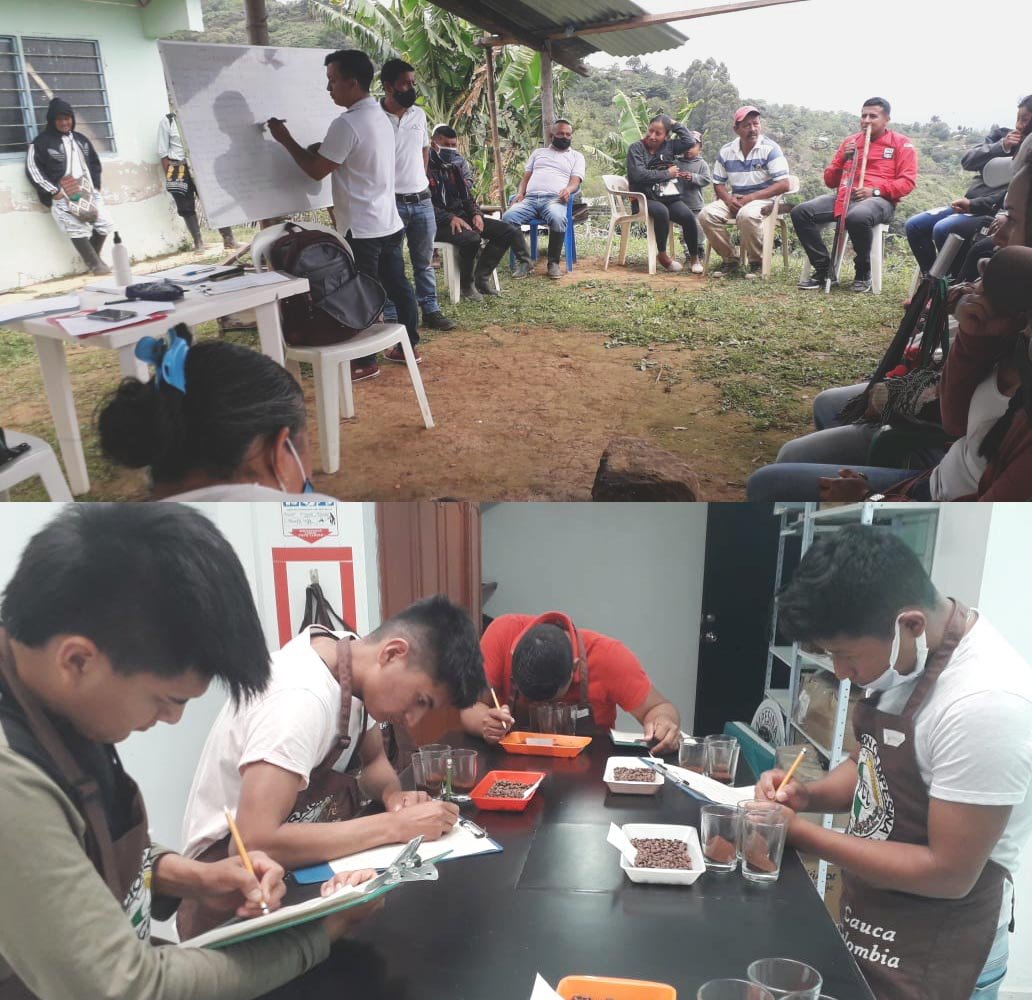 On-farm training and cupping courses organised by Vallenpaz (Photos: Vallenpaz)
---

Though Vallenpaz manages the sales process on Algrano, Saulo and José are the ones who decide how much coffee to offer and the asking price. "They make their calculations and tell us if it's convenient. What we want is that they get better prices, otherwise they would just sell to a local cooperative", says Allmendinger. When a roaster purchases the coffee on the platform, Vallenpaz buys the coffee from the farmers so they don't have to wait until the shipment date to get paid. Then, the beans are consolidated with Cafenorte in the North of Valle del Cauca and exported.

The new crop of Vista Hermosa in Guadualito, an indigenous resguardo (indigenous reserve) in the department of Cauca, is set to start in October. However, you can already get type samples of the coffee here. Have a taste and show your interest! It's a great way to support the Peace Crops project and start building a story of social development in rural Colombia and support the work of Vallenpaz.