Growers are traveling more. Though it is a costly endeavour for them, many coffee farmers visit Europe during international events to meet buyers and roasters in the hope to strike a deal. For example, the Coffee Cluster from Santander in Colombia, that will participate in the #ColombianDiscoveries in January, gathered funds to go to World of Coffee in Berlin this year. They received positive feedback on their samples and had a lot of interest, however stumbled on a common barrier: how to ship 10 bags to a roaster in a container that needs a least 10 times that amount to justify the cost? This is why #AlgranoDiscoveries exist.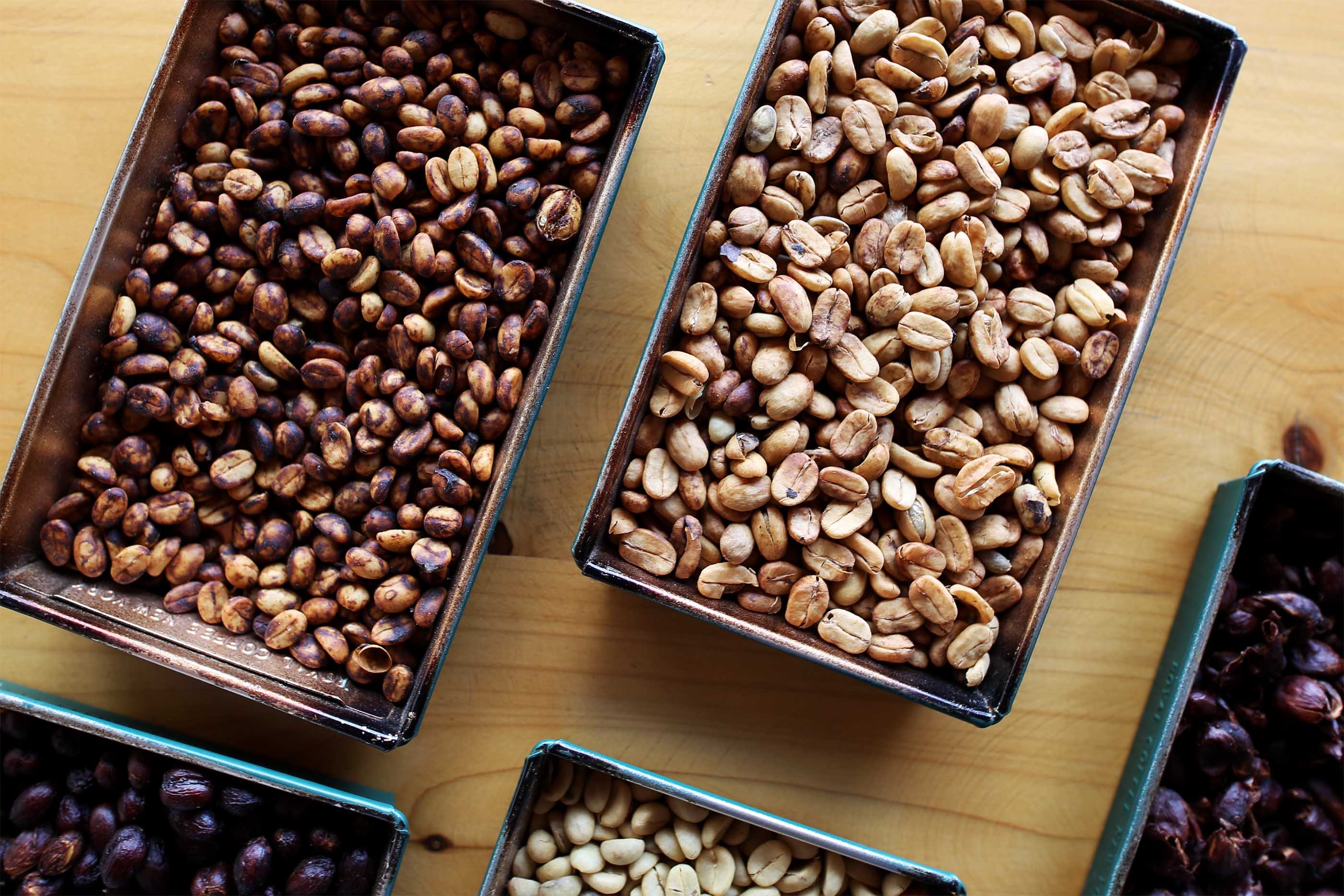 Gonzalo Mancilla from Finca San Fernando in Piedecuesta experimenting with natural and honey processes. He says the difference between a yellow to a red honey relies more on time of drying than how much mucilage is left on the seed.
Discoveries put together offers from multiple growers, some of them as small as 3 sacks, into a single container. This brings the final cost of the landed coffee down. It allows roasters to buy small quantities directly and growers to get better prices. For small and medium-size farmers, consolidating containers is a key strategy to make way into new markets. It is a way to start small, create trust with new customers and build their brand.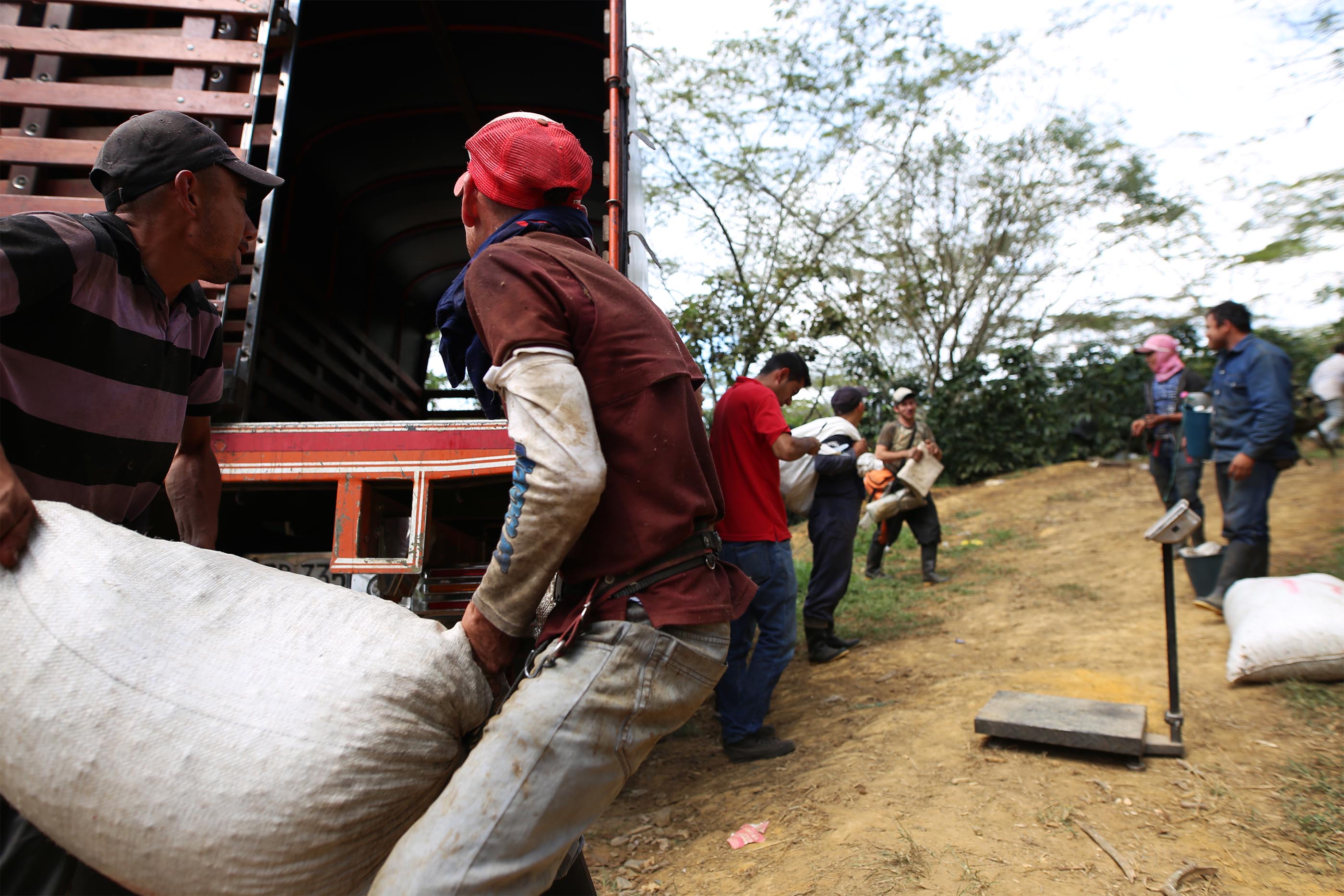 Pickers from La Pradera load the truck with the day's pickings. Cherries are weighed on spot and marked with their names. Payment at the end of week is according to how much they picked.
Though logistically challenging, starting with small volumes is a good way for both growers and roasters to get a feel from each other. Relationships need trust. Trust takes time. A small volume now can grow into bigger amounts as a roastery grows or shift their supply chain. Then, logistics will be easier and cheaper. It may seem like baby steps, but it is how transparent and stable commercial alliances are achieved. It is good for business and it is a solution towards a sustainable supply chain. For a roaster, it is also direct trade as convenient as it gets.
A new way of making business
Though Algrano works with a big network of suppliers, Discoveries (as the name suggests) mainly showcase new groups of growers or cooperatives with whom Algrano hasn't worked with before. And because Algrano is not a conventional trader or buyer, there is not a lot of reference for standard practice. Does Algrano buy coffee to sell it spot? No. How much is the coffee going to sell for? You name it. It involves a lot of explaining, emails, WhatsApp messages, and checklists. Sometimes, words get lost in translation.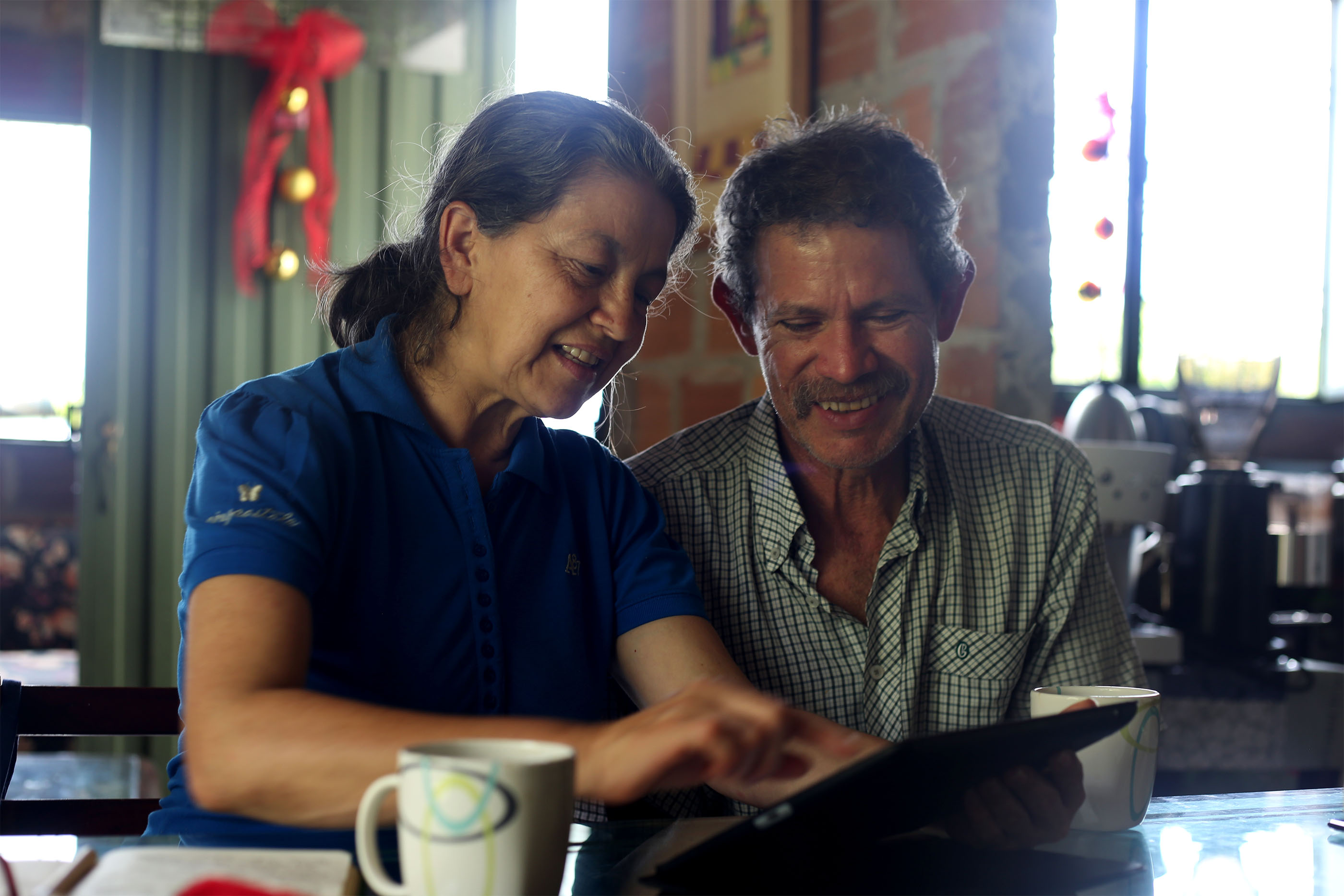 Hilda and Alvaro from Finca El Sauce in Curiti updating their profile on the Algrano platform
Most growers are used to being told what the price is going to be. As a supply chain partner, Algrano comments on prices based on the needs collected from the market but make clear the decision is theirs. This approach spikes interest, but there is still a lot of talking and negotiation.
In Colombia, for example, growers with no exporting experience will be used to trade in pesos per carga (one carga equals 125kg of dry parchment). To translate the price in dollars per pound it depends on how much coffee the parchment yields (the coffee's factor) and to what standard they need to prepare it. In Europe, zero primary defects (known as EP - European Preparation) are accepted. Milling will be something like 10.000 pesos more expensive per kilo.
Pricing is not the only thing many growers are not used to. Business as usual also means that they don't know much about what happens to the coffee after it is bought. Who pays the exporting fee? Algrano does. Does Algrano move coffee from A to B? No. But Algrano connects growers to local partners so they can do it. Algrano facilitates introductions and communication so that each partner involved agrees on the terms of payment and delivery prior to shipment.
Consolidation and the pains of direct trade
For North Colombia, Algrano is working with Racafé for exporting. Racafé will receive the coffees, put them inside Grainpro bags, take samples for quality control, ship the container and also make payment to the farmers. Algrano needs a partner to centralise operations (including payment) because consolidating containers with multiple micro lots is difficult and slow. Documents from each producer have to be checked and the quality of each lot assured before the container is released. If a problem occurs with one lot the whole container is delayed.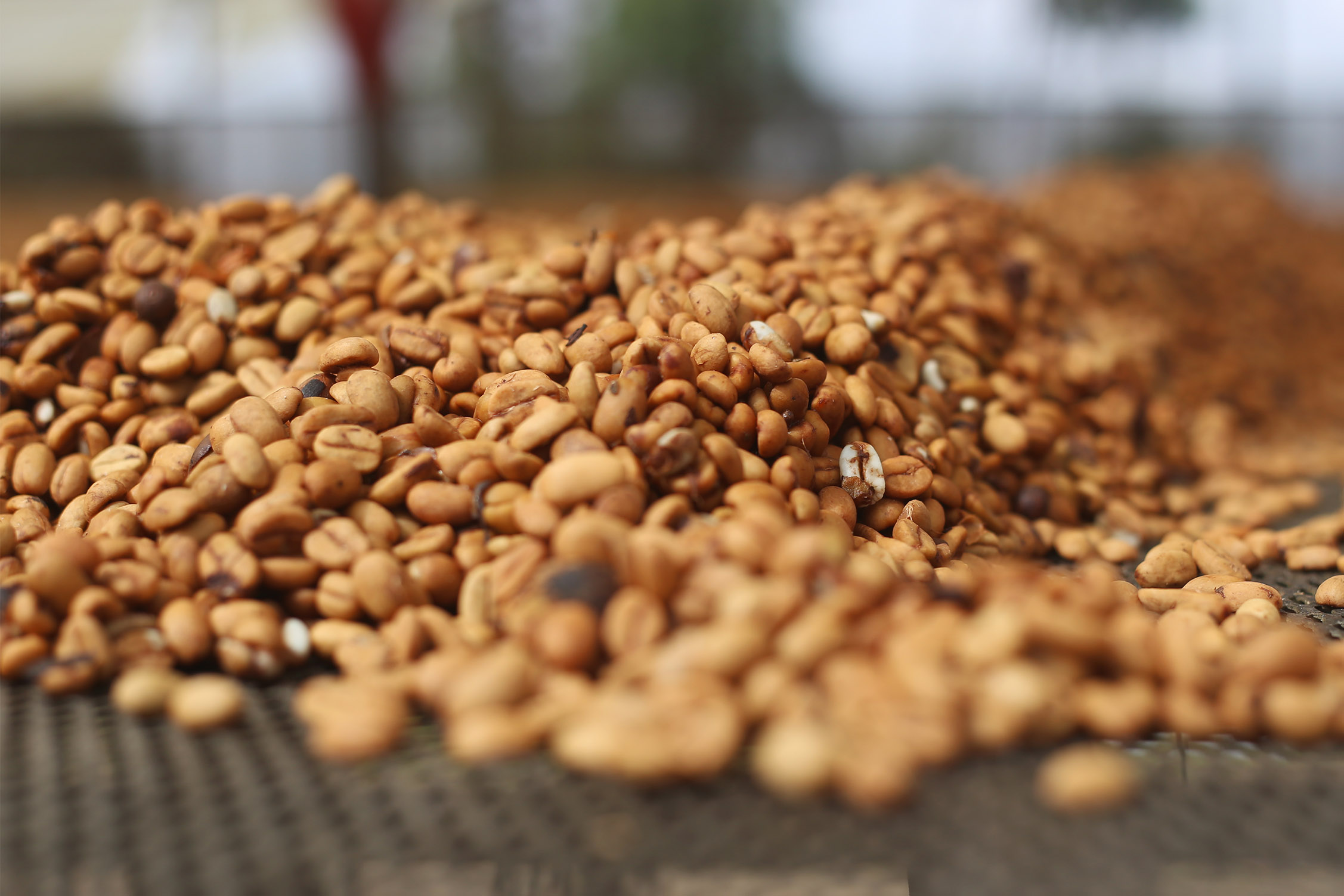 Honey processing at La Pradera in an initial drying phase before being taken to the marquesinas
In Santander, Paola Diaz Castillo from Café Los Comuneros is centralising communications with the Coffee Cluster. Each farmer will arrange milling for their own coffee - Racafé won't mill lots smaller than 50 bags as their trilladora is too big - and transport to the bodega in Bucaramanga. In Sierra Nevada, Juan Diazgranados is our main point of contact for exporting. He is the director of the local Specialty Coffee Association chapter and also an exporter. His company is called Sierra Co.. Unlike Paola, Juan is overseeing milling and transport in the name of the farmers in Sierra Nevada and will receive a commission for his services.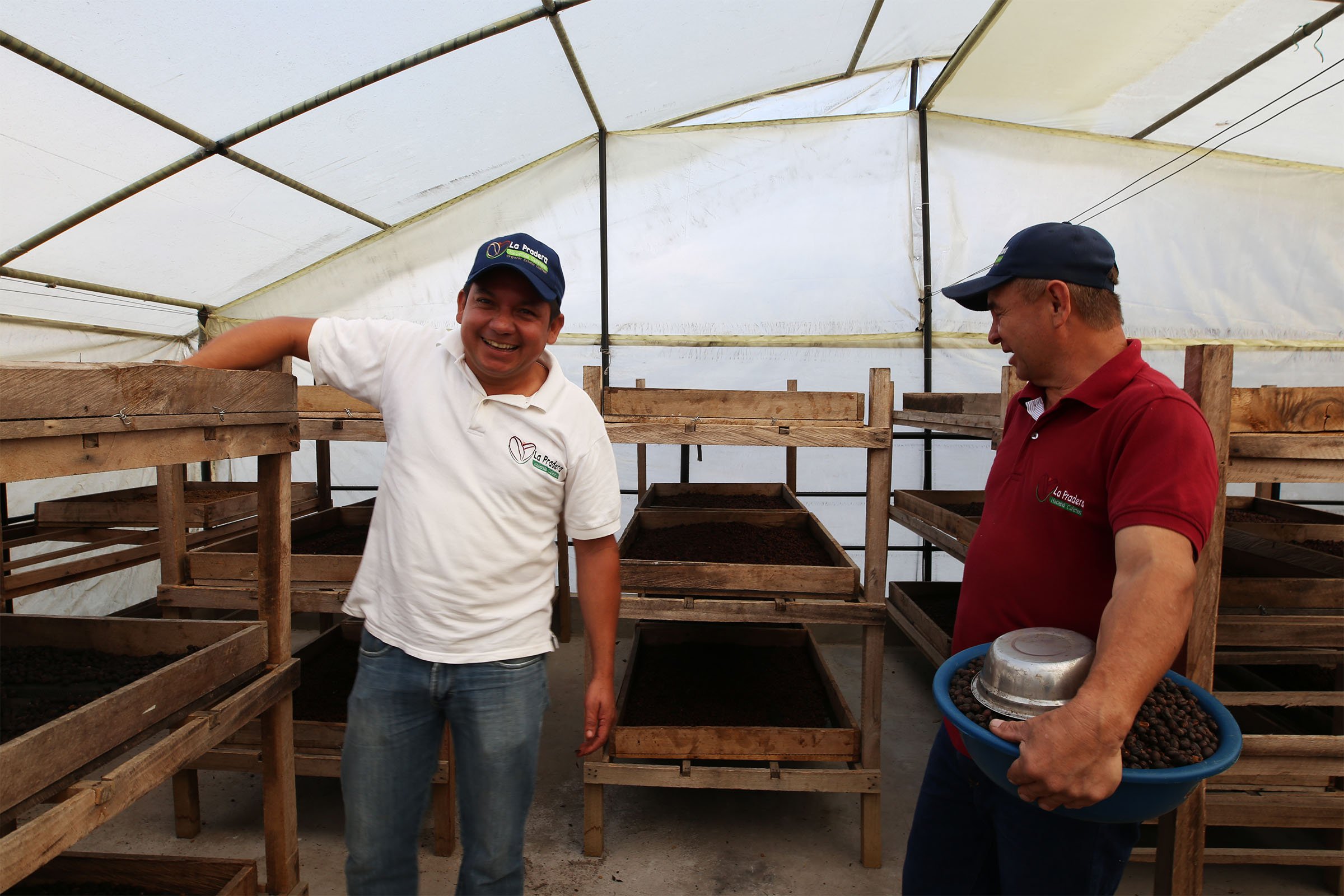 Oscar Daza and Luis Alfredo Archilla at La Pradera's marquesina drying a range of organic Tabi, Mocca and Castillo varietals
No pain, no gain: a complex operation
All these various stages of the supply chain have to be efficiently coordinated so that the shipping process runs smoothly, payment is done to the farmers in time and each lot arrives at roasters at the expected date. Discoveries are a complex operation on both sides. Growers must lock the lot on offer until the end of the Discovery (instead of selling it straight away to an importer or the FNC). Algrano suggests that growers offer small volumes of qualities they think they can sell for a higher premium so their cash flow isn't tied up. In the end, they have a much bigger slice of the cake.