Hi, my name is Coen and I am the latest team member to join Algrano! I have been in a long-term relationship with coffee since 2003. It has been an interesting journey from commercial coffee to specialty, followed by national and world championships and a first-hand experience of roasting and travel to origin. I want to tell you my story; how I went all the way from brown to green beans and what is so exciting about the future of direct trade.
Astonished, speechless, delighted and confused. Squeezing my eyes together, slightly smiling, the aftertaste still in my mouth, I asked: "Is this coffee?". This is a flashback to losing my World of Coffee (WOC) virginity in Cologne, 2009, only a couple of weeks after I had heard about La Marzocco and Latte Art for the first time. Walking around the exhibition with 'Dutch Godfather of specialty coffee' and espresso machine collector, Henk Langkemper, I stopped at the stand of a green coffee importer. They offered us an espresso, a blend of Brazilian and Ethiopian specialty beans, brewed on a Kees van der Westen Speedster. I remember swirling the white cup in my right hand and lifting the porcelain to my lips. I took a smalI sip, unaware of the flavours about to hit me; so sweet, so sticky, so rich in flavour, so much going on! This experience was the start of my career in specialty coffee. I was hungry for more and would not let go.
At that time I was managing a busy cafe at a train station in The Netherlands. Ten of thousands of people passed by LEBKOV & Sons every day. A big chunk of them were attracted to the shiny espresso machines, and together they consumed on average 10kg of roasted beans a day. Grardie Akkerhuis was the compassionate employer who gave me the tools, access to knowledge and time to drive to success. It was in this cafe where I met the man who would become my future specialty coffee and barista competition buddy.
Yakup Aydin had played in the top Dutch Barista league already for several years. His dream, to be on the world stage, was the inspiration behind me diving deeper into every single step of the process. This adventure of continuously brewing different coffees, reading the whole world wide web, traveling to origin, and training our asses off for the next years' competitions was one of the steepest learning curves I have faced. Yet together we became 3 times Dutch Barista Champions, and made it to the world stage, where specialty coffee took on another dimension.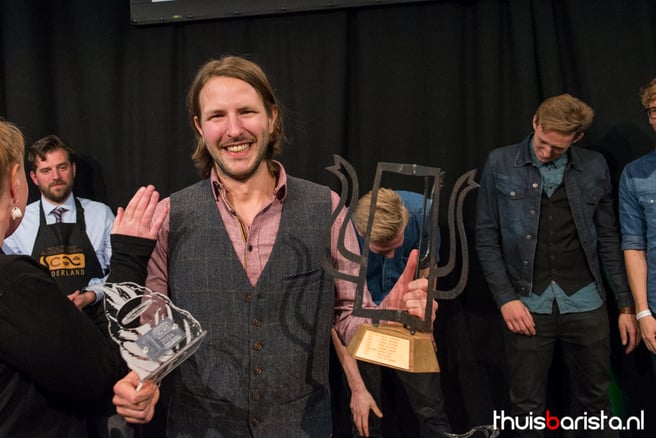 Connecting and sharing thoughts with coffee-minded people from all over the world brought me new insights and experiences, which led to origin visits, and judging international coffee competitions.
I felt lucky to travel to Ethiopia during my very first origin field trip. The mother country of coffee showed me her best side. After soaking in the vibrancy of Addis Ababa, including injera and cultural dance, we left for the countryside. Driving for hours over unpaved roads, windows and eyes wide open, absorbing all the aromas of fresh air and green leaves and earth and roasted coffee along the sidewalk... and finally arriving at a beautiful washing station. The openness of the people, observing the work they do and sharing the coffee ceremony filled me with a sense of happiness and determination. Coffee is my life. Honduras, Colombia, Zambia, and Kenya followed and I hope to be able to visit and work with many more origin countries in the coming years.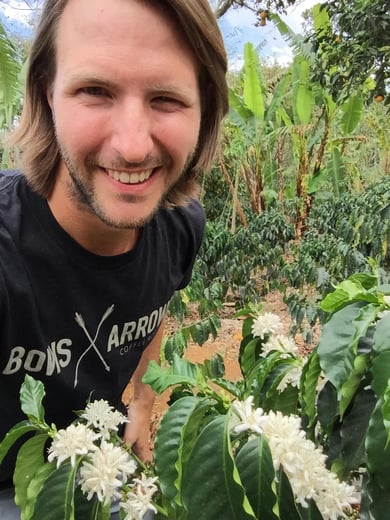 In the meanwhile, I got my first roastery job at Bocca Coffee Roasters in Amsterdam. With a passionate, structured and quality-focused approach I took care of the quality control and the green buying. After two years it was time for change and to address the missing link in my knowledge. I had experience brewing lots of coffee and buying the green product, but coffee roasting still felt like a black box. I decided to spread my wings and learn from the best.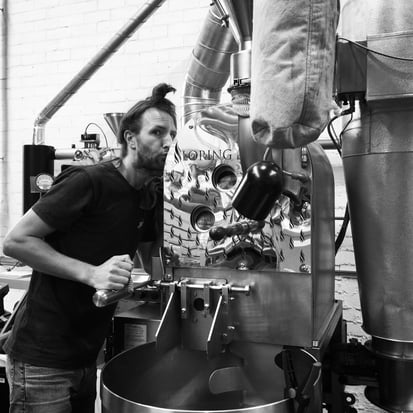 Melbourne really is 'heaven on earth' for a hospitality addict like myself; not only for specialty coffee, but also for farm to table food, natural wine and service. The competition is killer, which in my opinion keeps the level so high. At Dukes Coffee Roasters I learned to roast coffee in a very refined way on a 15kg and 35kg Loring. We roasted a big variety of products, staying on top of our game and adapting to the market.
Back in Amsterdam in 2018, I joined Friedhats Coffee Roasters. A smaller, eager, fun and quality driven roastery where Lex and Dylan brought their creativity alive. My overseas experience came in handy whilst the company grew and changed production from a Giessen W6 to a Probat UG22. Lex placing 2nd during the World Barista Championships in 2018 - in our own city, Amsterdam - was a treat to be part of.
Now, at Algrano, I have jumped into the exciting role of Customer Success Manager. After my journey thus far, I decided to merge my fascination for origin with my love for roasting. My new position combines my passion for high quality products with the delivery of high quality Melbourne service.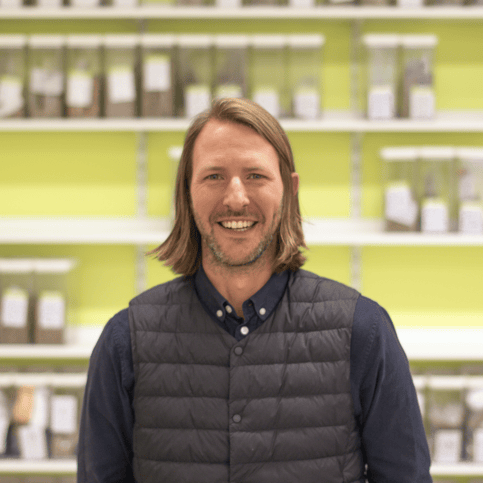 I believe that with the Algrano platform, we are moving in the exact right direction; connecting growers to roasters and providing both parties with price transparency throughout the chain. We are using technology to empower farmers to act as entrepreneurs and set their own prices, whilst giving the roasters, big or small, access to direct trade and lots of marketing information.
Having my story shared, I am keen to hear about yours. And I want you to know, I am here at Algrano and ready to help you out!
***
Are you a roaster considering buying a coffee directly from a grower? Sign up to Algrano (it's free) and start meeting growers and browsing their amazing coffees.