The improved Sample Review feature asks one small but key question: is this coffee a match? Give feedback that is truly useful and quick. Boost your response rate, reward producers for sending free samples and help them get the information they need to best sell their coffee.
---

This week, all roasters on Algrano gained a dedicated table view for their sample orders, making it easier to manage the coffees they are considering to source. We are also displaying the shipment date per sample so that roasters don't risk missing the order deadline. Finally, we simplified the review process so that users can be confident to give producers feedback that is objective, constructive and, what's more, quick.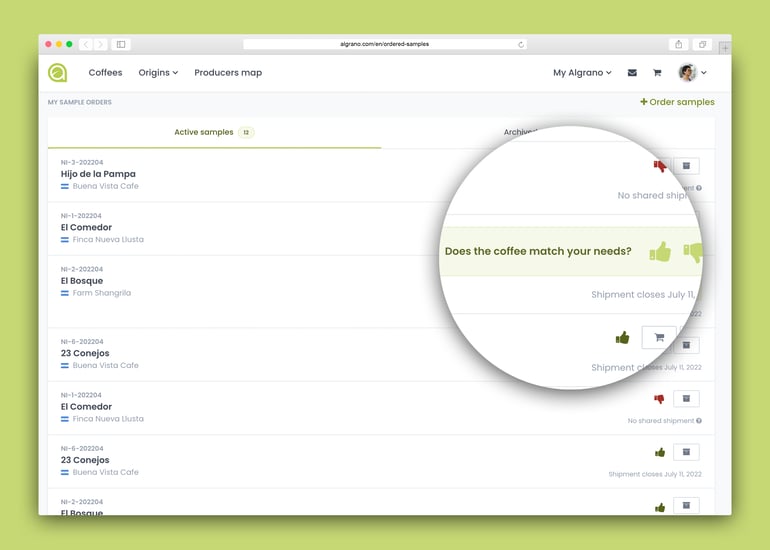 So what's changing?

Though the old Sample Feedback feature has seen consistent growth since it was originally deployed in August 2020, Algrano understands that many roasters might feel unsure about what to write to producers. Our user research revealed that green buyers believed that the previous star rating review system didn't reflect the realities of quality assessment, making them feel that they couldn't always offer constructive comments, especially when the coffee wasn't what they were looking for.

Now, roasters can review samples by answering a simple but key question: Is this coffee a match for you? With this change, we are taking into account that the choice of coffees is not merely based on quality. Most importantly, a roaster's choice reflects if that coffee lot matches their portfolio of coffees and the current needs of the roastery.

Why is this better?

By answering this question, roasters indicate to producers if they are interested in a coffee or not, giving information that is truly actionable. If the coffee wasn't a match for many roasters, a seller can decide to sell it elsewhere. If the match was positive, sellers can start a dialogue with buyers and set that coffee aside.

Either way, roasters are always providing value to sellers and helping them make informed decisions about what to offer in the marketplace. Ultimately, as sellers learn about roasters' preferences, they make their offers in the marketplace more tailored to their needs. It's a win-win!

By removing the guesswork for roasters, we hope to see many more users reviewing their samples and producers becoming empowered to take control of the sales process. This is key to Algrano's mission to balance the power dynamics in the supply chain.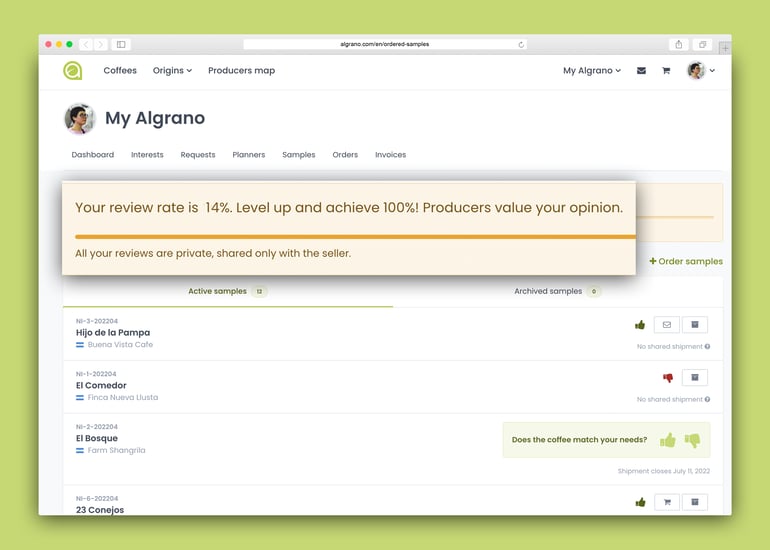 Boosting the review rate

We want roasters to know how much producers value their opinion. This is why users will now also have access to their review rate. Producers can see which reviews are pending and which have been reviewed. Also, review rates are private and feedback is only shared with the seller of a given coffee. The more roasters review the more they boost their rate and get closer to becoming feedback heroes!

As the new review system is more objective, producers know that a match doesn't mean that the coffee is sold, so roasters don't need to worry about leading them on. A match simply means that the coffee is being considered. However, it's important to give feedback as soon as the samples are cupped so that they are not in the dark. A quick review is the best way to start a relationship with the right foot.

What if the coffee is not a match?

We selected a small number of factual reasons that roasters can choose from when the coffee doesn't match their needs. This way, they don't have to justify their choice based on quality alone and producers can get the bigger picture. Like this: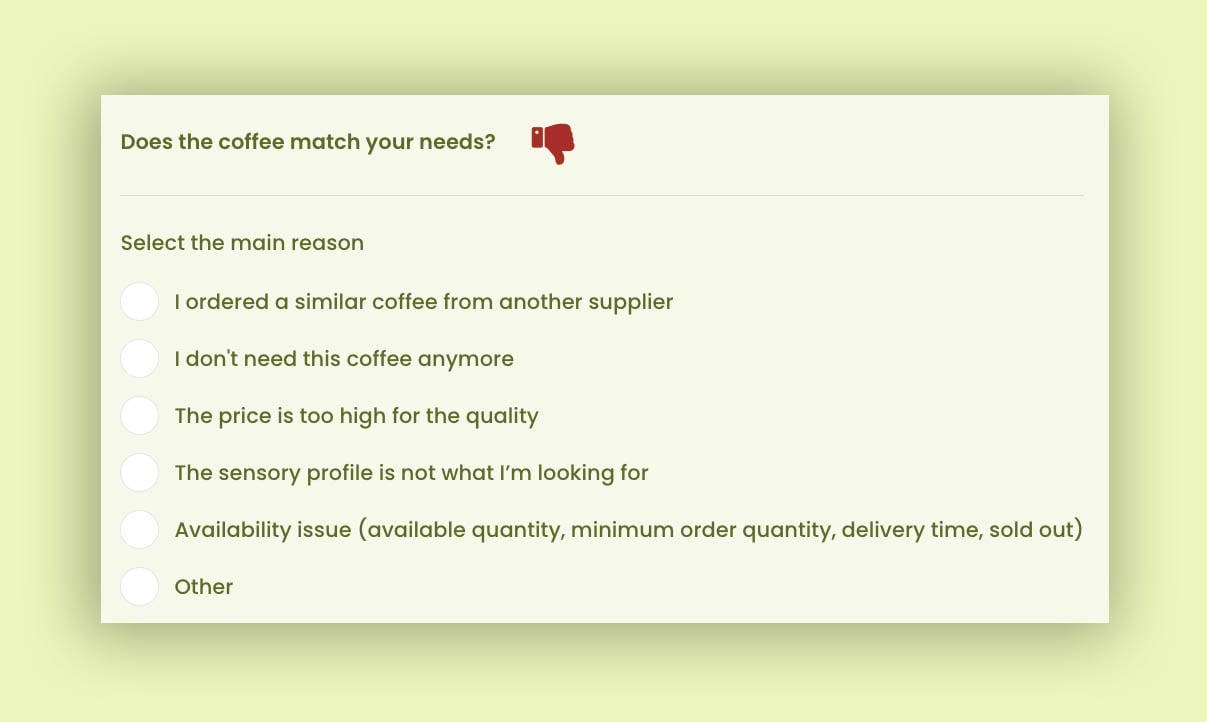 Roasters can still follow up on their review with a personal message to the producer in case they wish to provide more details or attach a cupping sheet. Even when a user doesn't have the time to be as detailed as one would like to be, they are still giving productive feedback every time.