This new year starts with exciting news! After two years spreading the word about algrano in most Latin American producing countries, we are stepping in the motherland of coffee.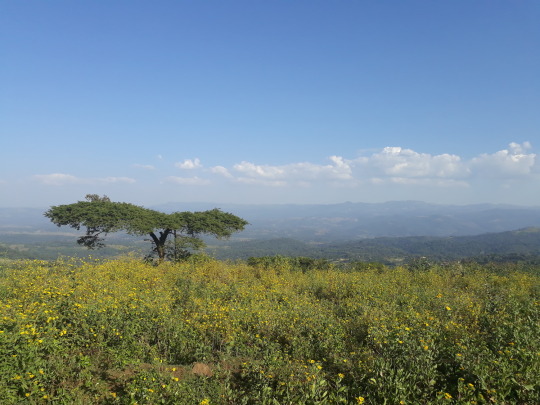 In December I travelled through Ethiopia for two weeks to meet local partners and offer the Ethiopian growers the possibility to present their coffees to the growing community of roasters sourcing on algrano. I am happy to share my impressions, my analysis of the Ethiopian coffee situation and how algrano is working in the country.
The Ethiopian coffee value chain
In the different coffee producing regions of Ethiopia, producers grow and harvest their coffees on a hectare or less of land. During the harvest, growers deliver the ripe cherries to the nearby washing station. This is where the coffee is pulped and dried on the emblematic African raised beds. Washing stations are either privately owned or belong to local growers cooperatives. Once dried, the parchment coffee is sent to the capital, Addis Abeba. It is in Addis that the entire country production is centralized, hulled, graded and stored before shipment through the port of Djibouti.
ECX reform
While preparing the trip I had heard of the existence of the Ethiopia Commodity Exchange (ECX) reform in 2017 and that the changes would have profound impacts on the current supply chain. So let me shed light on the change happening. Before the new regulation, only cooperatives' unions were allowed to export their coffees directly. Private washing stations' owners had to sell their coffee to the ECX, their coffee would then be auctioned and they would lose the traceability of their coffees at this point. This old regulation gave the monopoly of traceable coffees to the cooperatives' unions. The new regulation instead, allows exporters to purchase coffees from private washing stations and export them. In addition, plantation owners are now also allowed to export their own coffees directly. There is a lot of talking about the new regulation, its impacts and opportunities but the changes will not be immediately implemented. Changes will likely be effective for the next crop.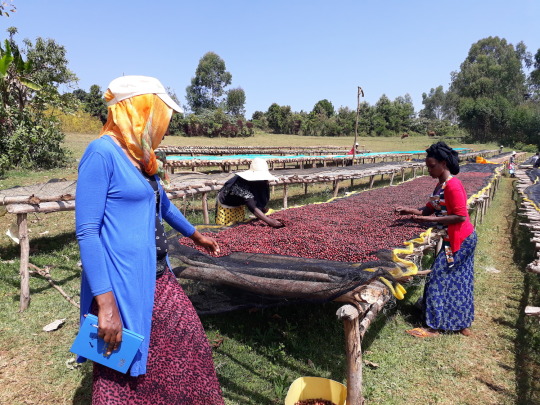 Focus on cooperatives and plantations coffees
Sticking to our model of empowering growers by providing them modern tools to market and sell their coffees directly to roasters, only cooperatives and plantations will offer their coffees on algrano. There are hundreds of cooperatives across the country that are organized in unions. Unions gather between 10 and 200 cooperatives together and are responsible for the milling, marketing, selling and export of the cooperatives' coffees.
Before leaving Addis Abeba to go the fields, I bought a local SIM card from EthioTelecom - the state-owned and only telecom provider in the country - to test out the connectivity across the country. Though not always extremely fast, I was connected on 3G all the time, even in remote villages. Smartphone are not widespread in villages but I could demonstrate algrano on the mobile phones of the cooperatives' or unions' managers. I was impressed by this fact and felt encouraged to offer our solution to Ethiopian cooperatives.
Great offers coming up!
Starting next week, cooperatives and plantations will be offering coffees from Sidamo, Yirgacheffe, Jimma, Agaro and Limu regions. Sidamo and Yirgacheffe regions are two famous producing origins, Yirgacheffe being a sub region of the bigger Sidamo area. This being said, I was impressed by how the Jimma, Agaro and Limu regions are developing in terms of quality. Usually less recognized regions, cooperatives and unions have been investing a lot in equipment (new eco pulping machines) and improving processes to use less water and have better quality results. In the last few years, selected cooperatives have been harvesting the fruits of these investments. Hunda Oli or Duromina are two examples of cooperatives from the Jimma, Agaro regions that are getting their names known in the specialty industry.
These are the reasons why we are planning a first consolidated container from the Jimma area. The Kata Muduga Cooperatives Union, led by Asnake - a young and forward thinking leader - will offer coffees from different cooperatives. Roasters will be able to order even small quantities from this consolidated container and plantations and cooperatives from other regions will offer bigger lots with a minimum order quantity of 50 bags.
The algrano team is thrilled by this new development in Ethiopia and we are looking forward to connect you to these fantastic coffees and the growers behind them! So… stay tuned!
Gilles