All coffee professionals crave trips to the origin. They give us the feeling of human connection and bring us closer to the roots of coffee. Even though the pandemic is not quite over yet, getting closer to producing countries is no longer an impossible mission. To give us all a mood-booster this January and bring the two worlds closer to each other Algrano organised a virtual trip to the beautiful Colombia where you will get a chance to meet two great coffee families and learn some very special secrets of Colombian coffee this season.
In the spirit of escapism and to make your #quarantinelife more fun, Algrano invites you to embark on our virtual origin trip on January 22th. Luiza, our Sourcing Manager, will be joined by two growers to guide you on a journey to Colombian coffee farms.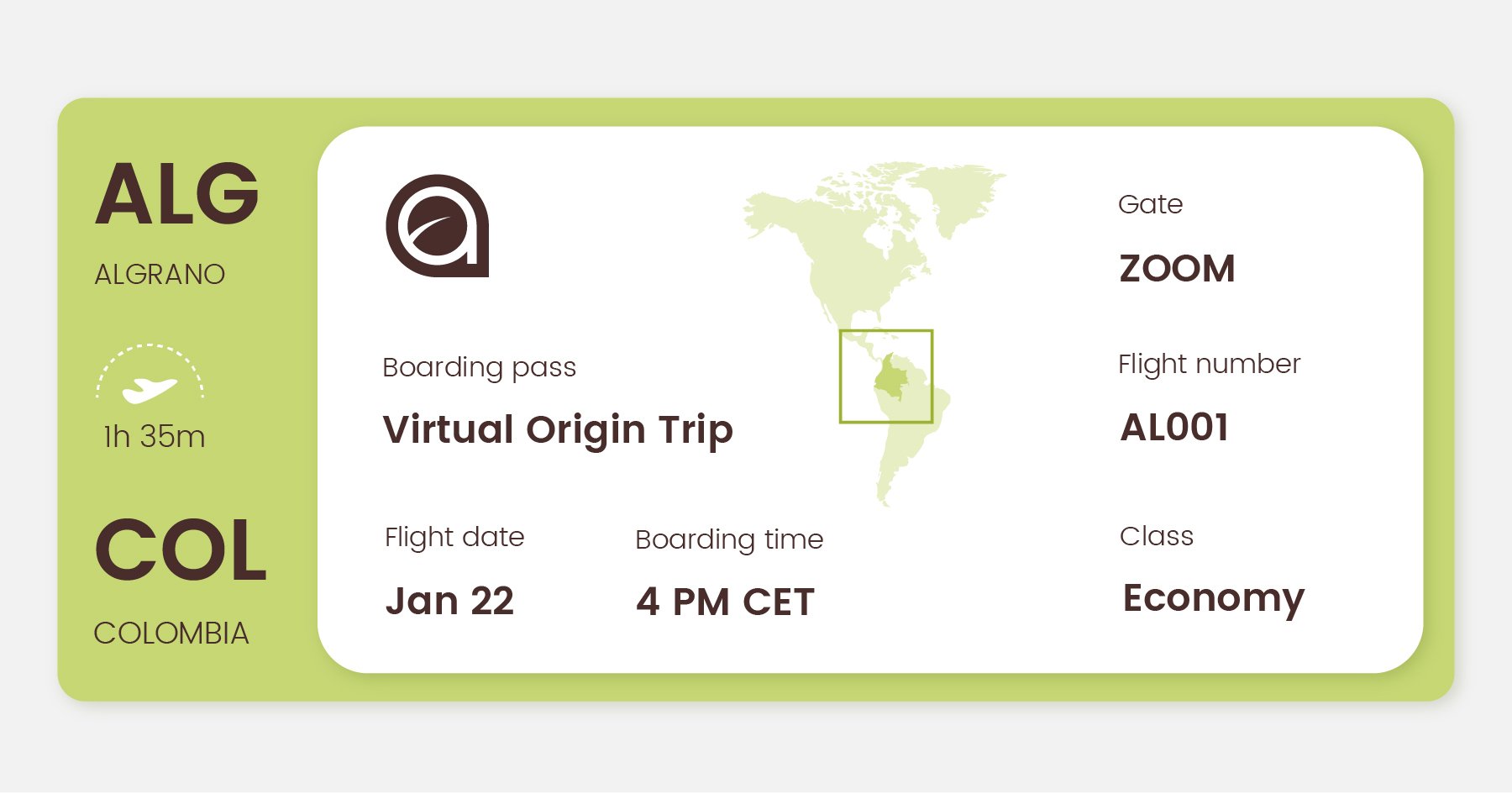 The itinerary:
Meet the farmers. A short tour of Hacienda Cafetalera La Pradera in Santander, North Colombia, and to the processing facilities of farmers and exporters of Cofinet in Quindio, Central Colombia,
followed by a nice chat over a cup of coffee moderated by Luiza. Every attendee is more than welcome to join the conversation. We will discuss the status of the harvest in Colombia and talk to the growers about how they support each other, the community and what to expect from Colombian coffees this season:
How the harvest has been different because of COVID-19 this year and what did it take to make it work with less seasonal workers being able to travel from other areas

Interesting facts of different processing methods and information about micro-lots

Find out about the Internship programme for other farmers from Cofinet
Meet the guides
Hacienda Cafetalera La Pradera

A four generation, family-operated estate farm in Santander, Colombia. They produce, mill and export exceptional coffees, applying science and innovation, while conserving the environment and positively impacting the community of Aratoca, Colombia.
In the early 1970's Mr. Héctor Daza began the transformation of the family farm into a coffee paradise, by planting diverse timber and fruit trees, creating a beautiful shade canopy for the different varieties of coffee he planted. This was the starting point of a lifelong commitment to environmental practices at La Pradera.
👉 The tour attendees will get a chance to learn more about the environmental practices at the farm and their exotic "wild" varieties sucha as Mokka and Wush Wush.

Over the last 80 years the Arcila family business has been growing and distributing fine Colombian coffee to local exporters. In 2015 they expanded their operations and began producing, sourcing and exporting speciality coffee to the rest of the world. As growers, they specialise in alternative processes that are new to Colombia. At their farm and processing centre in Armenia, the most exotic varieties are processed achieving profiles that are distinctive for Colombian coffees.
👉The attendees of the tour will get a chance to learn more about the farm's exotics varieties, approach to post-harvest and the company's unique internship programme for growers.
***
Register below to have the opportunity to meet ...
Departure: January 22nd @4pm (Zürich time)
Book your virtual seat now! Places limited!