Source spot with a twist: get your green coffee fast, whilst purchasing directly from producers.


---

Algrano has just made a selection of spot coffees available to source for the first time in the platform's 7 years of history! This means that any roaster can get coffees quickly with the same transparency and direct link to producers as with FOB orders. Why? So roasters don't need to change their sourcing strategy when they need beans fast to plug gaps in their supply.


To access spot offers, go to Coffees and filter lots by location. You'll find a small but varied list of coffees that are either already in stock in Europe or on their way. Each offer has an updated QC analysis and the time it's been in the warehouse. The quoted price is always FCA (Free Carrier), which includes one month of warehousing and the first release. You can order samples autonomously on the platform and contract through our sales team.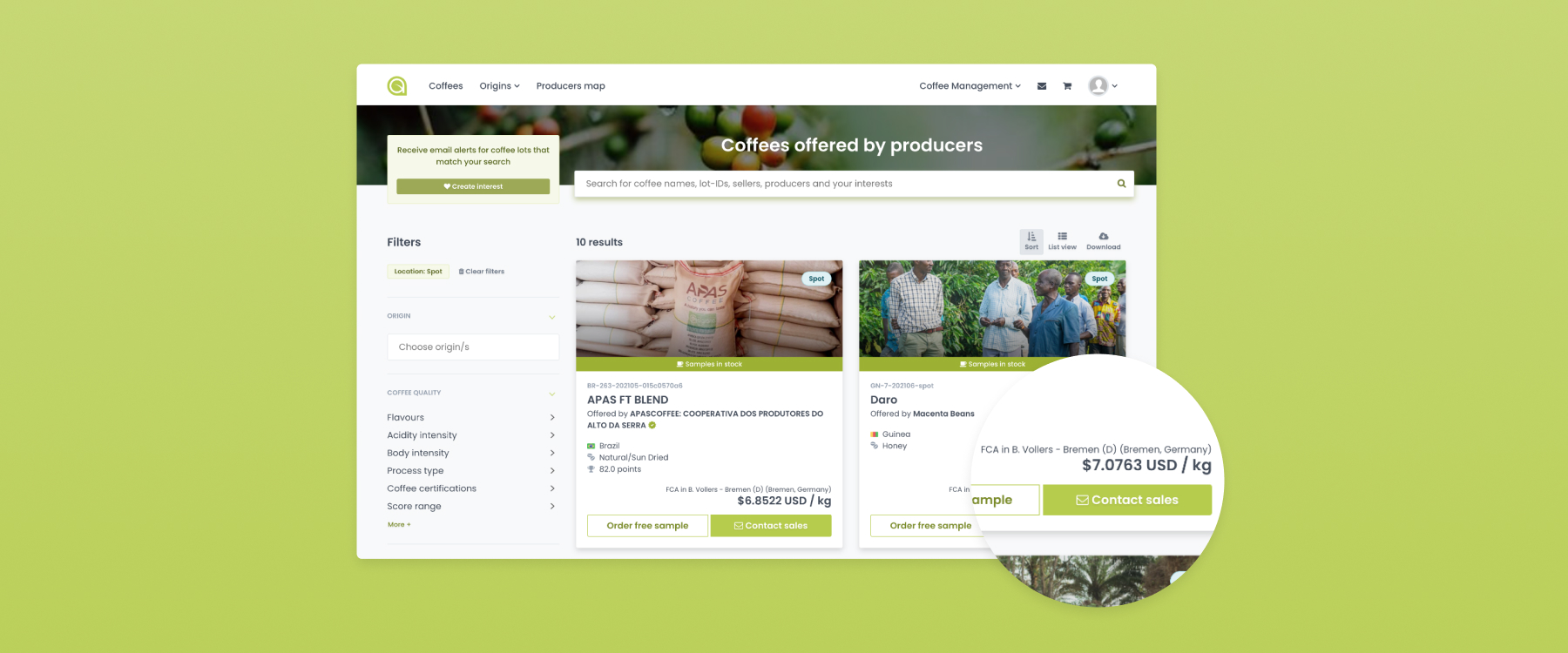 The final price displayed on the lot is FCA but the FOB is still available on the price breakdown
---

Producers asked. We listened.
Our core business is (and will continue to be) to facilitate direct sourcing from the origin, as producers normally sell coffee early in the harvest and need payment to cover ongoing costs. Basically, sourcing FOB is more financially sustainable for suppliers and gives roasters access to more coffees that would otherwise be sold out.

In 2020, however, producers started asking us to put their coffee closer to buyers to facilitate new sales and prospecting. This became more relevant as the pandemic prevented roasters and growers from travelling and reduced the number of new relationships.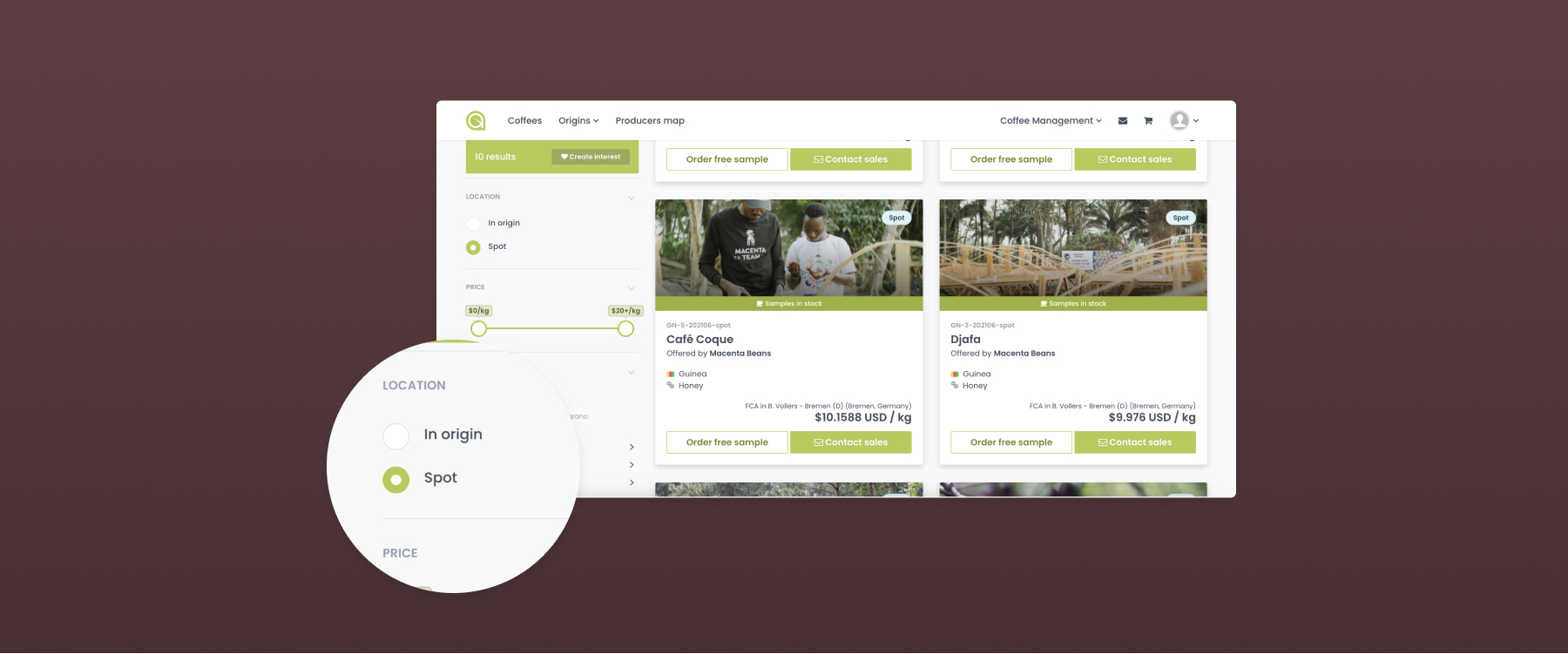 To see what is already in Europe, use the location search filter
---

Helping roasters plug supply gaps
Due to COVID, many roasters have become conservative in their green planning, only ordering the coffee they can confidently sell. However, this can leave them with urgent and unexpected coffee needs. The shipping crisis has further compounded the problem, as even the best of planning could not prepare the industry for the level of delays we are seeing. Spot can help bridge the gap.

Though forward planning needs to be part of every green sourcing strategy, we know it's hard for roasters to predict precisely the volume they need. Also, COVID has made many roasters more conservative when planning, ordering only the coffees they could confidently sell. These are the two main situations where roasters might need to order spot.

For producers and Algrano, this is an opportunity to help roasters fill their gaps without compromising their sourcing model. Roasters should be able to cover urgent and unexpected needs, exacerbated by the shipping crisis and mind-blowing delays, with ethically sourced coffees. It's also great when new demands come up and producers should be able to access that.

Each lot shows the warehouse where the coffee is located and to which countries it can be shipped to
---

Providing a service & managing risk
Does this mean Algrano is now trading? No. Our spot contracts are designed to keep sellers as owners of the coffee until it's sold. They only manage the spot position through Algrano as it's safer and more convenient. Sellers hire transport & warehousing services with the platform and invoice us for freight + warehousing + FOB once a roaster buys the lot.

We are aware that this payment flow means that producers take longer to be paid and smallholders can't access this kind of service yet. This is why spot is a strategy used mainly for small volumes of versatile lots, helping sellers find new roasters and build trust with less risk. It can also be used to reduce logistical costs when a shared shipment has space left in the container.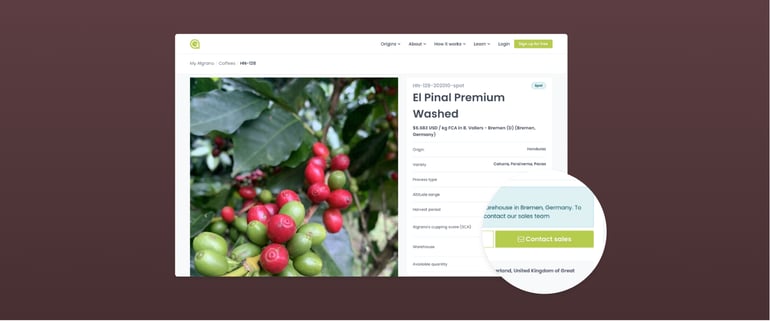 Get in touch with our sales team to contract spot offers and start roasting fast!
---

We will keep expanding producers' spot offerings throughout the year, so keep checking the spot page to see what's available!