The car journey between Ethiopia's capital Addis Ababa and Dila, a town in the Gedeo zone, takes around 8 hours. That is if you manage to leave before Addis traffic kicks in. We landed on 12th January heading for a week visiting Gedeo washing stations with Anduelem Shiferaw, deputy manager at Yirgacheffe Coffee Farmers Cooperative Union (YCFCU). The early start asked for a couple of roadside stops for buna (coffee in Amharic), and we were soon exposed to the first non-negotiable Ethiopian experience.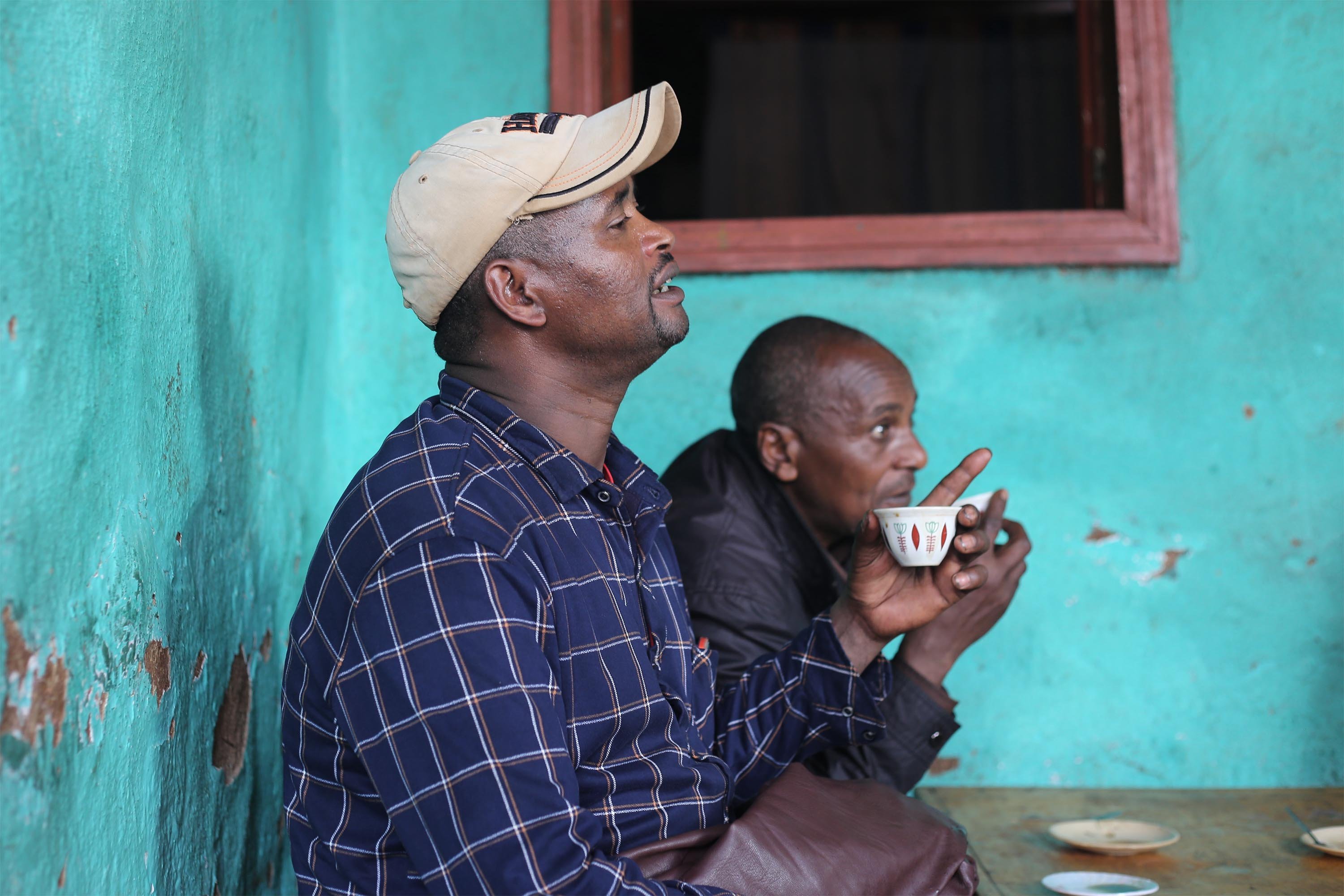 The long trip allowed us to get first-hand updates on some of the current Ethiopia's affairs with Anduelem. In short, cherry prices are at a record high, the country's first free elections have been scheduled, and a new government regulation implemented a minimum price for coffee. There was a referendum for Sidamo's independence last November (which may trigger others) and heavy rains delayed the harvest in the South by up to 3 weeks. A big thank you is due to our excellent driver, who navigated the roads full of dogs, goats, cows and people without hitting anything.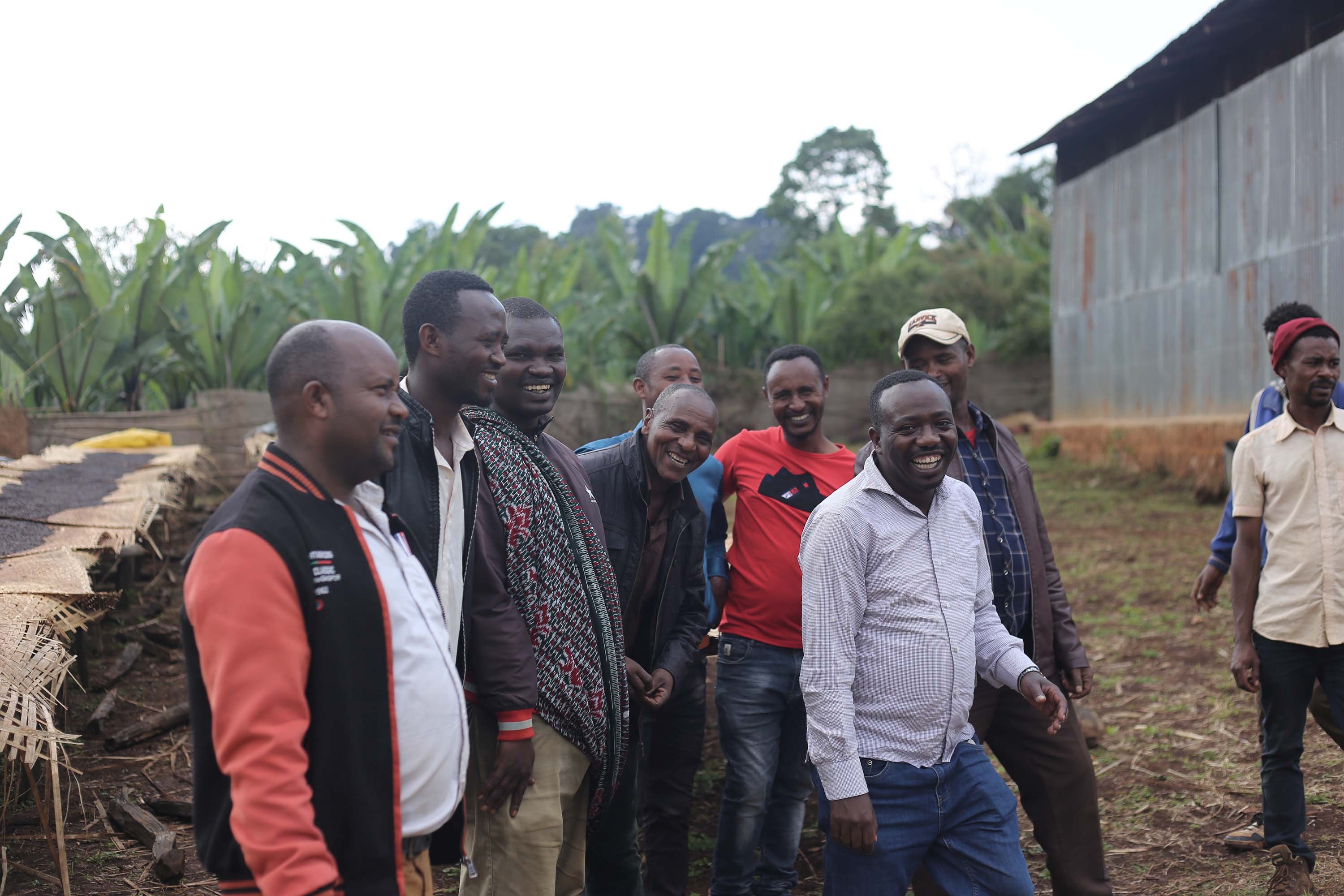 Wonderful and wonderfully complicated
Ethiopia's coffee trade is so labyrinthine that it is tempting to write only about the country's superb coffee and striking scenery. And, to its merit, Ethiopia lends its colours to the imagination of the romantic. The people are fascinating even on the superficial level (despite or due to a wide cultural gap). The soil is of a deep reddish-brown. Workers sing beautifully (one of us may or may not have felt emotional) and wherever you go a flock of children - each family averages 8 kids - follows, shouting "firenji" (white devil). It makes one wonder whether Ethiopia is one of those lost paradises depicted in old travel journeys. Wonderful.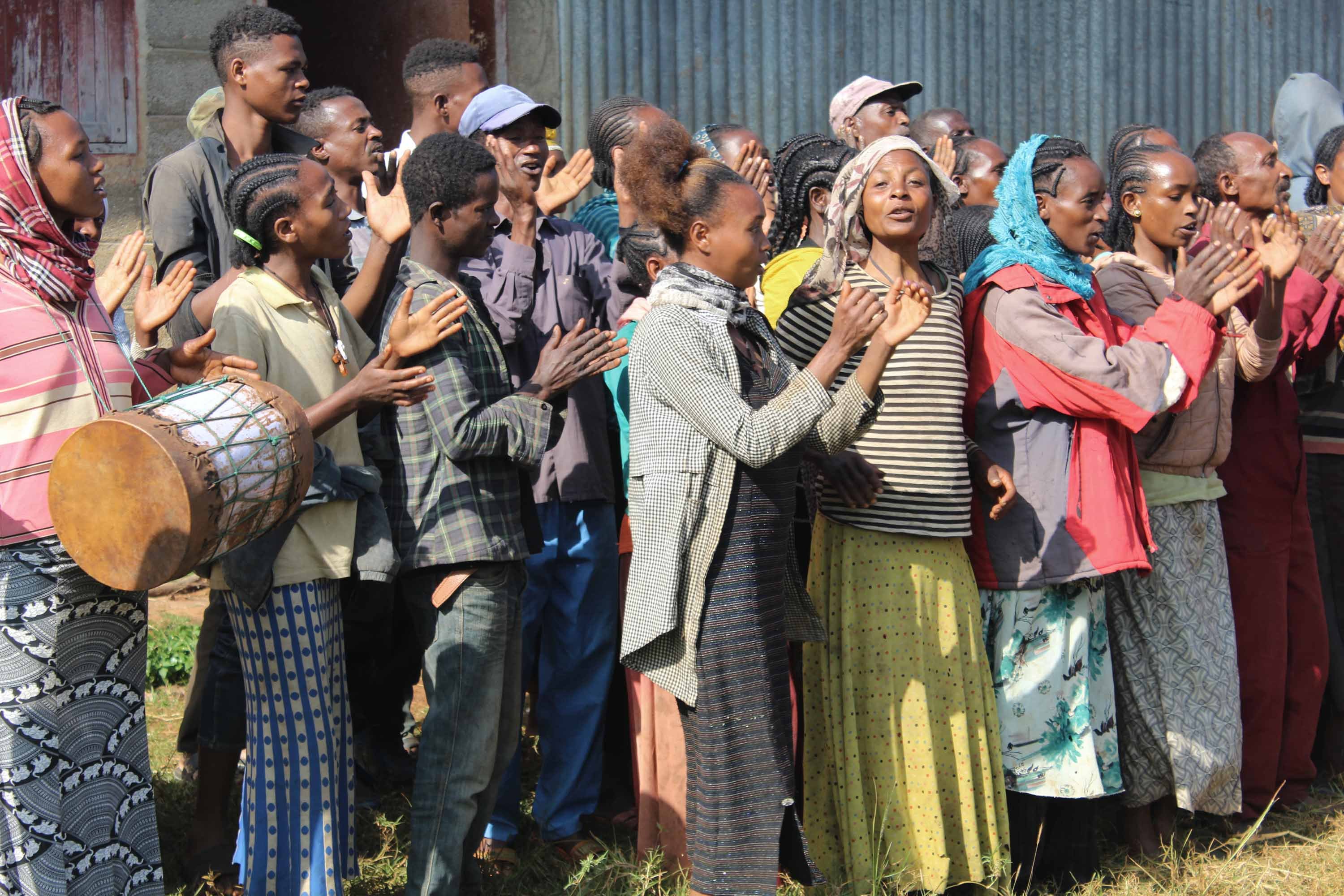 Yet there is reality, or at least another side to it. News of the recent past report a violent anti-government explosion in 2017, which is still a presence felt all over the countryside. Then, the ethnic disputes behind the political turmoil resulted in hundreds of deaths. Thousands were forced out of their homes. Even now a Gedeo might not dare travel to Guji. An Addis person will not risk visiting Gedeo. Few will talk about this openly (mainly in Addis) and we were advised not to ask certain questions.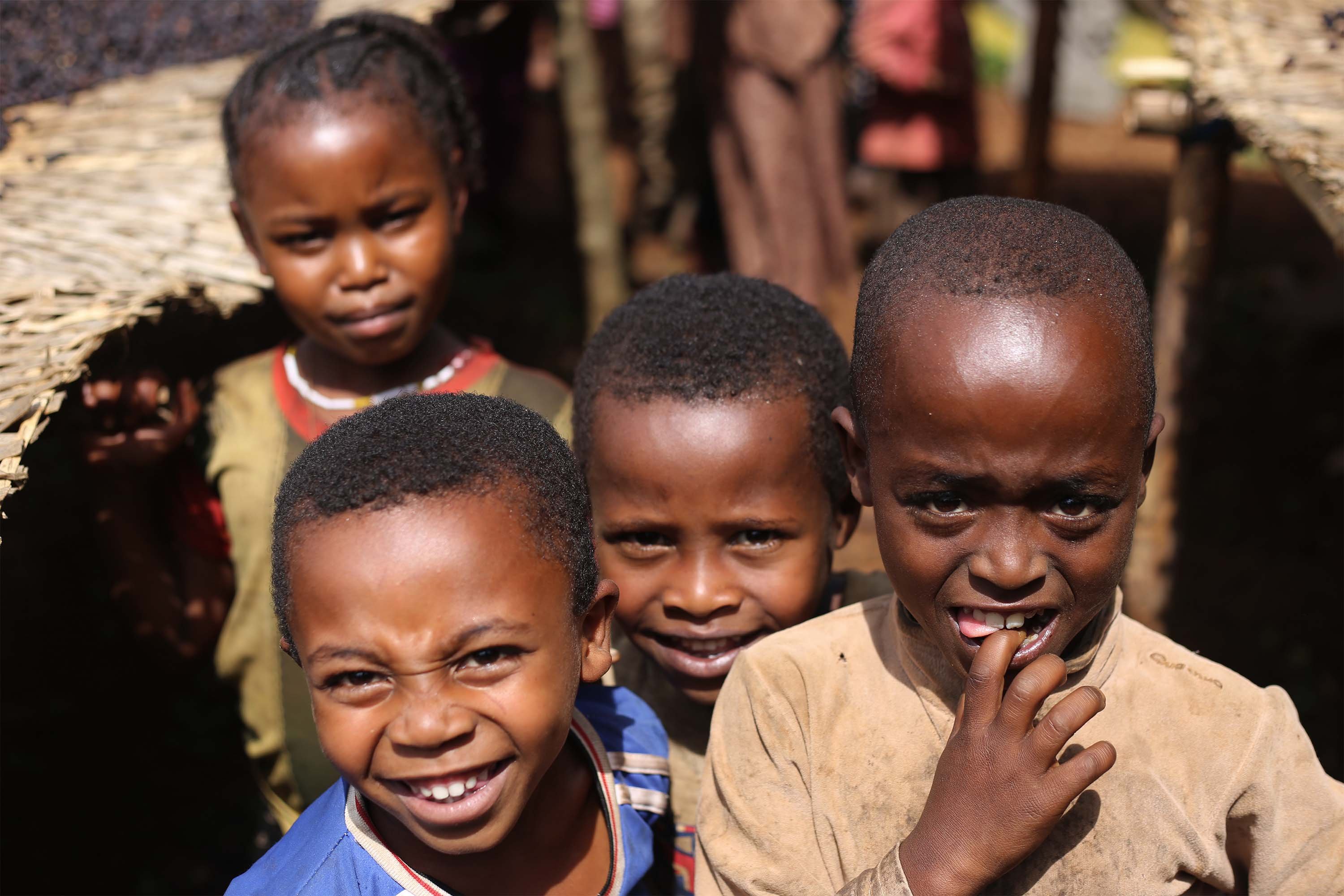 There is no alarmism intended here. Everyone we visited, from unions to traders, are doing what they do best, aware that business as usual is something else (or rather isn't) in Ethiopia. The country can be both wonderful and wonderfully complicated at the same time. The local coffee industry is not only thick-skinned but also extremely resourceful. This is one of the reasons why their coffee is so remarkable. A most complex cup that reflects a most complex country.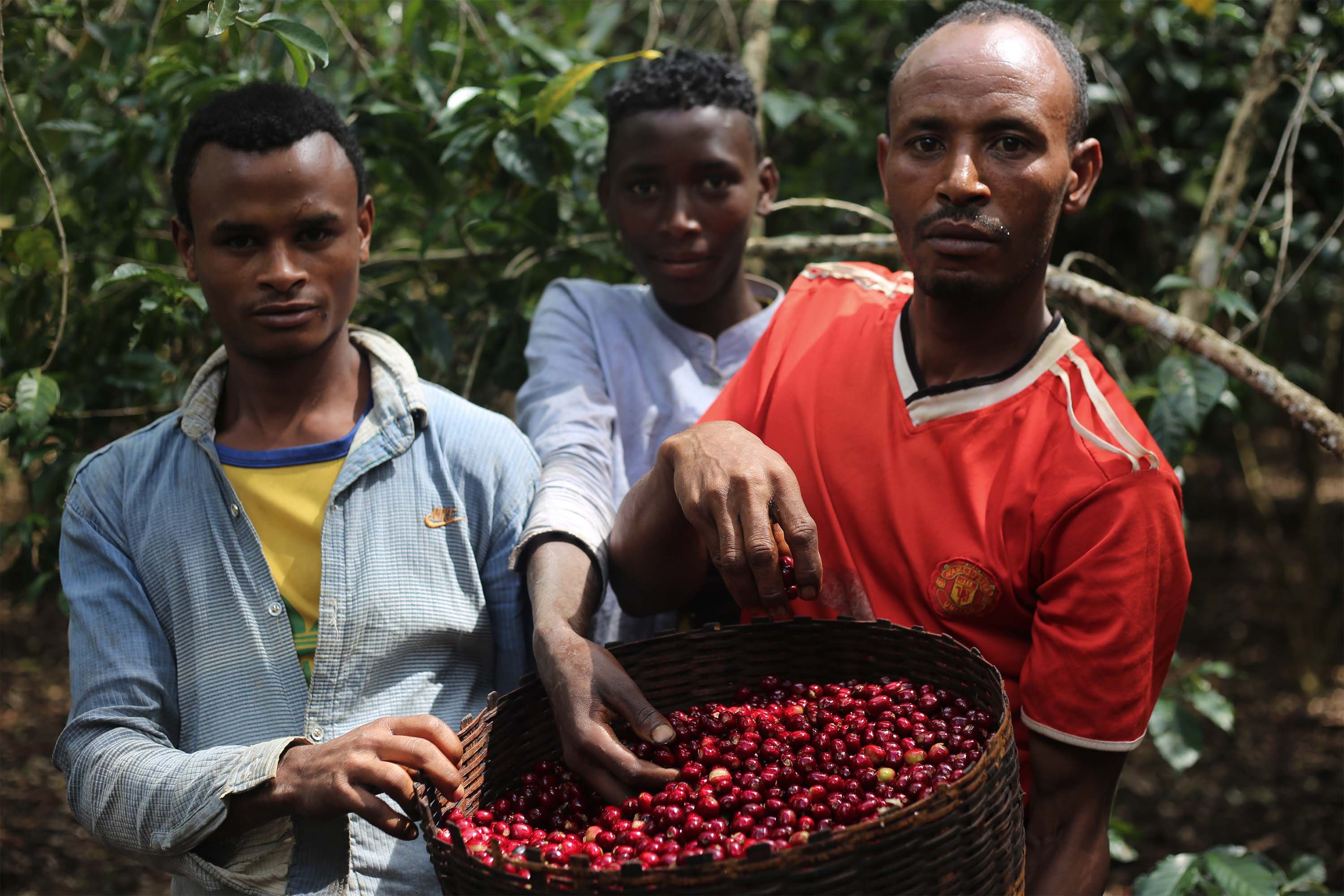 Elections and the new minimum price
The upcoming elections are a reaction to the recent violence and awaited with a mix of anticipation and anxiety. Will the future government represent the ethnic majority? Initially scheduled for May, not long after the end of harvest, it had the potential to disrupt countless coffee shipments. With rains delaying the season for 3 weeks in parts of the country, the Ethiopian Discoveries and other consolidated shipments were running tight. Happily, we learned during our visit that the government had pushed the elections to August, allowing the port to work undisturbed for the first half of the year.

The election date has a trickle-down effect on the newly announced minimum prices. Potentially negative to a large number of industry actors, the measure forbids coffee to be sold under the ECX price for a given quality. With government eyes fixed in August, it is unlikely that the rule will be changed before then despite the criticism. In a country where coffee is sold by many at a loss to generate foreign currency used to import goods (this is where a lot of money is made), this poses a threat for those currently trading under the ECX rate and there is a lot of speculation as to what might happen as a result.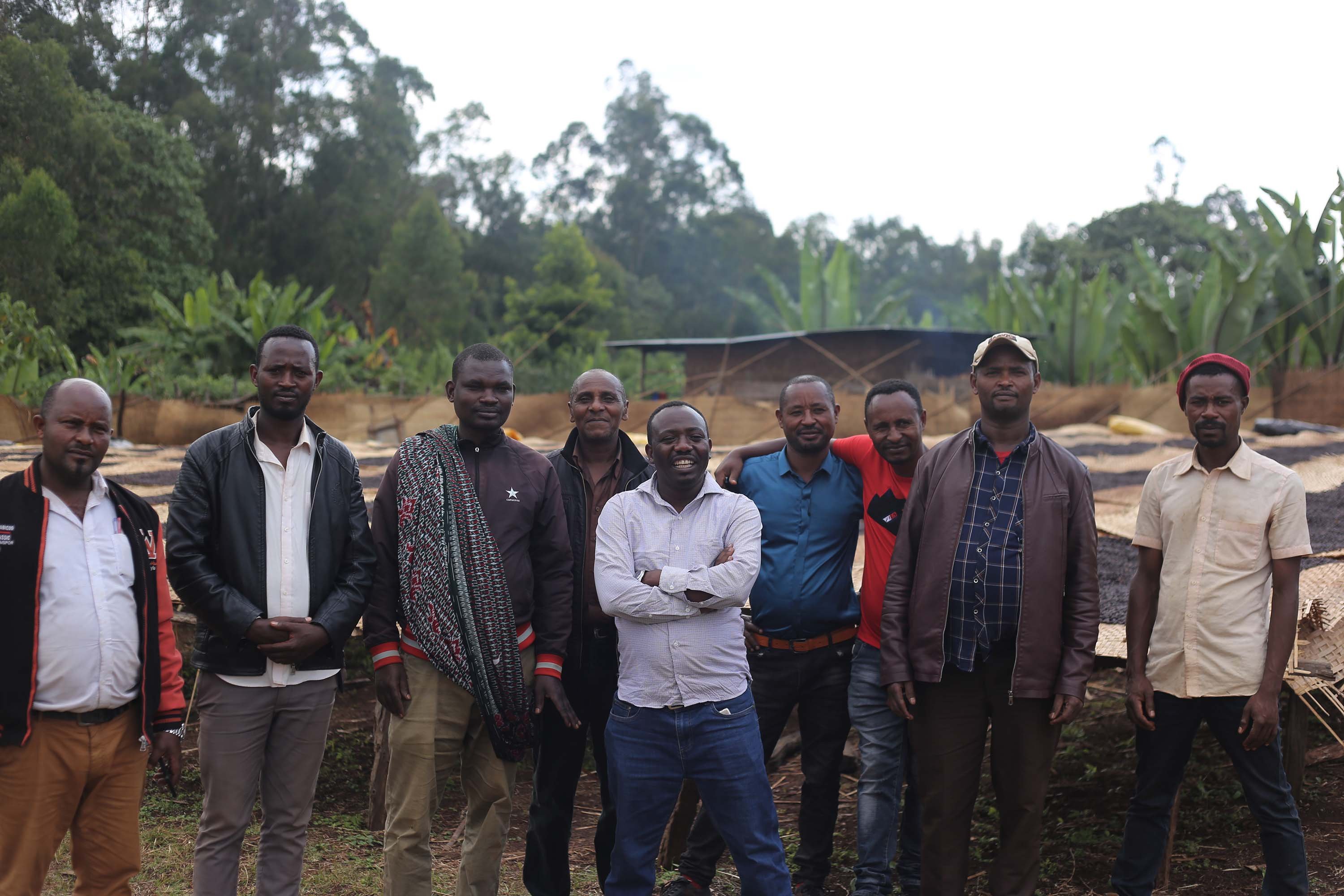 The year of the union
Unions, such as our partners at Yirgacheffe Coffee Farmers Cooperative Union (YCFCU), are within the group of suppliers less likely to be negatively affected by the minimum price. Other than the fact unions don't own the coffee they market, they cannot have importing business and don't sell under the ECX price. Historically, this led unions to be perceived as more expensive suppliers. Now, with prices rising around them, they suddenly become more competitive. It is a great time for unions to gain visibility and a bigger market share.

Having said that, it is important to highlight we are also working with a different range of suppliers who source coffee in different parts of Ethiopia. Kata Muduga Multi-purpose Farmer's Cooperative Union, Fahem Plantation, and Nardos Coffee Export are some of them. Fahem and Nardos operate differently to unions, but also with transparent and traceable models. They invest heavily in specialty preparations and are amongst the people driving the new wave of experimental processing in the country.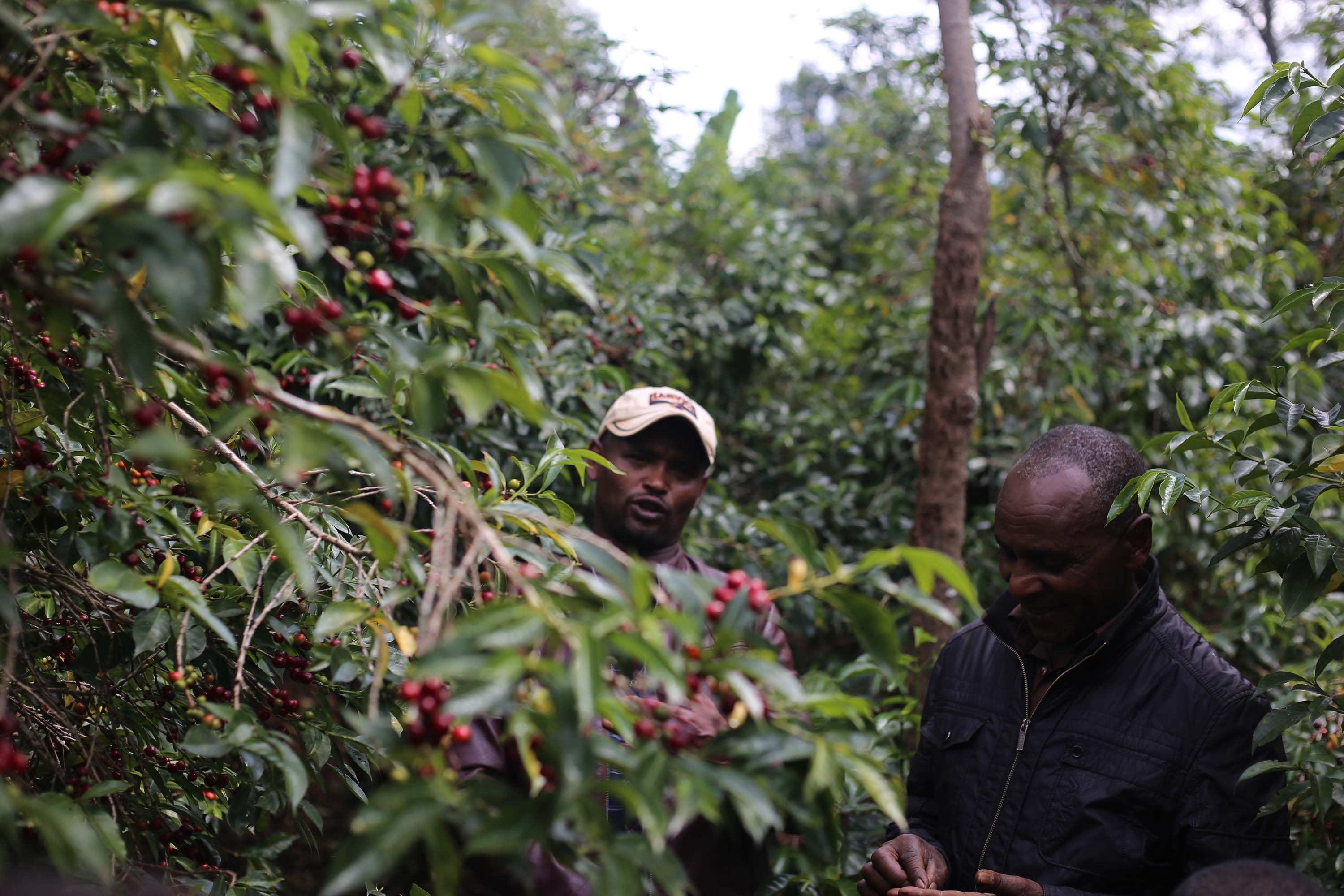 Big fat cherry prices
On a positive note, this has been a very good season for farmers. The price for cherry was hitting 25 ETB (Ethiopian Birr) in January, more than double the average rate. The reasons behind are many and mainly speculative, ranging from 2019-2020 being a low crop year to the intensification of competition among washing stations over the last couple of years. The current price translates as roughly USD 5.60 per kilo of green coffee! Where else in the world are growers being paid this much for unprocessed coffee?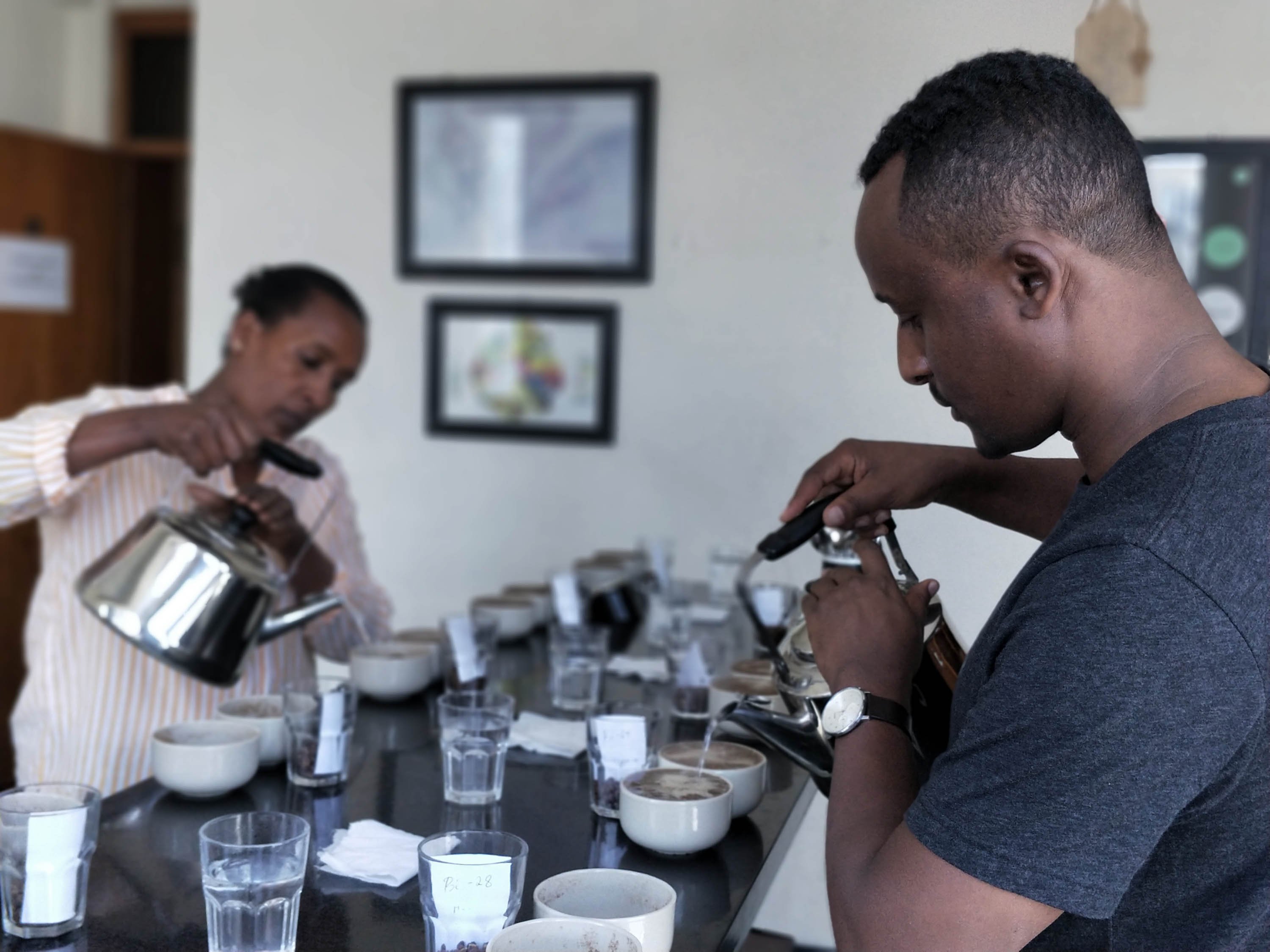 We left Ethiopia having visited 8 washing stations and multiple cupping labs. We acquired a copy of the Ethiopian Coffee Varieties book signed by Getu Bekele, one of the authors, and bumped into Mulatu Astatke, known as the father of Ethiopian jazz. Mainly, we cupped excellent coffees from Gedeo, Limmu, Sidamo, Guji, and Jimma. The high prices encourage growers to sell every single possible cherry, including the unripe and moldy. However, we had proof that our partners are maintaining a superb quality standard. When the coffee lots go live on the platform, don't delay. Timing is of the essence.