Algrano's grower financing initiative pilot helps raise local prices in Guinea and triggers a chain reaction among small coffee farmers, who are now demanding - and getting - more for their coffee. It's a glimpse into how crucial pre-financing really is for coffee producers.
Things looked bleak for Mamy Dioubaté, the owner of Macenta Beans, an exporter of wild Robusta from smallholder farms in Guinea, West Africa.

It was the end of the 2022 season, and even though Macenta doubled its volume that year, the season had been a grind. Mamy worked with the same team, resources and machinery as in the previous season, sorting its Robusta beans painstakingly by hand.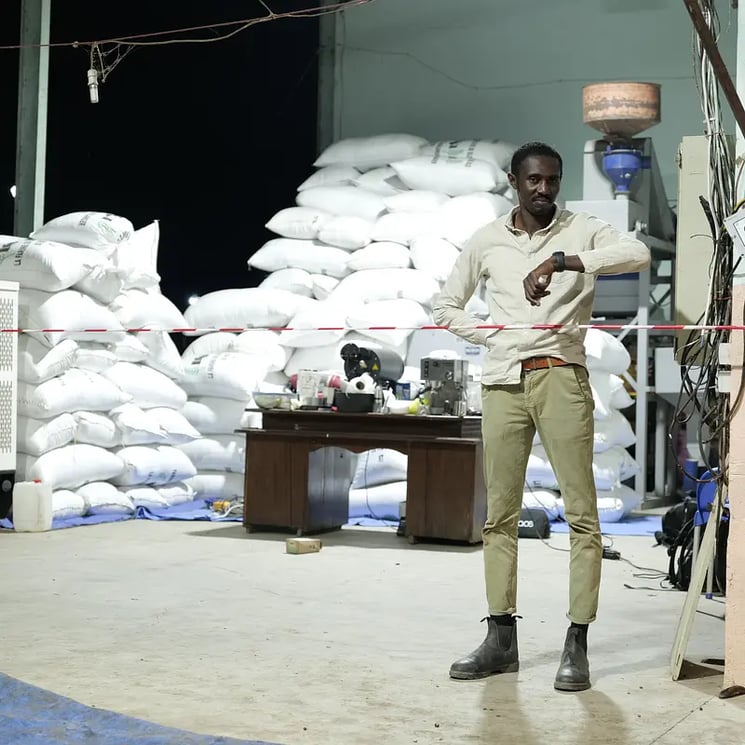 Mamy Dioubaté, Founder of Macenta Beans, is committed to building the first dry mill in the region to improve Robusta production and boost the economy (Photo: Macenta)

"A process that would have taken just two weeks had we had access to a dry mill took us over four months sorting by hand," says Mamy. Even though he was happy and proud of the harvest's results, the new season would start just two months later, and his team would have to dive back in.

Ironically, diving back into production for the upcoming season was the easy part of the puzzle. Macenta got to a point where it was producing high-quality coffee and overturning the widely held perception that Robusta could not compete with Arabica on taste and quality.

The (much more) pressing issue was one that had little to do with quality: Mamy was running out of funds, and unless he could secure money within a couple of weeks, there would be no coffee in the coming season at all. Despite having made more profits in one season, farmers would simply stop working with Macenta if they started doubting the exporter's ability to pay them on time in the future.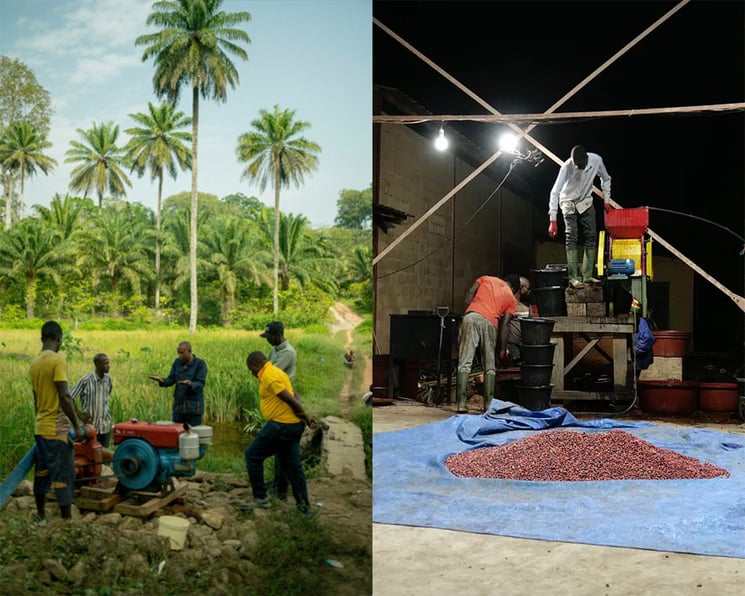 The current lack of infrastructure for Robusta production in Guinea makes it harder for smallholders to improve volume and boost farmers' earnings (Photos: Macenta)

This outlook was frustrating. In the heart of the UNESCO-protected rainforest region of Macenta, Conakry-born Mamy has been the face of a small coffee renaissance, breaking down barriers for the region's Robusta farmers. He has worked in the sector for more than ten years and is in the middle of writing his PhD thesis on the coffee supply chain. Now, he was close to losing it all again, setting the movement back by years, with all the progress and effort in vain.

He knew all too well what would unfold if he did not find a solution quickly.
Supporting Producers Via Prepayments
Access to financing remains one of the most pressing issues facing coffee producers today and holds back the development of farms and producers. Many smaller players lack access to loans from banks or other traditional lenders; the select few who do qualify may do so at prohibitively high rates.

More importantly, funding decisions take months or even years, and calculating the full costs of financing upfront is a challenge involving interest rates, non-utilization fees, disbursement fees and loan structures that even experts have difficulty understanding.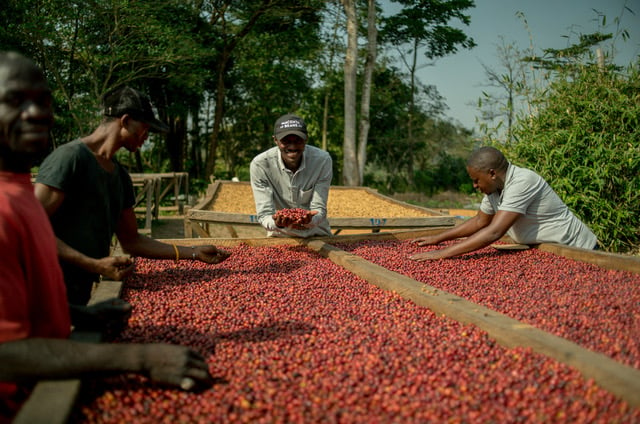 Mamy worked tirelessly to show what Robusta can taste like to European roasters. Now, he is able to pay farmers twice the local rate for cherries (Photo: Macenta)

Aware of these challenges, Algrano piloted a Grower Capital initiative in 2022, disbursing prepayments on contracts within days, at attractive rates and with transparent pricing.

So having run out of options, Mamy turned to Algrano. His goal was to pre-sell two containers of coffee to customers. With contracts in hand, the pre-financing provided by Algrano would fund the purchase and processing of the coffee cherries.

"The response was overwhelming", says Mamy. "Within a few weeks, our goal was reached, thanks to high levels of trust with our existing customers and the vision of roasters who saw the value of pre-ordering to help guarantee the success of the season." Within days, Macenta sold its harvest to roasters all across Europe, which laid the foundation to qualify for prepayments. Swiss roaster Kaffeemacher:innen joined Algrano and prepaid a large share of the harvest.

In mid-2023, Macenta shipped that coffee to Europe. They were able to pay farmers more than double the standard local market price, and have sparked a chain reaction. "Already, intermediaries have had to raise their prices by 70 per cent. Coffee farmers are demanding – and getting – better profit margins," says Mamy.
With pre-financing, Macenta can buy and process cherries before the coffees ship, ahead of standard FOB contracts, paid once the container leaves the port (Photo: Macenta)
Young People Are Taking an Interest in Agriculture
This year, Macenta plans to double its Robusta production again, to five containers. They plan to use Algrano Grower Capital again to finance their upcoming season. "Macenta Beans is in a stronger position than ever before," says Mamy.

"Besides securing a robust financial footing, coming through the test last season had a noticeable effect on the coffee farmers, who were even more engaged and more determined to build on the previous success," says Mamy.

"Young people in the region are suddenly taking an interest in agriculture. There are numerous examples of young talent who have come to Macenta Beans from the mines or have abandoned plans to move away. There are now prospects to make it in Macenta."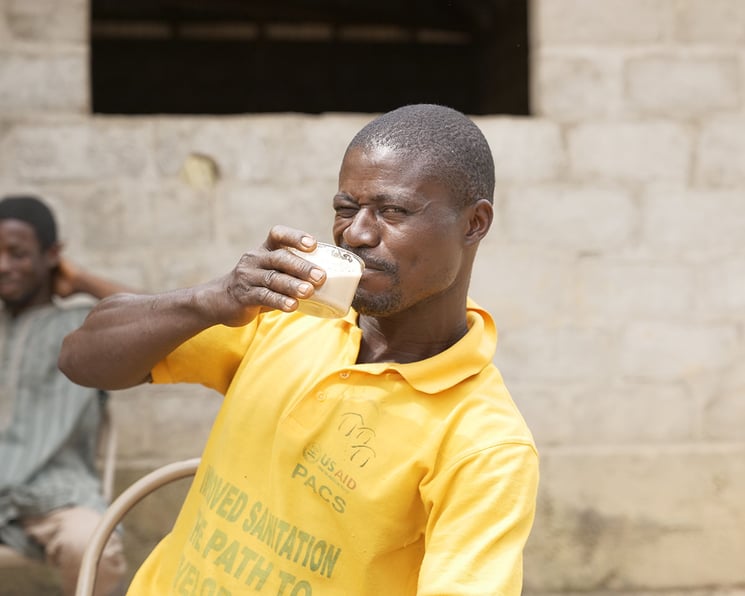 Mamy knew that, despite bringing producers more profit one year, they had to trust Macenta to keep paying them in future seasons (Photo: Macenta)

For Mamy and Macenta, prepayments remain a crucial instrument for financing. "We aim to pre-sell five containers of high-quality Robusta coffee by the mid-October 2023. Each bag of pre-ordered coffee directly contributes to a successful and sustainable transformation program."

Kaffeemacher:innen is on board again. The roastery is organising a cupping at the end of September, and is offering a bag of Robusta from Macenta for pick up from their warehouses in Germany and Switzerland to any interested roaster.

Meanwhile, Mamy and his team have started uploading offers on the Algrano marketplace and providing samples for the new season (click below to see what's coming).


The team is also thinking ahead: Macenta has been nurturing a coffee nursery and distributing up to 150,000 plants annually to farmers. This project is contributing to the renewal of many plantations and the establishment of new ones, inspiring the next generation of farmers, as well as curbing deforestation and opening pathways to a sustainable future.

From a bleak start into the last season, Mamy is in good spirits today: "Now is the time to come together, inspire coffee farmers worldwide, and show that solutions are within reach."
Write to Mamy to sign up for Kaffeemacher:innen's cupping in Basel on September 29. RSVP by September 22.
Reach out to Kaffeemacher to get a bag of Robusta from Macenta Beans' 2022-2023 season from a warehouse in Switzerland or Germany.