Five producers share their definition of ethical coffee or responsible coffee. And do you want to know what they think an ethical coffee roaster is? We have the answers here.
The coffee industry has been grappling with the theme of "fair coffee prices" and sustainable supply chains for years. But to this day, most initiatives focus on paying prices that are above the C-price.

If the coffee industry was a tech company, the price percentage above the C would be the main (if not the only) success metric.

Coffee producers, on the other hand, think about ethically sourced coffee in a much broader sense. They even compare the coffee industry to the fashion industry, where sustainability claims are questioned every day.

For producers, a coffee ethically sourced involves sourcing practices and environmental and social factors.

To summarise, they believe ethical coffee has to take into account:
A decent living for everyone in the supply chain, from pickers to baristas

Building long-term relationships with suppliers

Respecting producers as equals and avoiding the charity mindset

Clear communication and timely feedback from buyers

Environmentally friendly coffee production

Support to boost sustainable production

Paying a good price and paying premiums for certifications

Being 100% transparent with customers

Sharing profits with producers

Not demanding exclusivity

Demanding payment terms that support farmers

Understanding how the social status of farmers and climate change impact coffee





---
---

Ask Your Green Coffee Trader Anything

The idea for this article came from a panel discussion hosted at Caffe Culture in London on September 1st. "Ask your green coffee trader anything" invited four experienced specialty traders to answer questions previously collected from roasters and consumers.

The talk might have as well been called "Grill your green coffee trader about ethics/prices". A lot of the questions were around the sustainability issues in the coffee industry, prices, responsibly sourced coffee, and what coffee ethically sourced looks like.

What is a fair coffee price to pay producers? How do you negotiate prices? Is there a world where specialty coffee is not linked to the C-market? As a consumer, how do I know if the coffee I buy was ethically traded and bought at a fair price?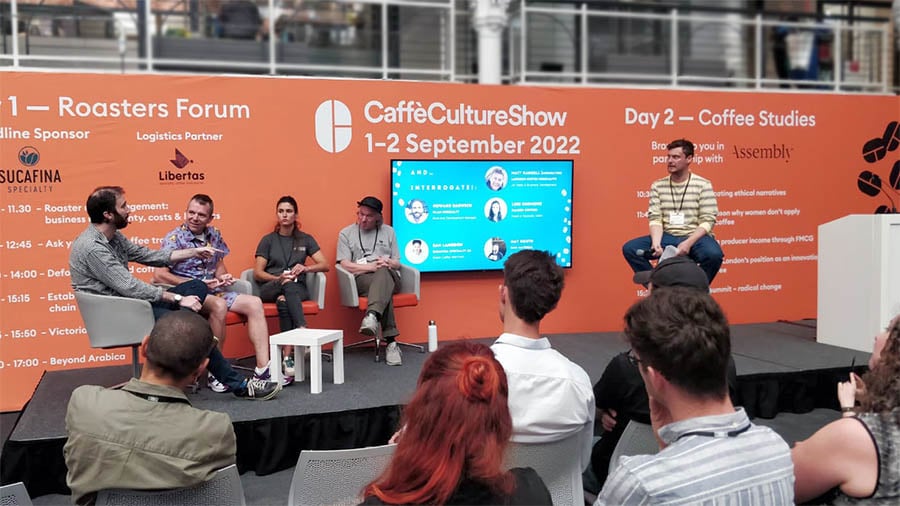 The panel discussion at Caffe Culture invited four traders to answer roasters' questions (Photo: Algrano)
---

Coffee Traders Acknowledge the Industry's Collective Failure

I had to sympathise with the panellists. They did the best they could to answer questions the industry doesn't have the answers for.

We published a series of articles on coffee prices recently that scratches the surface of the problem and introduces important concepts (such as FOB to farmgate ratio) but we can't claim to have answered those questions either.

One of the traders went as far as to admit the industry's collective failure in explaining the context people need to judge whether a given coffee was sourced ethically or not.

"We are failing to provide context if people can't understand farm gate information," he said. Well done.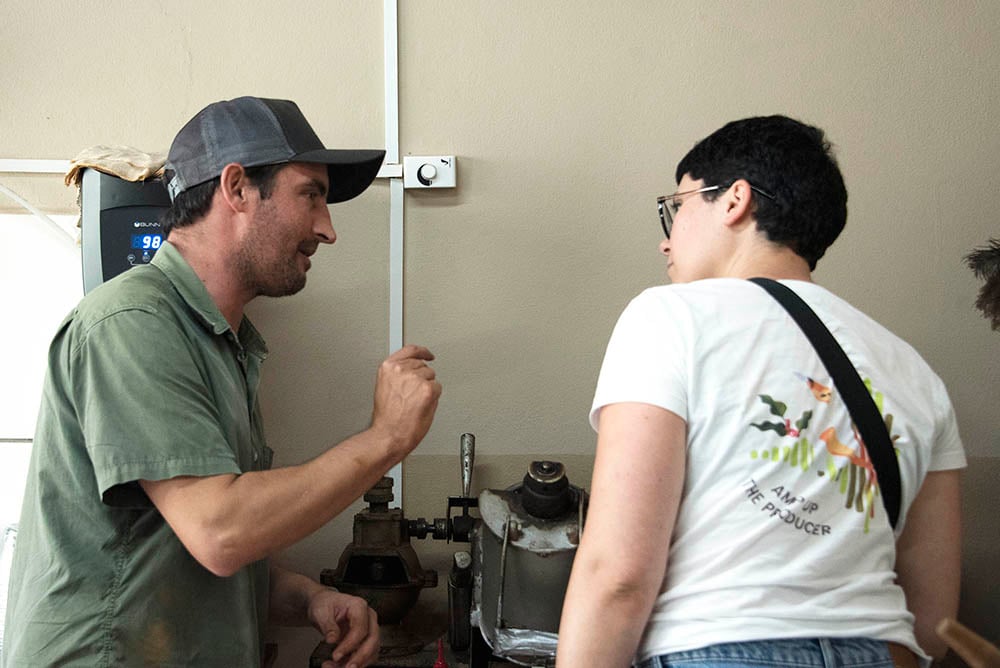 We asked five coffee producers to answer the same questions asked to traders (Photo: Algrano)
---

Coffee Producers Need to Join the Conversation

But there was one thing that made me particularly dissatisfied when watching the discussion. There we were, roasters and visitors, asking important questions that deeply affect coffee producers.

And yet there was no coffee producer on the panel. It seemed like a missed opportunity.

I was standing next to a coffee farmer that has an established business in the UK and that loves to provoke me about Algrano every now and then.

He was passionately commenting on the answers, sometimes agreeing, sometimes not. His opinions were very different from the ones on stage.

On my way back home, I decided to ask a few producers I know what they think about some of the key questions raised in the panel.

I wanted to know their opinion and I wanted to give them the platform they hadn't been offered at the event.

I sent three questions to a number of coffee producers and leaders of producing organisations and five of them got back to me:
These five people answered in detail and at times with brutal honesty. As the answers are long, I'll break them into two blog posts.

Their answers will be published without any editing, safe on the length of sentences for readability.

I would love to hear what you think about what they have to say so we can broaden the discussion.

These themes are too important not to be widely shared and questioned. It's equally important to give coffee producers the space to share their thoughts and ideas.


Read below the answers to the first question:

"What's your definition of ethical coffee or responsible coffee? When you think about roasters, what are the factors that make you believe a roaster is ethical? Can you name at least three factors?"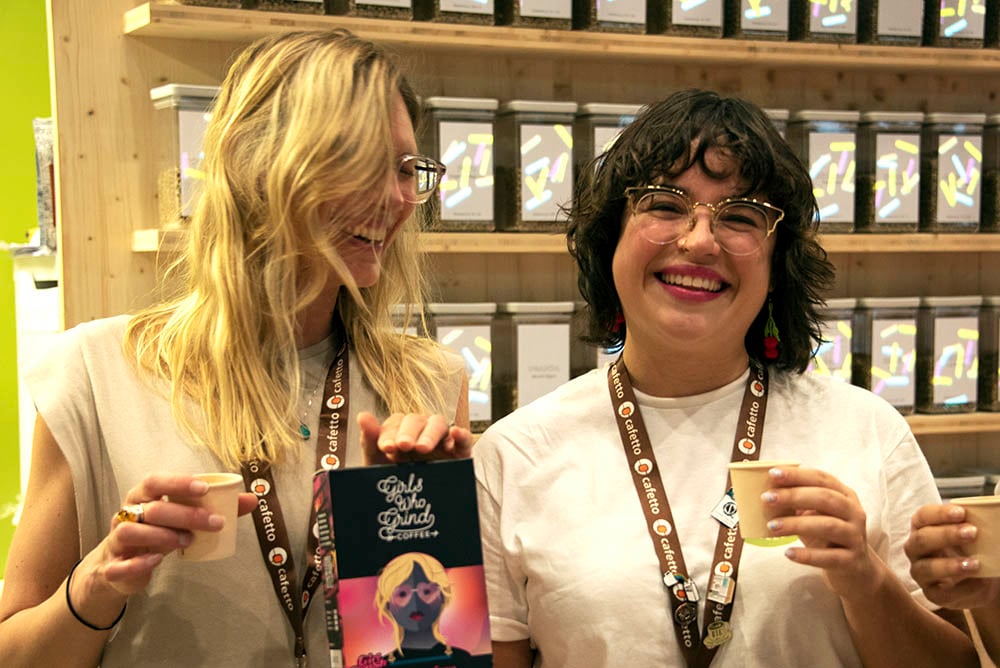 Karla Boza (right) at WOC Milan with Casey Lalonde of Girls Who Grind Coffee, a long-term partner (Photo: Algrano)
---

Karla Boza: "For me, ethical coffee or responsible coffee is when you're invested in making sure everyone in the coffee chain is making a decent living and achieving a good quality of life. This goes from farm workers all the way to baristas.

The top three factors that make me believe a roaster is ethical are their interest in developing relationships, in buying consistently from the same producers and, of course, how much they're willing to pay for coffee.

I want to go into business with someone who sees me as their equal and a business partner. When coffee buyers talk about buying coffee as a charity, that's a major red flag.

Once these relationships are built on equal grounds, it's important for them to be kept. Buying and providing coffee year after year is a great way to maintain these ethical relationships.

However, with inflation being felt across the globe, we've had roasters tell us they can't buy from us this year, and that's fine and understandable.

Honest and open communication is greatly appreciated and respected. You'd be surprised how many times we've been ghosted by roasters!

Finally, you can't claim to be an ethical/responsible coffee roaster if you're not buying coffee at an ethical/responsible price point.

If you're only shopping for bargains and haggling that, unfortunately, will most likely come at the producer's expense."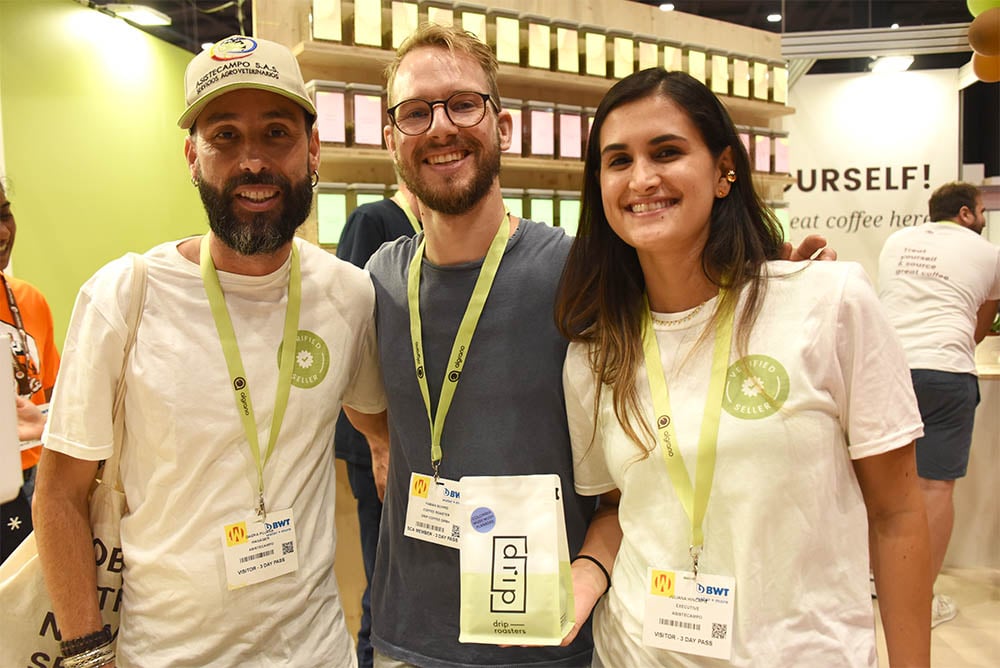 Gaizka Pujana (left) with roaster Fabian Schmid (centre) and his wife at WOC Milan (Photo: Algrano)
---

Gaizka Pujana: "The responsibility to produce coffee in a way that is sustainable for the environment belongs to the producer.

But it is the governments of producing countries, together with the importing companies and roasters, who must help the coffee grower with courses to improve techniques, development plans, financial aid and laws that allow responsible coffee production.

Ethics is based on price. And it falls entirely on the importers, roasters, consumers and governments of the consuming countries. It is them who must ensure that they pay a fair price.

So I would say that coffee is ethical and responsible when it is grown with techniques and procedures that help protect the soil and the environment where it is grown and for which the farmer is paid a fair price.

One very important factor which makes a roaster ethical is to be absolutely transparent with the farmgate prices. There are a few roasters that show FOB prices on their labels. I find it a good sign.

But I believe that governments should ask for all coffee products to have a label that shows consumers the farmgate price.

Another factor to consider is that roasters show detailed, transparent and highly organised information on the entire process. Including production, logistics and roasting process they carry out.

I compare this to the fashion industry which has been under a lot of pressure for the past few years. Brands have to really prove to the public that they are committed to sustainable and ethical practices."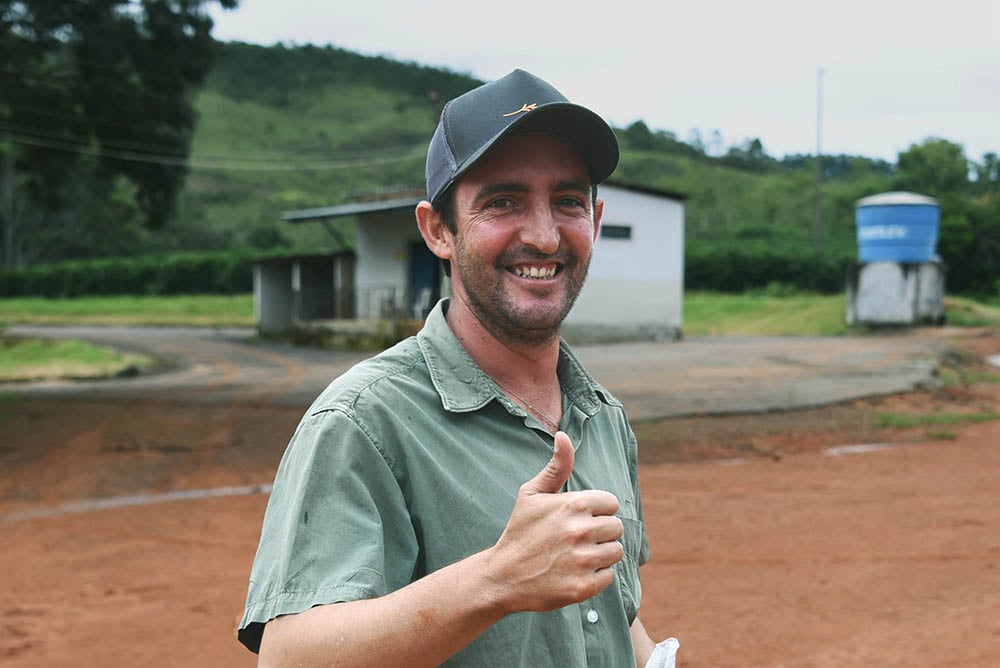 Heron Reger de Carvalho Jr at his farm in Campos Altos, Minas Gerais (Photo: Algrano)
---

Heron Reger de Carvalho Junior: "I define [ethical coffee] as a coffee produced with sustainability. The producer has to know how far his/her limits go, deliver a quality product and respect the agreement.

When I say limits I mean on the use of pesticides, for example. In using the necessary and certified products for the crop. In the rational use of water and finding ways to reuse it.

Also when it comes to reusing organic matter from farming as organic fertiliser so as not to only use chemicals. A regenerative coffee growing.


Find case studies of Relationship Coffee here.


As for the roasters, I believe that ethics lies in preserving the history of the producer, being ethical in the payment terms and, if possible, in maintaining an affective bond with the producer to really understand the daily routine of the weakest link in the coffee production chain."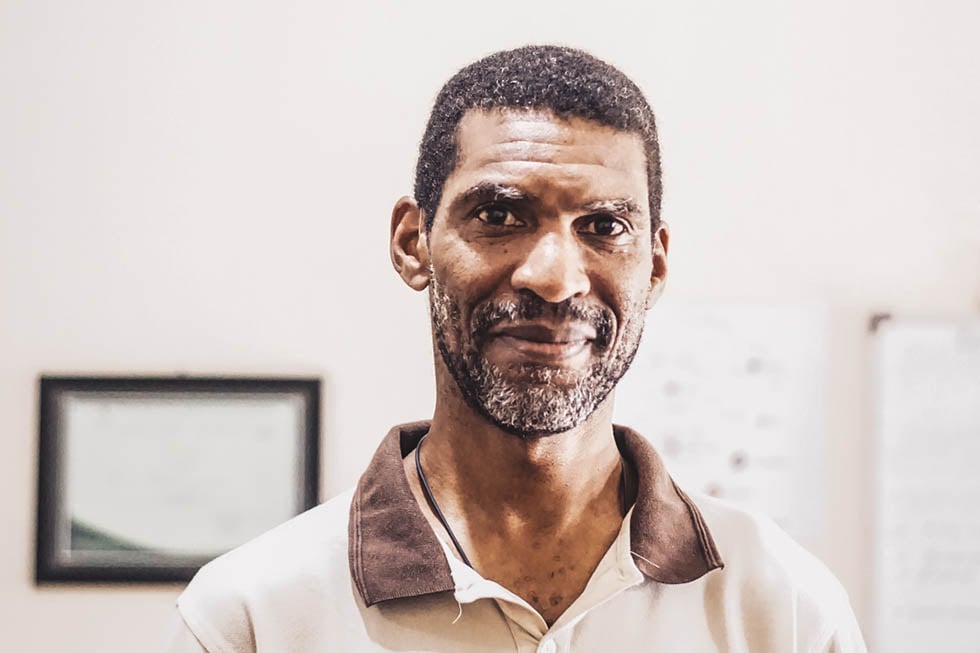 Troy Kiper of Bright Java, an ex-US Marine that moved to Indonesia & started processing coffee (Photo: Bright Java)
---

Troy Kiper: "My definition of ethical coffee or responsible coffee is where everyone in the value chain gets paid a fair wage and a fair price for their inputs into the coffee value chain.

That may be paying fair wages to pickers, a premium to certification agencies, or paying more money for certified coffees.

Factors [that make me believe a roaster is ethical]:
Traceability: need I say more?

Openness: sharing things like

Transparency

Donuts with customers

Practising some kind of "Give back" to growers: that could be in the form of origin trips, and investing in sustainability initiatives like research on climate/pest resilient varietals. The best I have seen of this was a roaster that I worked with that messaged me saying that they wanted to know where to send a share of profits from their roasted sales to the farmer. That was a happy farmer."


Read about another "Give back" initiative here.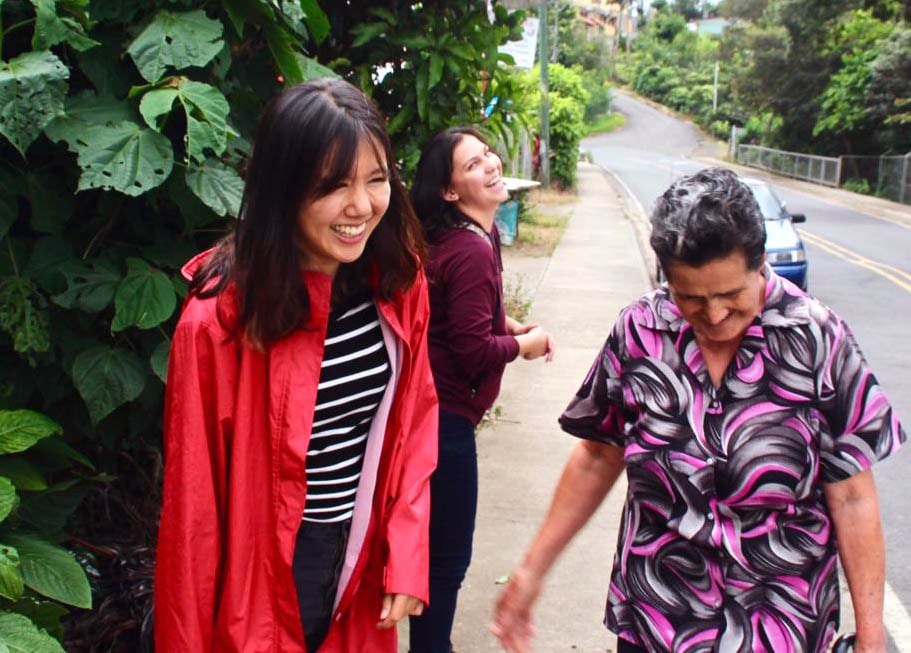 Sunghee Tark (left) with farmer Aracelly Robles (right) in Costa Rica (Photo: Bean Voyage)
---

Sunghee Tark: "Definitions of ethical coffee and responsible coffee can vary in different contexts. When we look at different relationships and supply chains, we try to look at the context in which the relationship is formed, and the trade is done. Meanwhile, there are a few areas that I tend to look at first.

For instance, one of the most important factors is the longevity of the relationship and what is the relationship with producers like.

Are roasters trying to form long-term relationships with their producer partners? On what terms are these relationships built? Is information also flowing both ways?

Are roasters sharing the feedback about the coffee, cupping scores/attributes transparently with the producers? Or are they just expecting to get information from the producers? What is the turnaround for communication?

Do they take two months to give feedback to the samples that producers sent and expect them to have held it [the coffee] for them without any explanation?


Why is feedback so important to producers?


Additionally, one of the big red flags that we've seen is the demand for "exclusivity" of the entire harvest. Lots can be customised and created for the roaster based on the long-term relationship.

But when the roaster or buyer demands complete exclusivity from the very beginning, we let our producers know of the "risk" that it may have.

We've heard stories of a well-established buyer closing down their business operation in Costa Rica after demanding exclusive contracts for various years.

[They] informed the producer just before the new harvest was about to start. While the producer understood the circumstances, it put them in a very difficult position as they lost a client for all their harvest overnight!

I understand that direct trade is not always an option for everyone, and it may not be the answer to every business type.

However, are you, as a roaster, trying to understand the impact that you have with your purchasing decision and making an effort to put that into your decision-making process? This is a good sign and a partner that we appreciate working with.

Additionally, payment terms are often overlooked, but it's important that roasters are also aware of how the producers are getting paid.

As they may not always pay directly to the producer, but rather through an importer/exporter, it's very important to understand when and how the producers are paid.

Are they being paid soon after they deliver the coffee to the warehouse of the exporter? Are there any hidden costs that producers are being charged? What are they responsible for paying in terms of logistics costs? How are these factoring into the final prices that you [roaster] are paying?

Moreover, there are various areas that may be more important to roasters, whether that is environmental impact, social, or economic factors.

While that would vary by businesses, and partners that we work with, it's a good sign when a roaster understands the intersectionality of each factor.

How is climate change affecting the farm in a social and economic way? How is the producers' social status (gender, ethnicity and more) interfering with their ability to combat environmental and economic challenges?

Finally, if you are EVER making a request to do a project, whether it is a fermentation that you want to introduce with the producers, varieties or any others, are you also sharing the risk with the producers?


Gringo Nordic Coffee talks about sharing risks with suppliers.


Even if you don't like the final cup score after the experiment, are you purchasing all the lots that you've requested to process?

Are you sharing the risks with the producers, are aware of what kind of risks such a request would have on producers' businesses, and are careful about even making such an ask?"


---

In the next blog, we'll share what producers think is a fair coffee price and how they think consumers can figure out what are the ethical coffee brands around them.