Venkids Valley Estate is one of the new producers onboarded by Algrano. Learn how farmer Pavan Nanjappa prepared for his debut in our marketplace and taste his fine robusta, now available to order in small volumes. This is an opportunity for roasters to try one of today's big coffee trends, which is likely here to stay.
---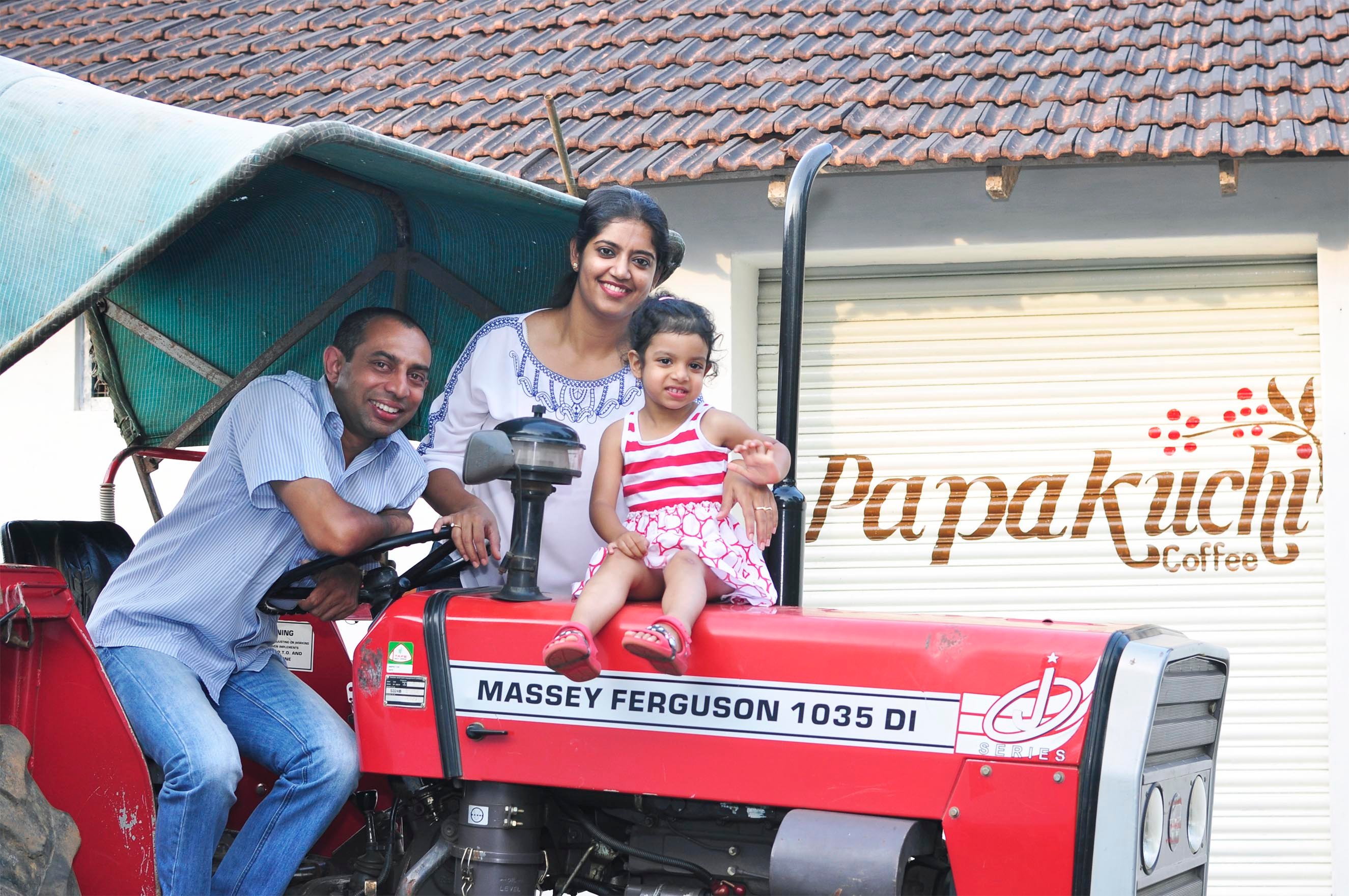 Pavan Nanjappa with his wife Shilpa and their daughter Aanya (Photo: Venkids Valley Estate)
---

The COVID-19 pandemic was though on Pavan Nanjappa. He is the owner of Venkids Valley Estate in the district of Coorg, also known as the "Scotland of India", located in the southern state of Karnataka. "I wasn't able to move 15% of my production", says Pavan. This was when he recalled meeting Gilles Brunner, Algrano's co-founder, at an SCA event in Dublin. "I decided to ask for his help. When Gilles and I first met, both I and my wife Shilpa found Algrano very interesting because we could be in touch with roasters. It was like finding the golden goose."

After a troubling harvest season with unusual November rains that devasted Pavan's arabica production (15% of his cherries fell to the floor) and which the farmer credits to climate change, his first lots are finally on offer in the marketplace. Pavan is offering two lots of fine robusta: Sapota Mara and Haavu Thota. Both are named after the plots where the coffees were grown, nestled in the scenic valley of the Western Ghats, each separated by variety to ensure maximum traceability.

Venkids Robusta strains: Peridinia and CxR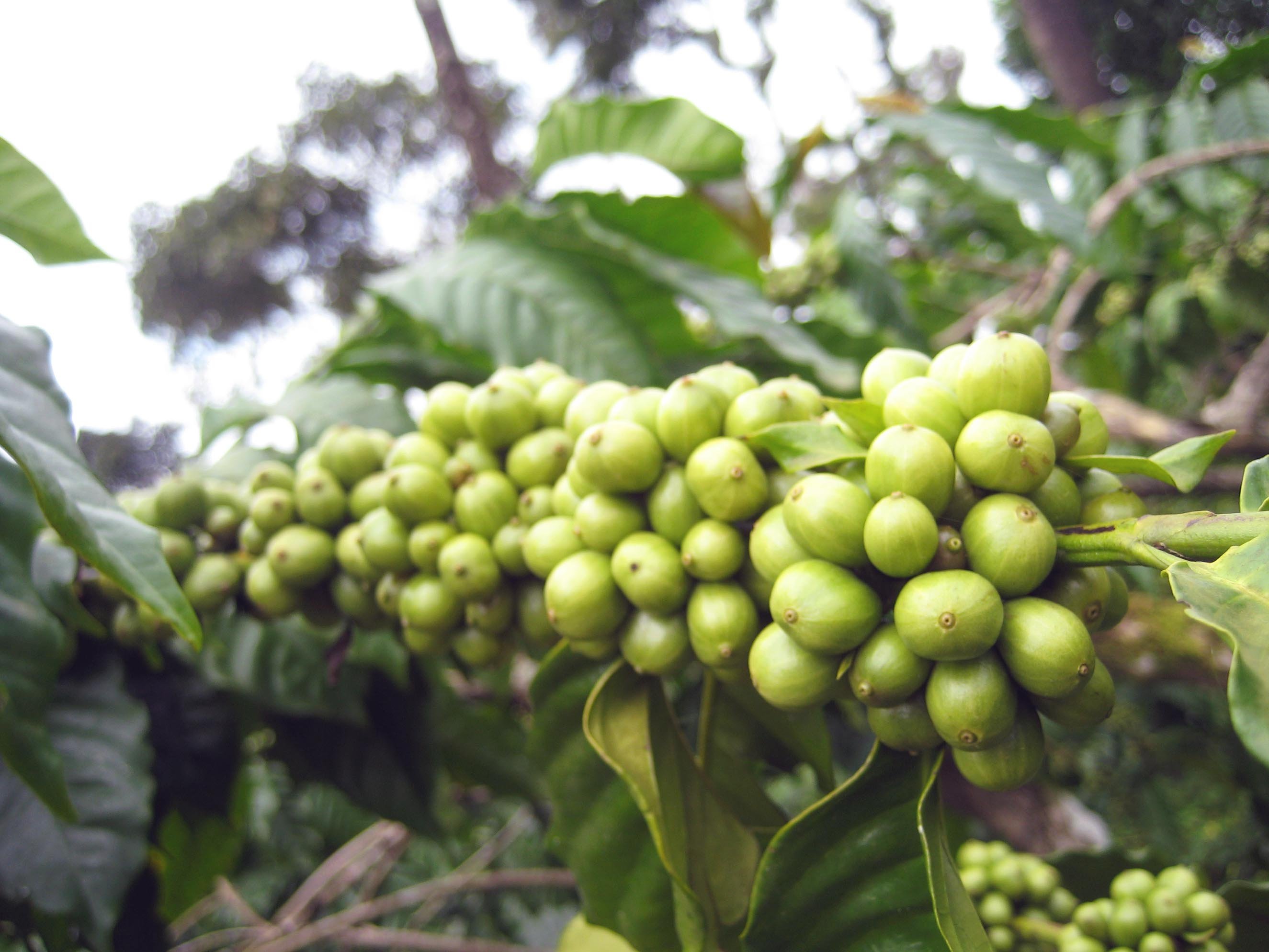 Clusters of robusta at Pavan's farm. All coffees are shade-grown and hand-picked (Photo: Venkids Valley Estate)
---

The name Sapota Mara comes from the Manilkara zapota tree, also known as sapodilla. This was planted around the coffee bushes as a shade tree and produces a "fleshy and dark brown fruit like kiwi, which is very sweet", Pavan says. There, he grows the old Peridinia strain, which he prefers to process as a washed coffee. "Peridinia is very farmed in India and yields good chocolatey and peppery notes", which our QC was able to confirm.

Haavu Thota is a plot named not after a tree but an animal. Haavu means snake in the local Kannada language. "We have a resident cobra in that particular block and the workers decided to name it Haavu Thota or the Snake's Block", Pavan explains with a smile. There, he only grows CxR, a cultivar of Coffea Congensis crossed with Robusta. "This is a new variety of Robusta. It's juicier and has more mucilage, so it's better for naturals and it's easier to improve the quality. We find it has notes of blueberries, a hint of cocoa, and caramel."

Why Pavan chose Algrano

Two lots might not seem like a lot, but Pavan did a lot of work to prepare for his debut. "I always wanted to work directly with roasters and the platform offered that plus help with logistics and warehousing. But at first, I didn't have to invest. I was doing lots of investments in machinery and infrastructure at the farm, improving our cost efficiency, installing generators, and getting a new wet mill from Pinhalense… Now I can finally work with that small roaster in Mauritius who neither has a warehouse facility nor can do volume with me!"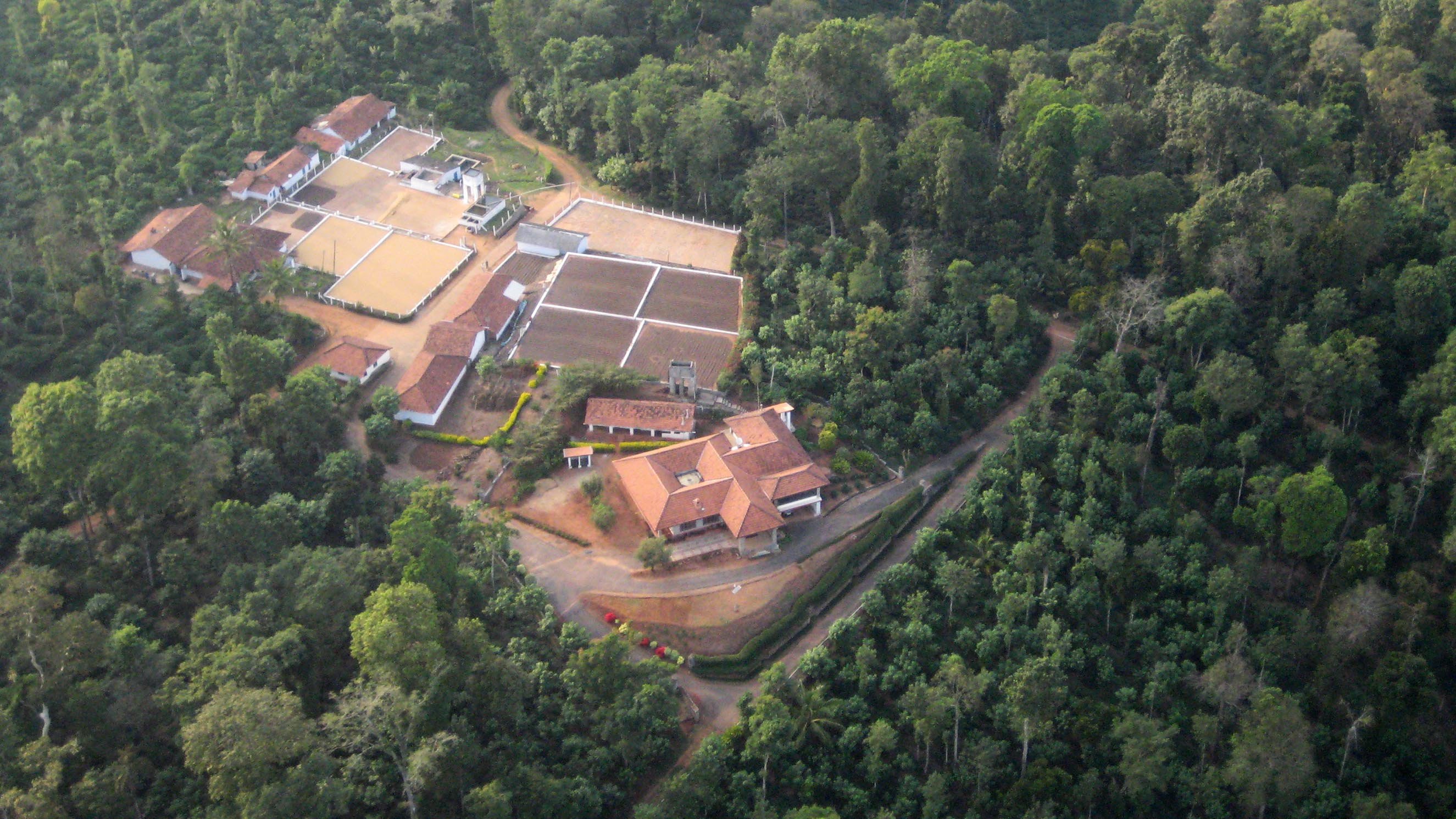 Pavan took a long road to prepare for Algrano so he could build new relationships (Photo: Venkids Valley Estate)
---

Admittedly, it would have been much easier for Pavan to sell his coffee to local traders in India but he wishes to continue doing direct trade, as he has done since 2013. Now in his best shape, he is dedicated to learning how Algrano operates as a sales channel and looking forward to building new relationships. "Before, when my father ran the farm, we had to sell to the Coffee Board of India and there were lots of middlemen. We couldn't get a good price. This is why I wanted to do something a bit out of the box. I wanted to cut off all the middlemen. Otherwise, I would get peanuts for my coffee after putting in a lot of effort".

30% more money and a point of pride

Even now, when multinational trading houses operate in India buying coffee from local farms, Pavan prefers to take the route less travelled. "I can sell my coffee to the big export houses but with five containers a year I am very small [for them] in terms of volume", the farmer explains. "They won't pay premiums for good cup quality, just the commodity price according to the stock market. Traders say 'I want something cheap and quick for me to sell'. But what I want is to say that my coffee is good, that I know what I am processing and I want a good deal for it." Fair is fair.

According to the farmer, "I can get 25% to 30% more for my coffee selling it directly". He also finds relationships to be both enjoyable and useful. "My roaster friends have given me a lot of input over the years. It's great when they come to visit and we talk about how to produce better coffee. I didn't know what yellow honey ways, for example. I attended lots of classes to learn about it and now I am confident in how I do it," he says. Pavan also sells 20% of his production to Indian roasters as coffee shops have become more and more popular in the last 10 years.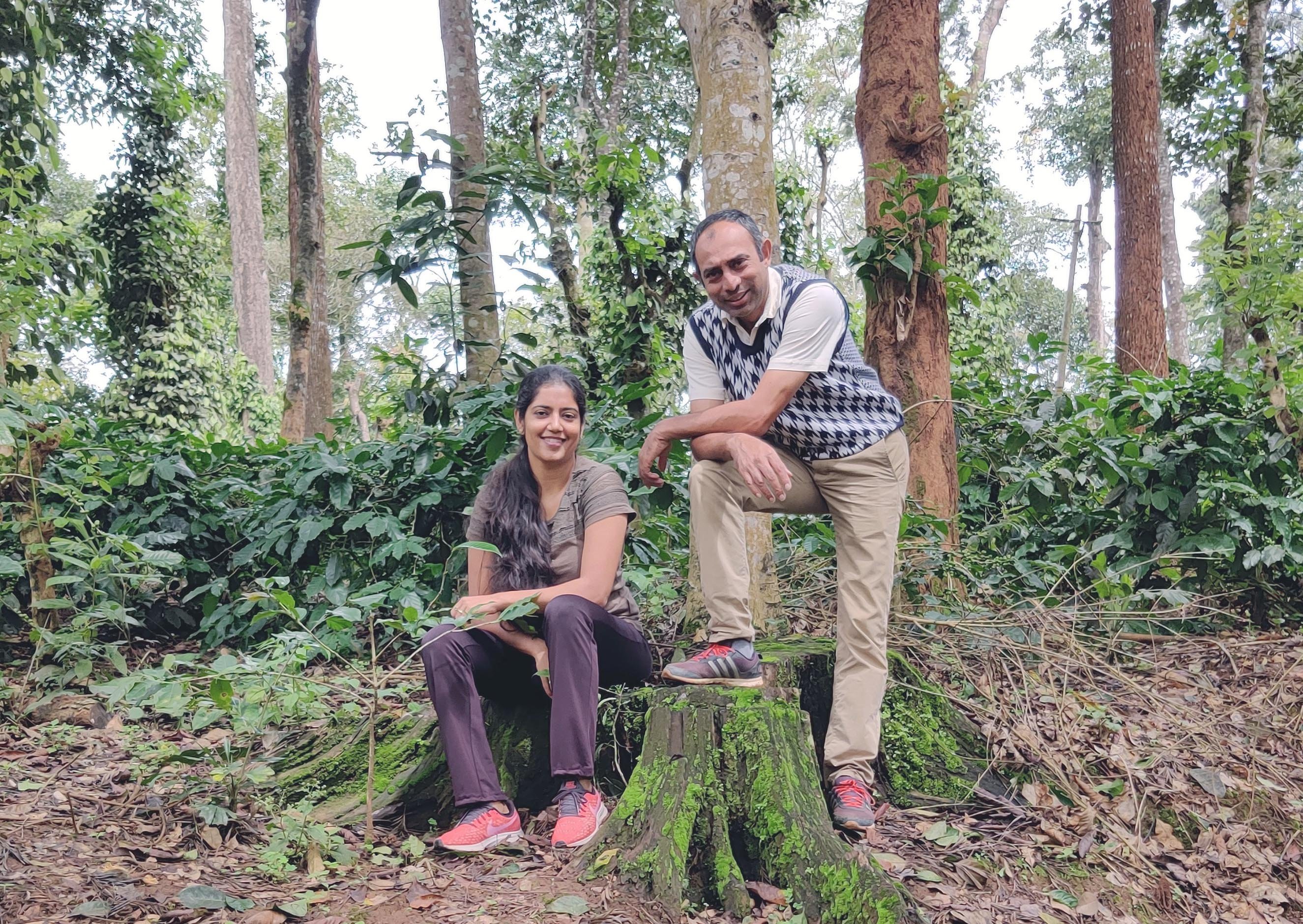 Having picked up where his father Cariappa left, the estate is Pavan's pride and history (Photo: Venkids Valley Estate)
---

This is a great opportunity for roasters who want access to one of the few specialty coffee producers in India and some of the best fine robustas out there. Given how climate change is making arabica's production less predictable, fine robusta is no longer a hot topic among the ultra coffee nerds only. As you can see in this article from the New York Times and this one from JSTOR Daily, this is a trend that is breaking into the mainstream - and for good reason.