A group of Indonesian coffee farmers with a very special terroir and a small family farm in Ecuador with work ethics that will make you jealous. These are two of the new producers onboarded by the Algrano team in the last few months.

Get to know these exciting coffee producers that are pulling themselves up by their own bootstraps, taste new excellent coffees with a story to tell and mark important dates on your sourcing calendar!
---
Ijen Coffee: An Ancient Terroir in The Blue Fire Volcano

The Ijen volcanic complex, located in the Banyuwangi Regency in East Java, is famous for spitting electric blue fire and nesting a large turquoise crater lake. The slopes of Mount Ijen are also an ancient coffee terroir. The first Arabica seeds were planted in the plateaus around Mount Ijen, an area known as Besoeki, in 1699 when Indonesia was still a Dutch colony (Dutch East Indies).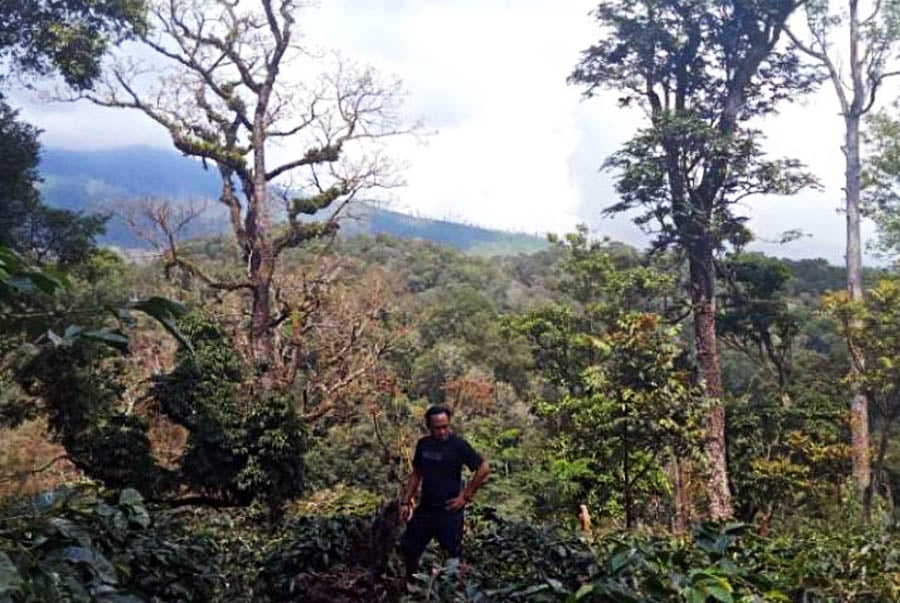 A farmer of the Poktan Java Ijen group (Photo: Alfa Jaya)
---

In the 1950s, when Indonesia became independent, turbulent attempts to redistribute land from large estate owners to smallholders started. Created by the country's new president, the 1960 Basic Agrarian Law was slowly and poorly implemented, leading to pressures between the government and the Indonesian Communist Party, ending up in the mass killings of 1965-66.

It was in this context that the smallholders around Mount Ijen acquired land, where they continued to grow coffee. Producers formed several grassroots organisations to facilitate trade and improve the livelihoods of their communities.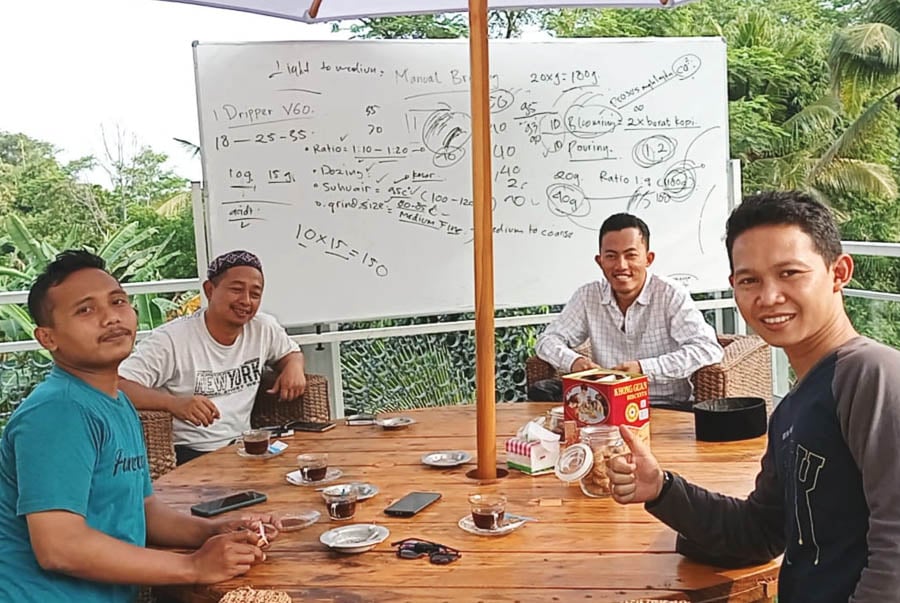 The new Alfa Jaya team with Fuad on the right (Photo: Alfa Jaya)
---

A Tour Guide Turned Coffee Exporter

Fast-forward to 2020. That year, a tour guide and small business owner in Bali called Fuad Fahmi was pushed to leave the island and go to the home of his wife Banyuwangi's parents in Ijen because of the COVID-19 pandemic.

Unable to work in tourism or retail, Fuad decided to connect with his new community and met Mr Pak Andi, a local coffee farmer in the neighbouring village, Bondowoso Regency. "He introduced me to his coffee, a delicious specialty arabica that made me fall in love with the drink," Fuad remembers.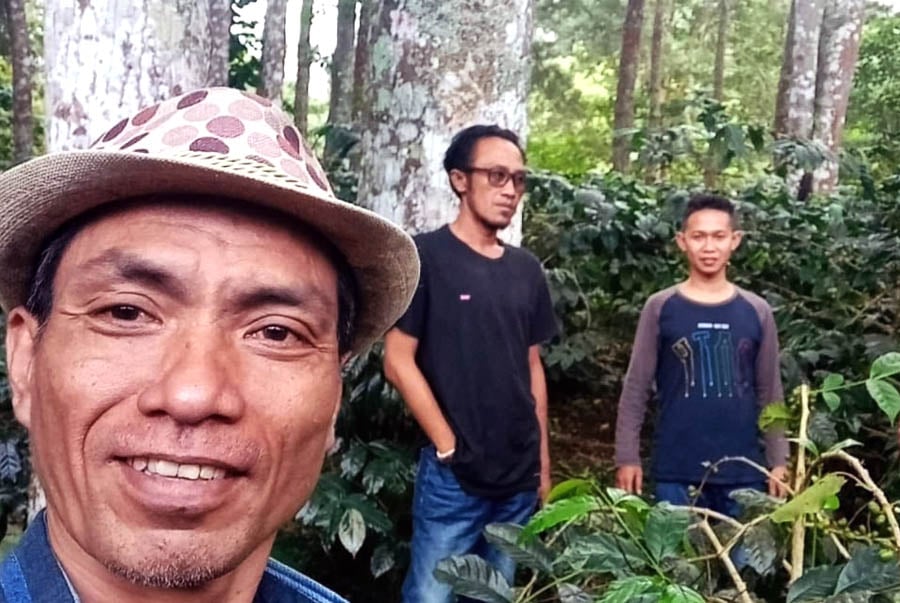 Visiting coffee farms with some of the first international buyers (Photo: Alfa Jaya)
---

Pak Andi was no mere farmer. He was a local leader in the Ijen coffee farming community, struggling with declining sales and crumbling prices. Fuad remembers Mr Andi felt the weight of his responsibility toward his organisation, Poktan Java Ijen Coffee Farm, a small group of 20 farmers processing coffee beans together.

Mr Andi was supposed to push farmers forward. He was charged with improving productivity, quality, prices and livelihoods of coffee producers. And he was failing. When the pandemic hit, all the local coffee roasters who bought green coffee beans from Poktan closed their doors.

Touched by the misfortune of the Poktan farmers and with extra time on his hands, Fuad decided to join the organisation and help sell their coffee. "After we exchanged experiences and Mr Andi saw my potential, he invited me to be part of his team and introduce Poktan's coffee to the international market so they could provide a future for the village," he says.

The team brought processing specialists from Central Java to improve quality (Photo: Alfa Jaya)
---

Improving Quality The Grassroots Way

In 2020, Fuad spent months conducting market research, reviewing farming practices and agroforestry systems, and working closely with processing specialists from Central Java to improve quality.

The following year, Fuad and Mr Andi created Alfa Jaya Indonesia to sell coffee and other agricultural products from the region. Their first attempts of improving quality were paying off, with potential European buyers scoring their green coffee samples between 85 and 88 points on the SCA scale.

Algrano was one of the first companies in Europe to receive samples from Alfa Jaya. We cupped four lots in 2021. One was a Natural Anaerobic scoring 87 points with notes of violet, cherry and sparkling wine!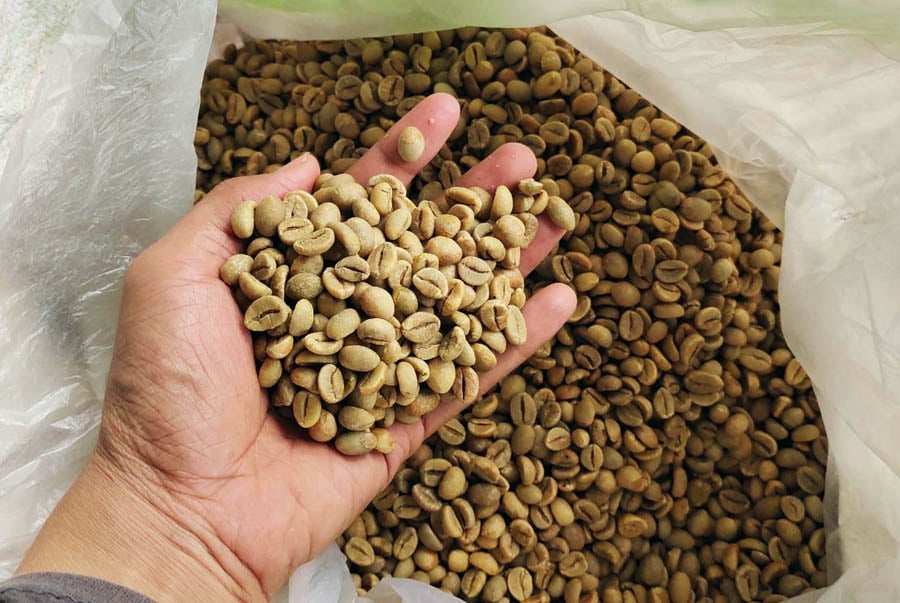 The group is offering two lots on the coffee marketplace, processed for quality and consistency (Photo: Alfa Jaya)
---

This year, Alfa Jaya was ready to start selling directly to roasters in Europe. They decided to offer two coffees: a more traditional Fully Washed profile (ID-13) with notes of cooked apple, cinnamon and green spices; and a 125 hours Natural Anaerobic blend (ID-14) with notes of tropical fruits, especially melon, and greek yoghurt.

Both lots are clean, sweet and smooth. The farmers can produce enough volume to support roasters big and small. These are the first coffees on the platform with the Ijen terroir, showcasing the quality of a yet unexplored region in Indonesia.

🗓️ Important dates

Harvest: May to September
Samples: Available now!
Sales window: August to Mid-October
Shipping period: November to January 2023
Delivery: February 2023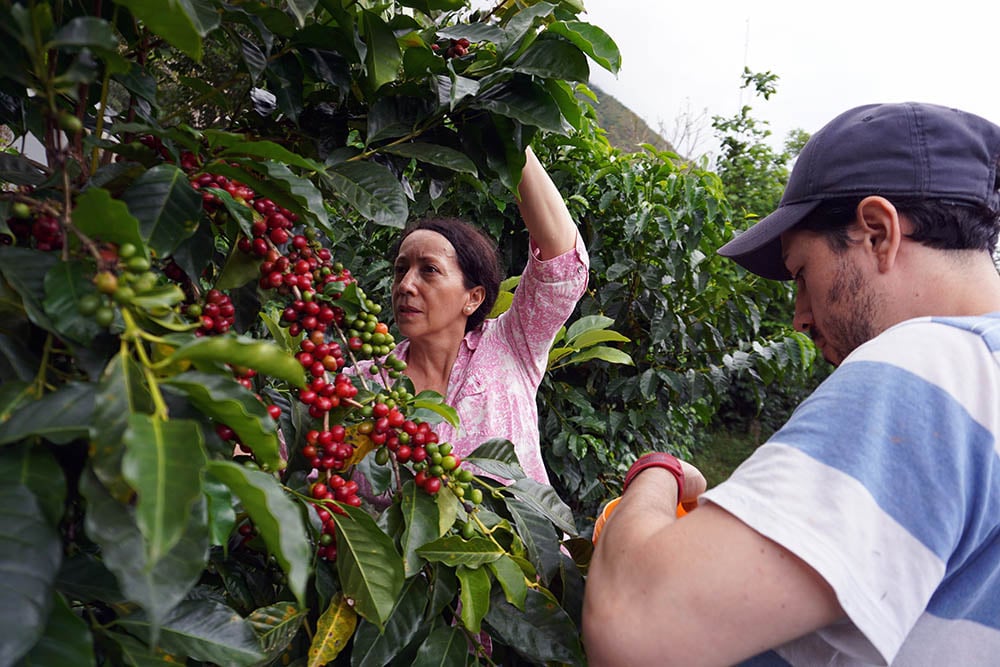 The Granda family does everything on the farm, from harvesting to marketing (Photo: Siempre Verde)
---

This Ecuadorian Farm Might Be Small, But Their Family is Big

Finca Siempre Verde (Evergreen Farm) in Pichincha, in the northern Sierra region of Ecuador, is a small family property managed by couple Ramiro and Vicky Granda. They grow 2 hectares of Typica Mejorado and Red Caturra at 1,500 meters above sea level. The area, near the Pululahua Geobotanical Reserve, is what they call "an hour and a half North of the middle of the world (the Equator)".

The small farm employs the entire family: Ramiro is the agronomist, Vicky is in operations, Martín is the customer relations manager, David is the roaster, and Holly takes care of social media and content.

"Our family is blessed with a variety of unique skills that allow each of us to contribute to different areas in this exciting coffee venture. From agronomical education to business administration, graphic design, and creative content development, we are all able to use our talents to help our family business move forward," they say with pride.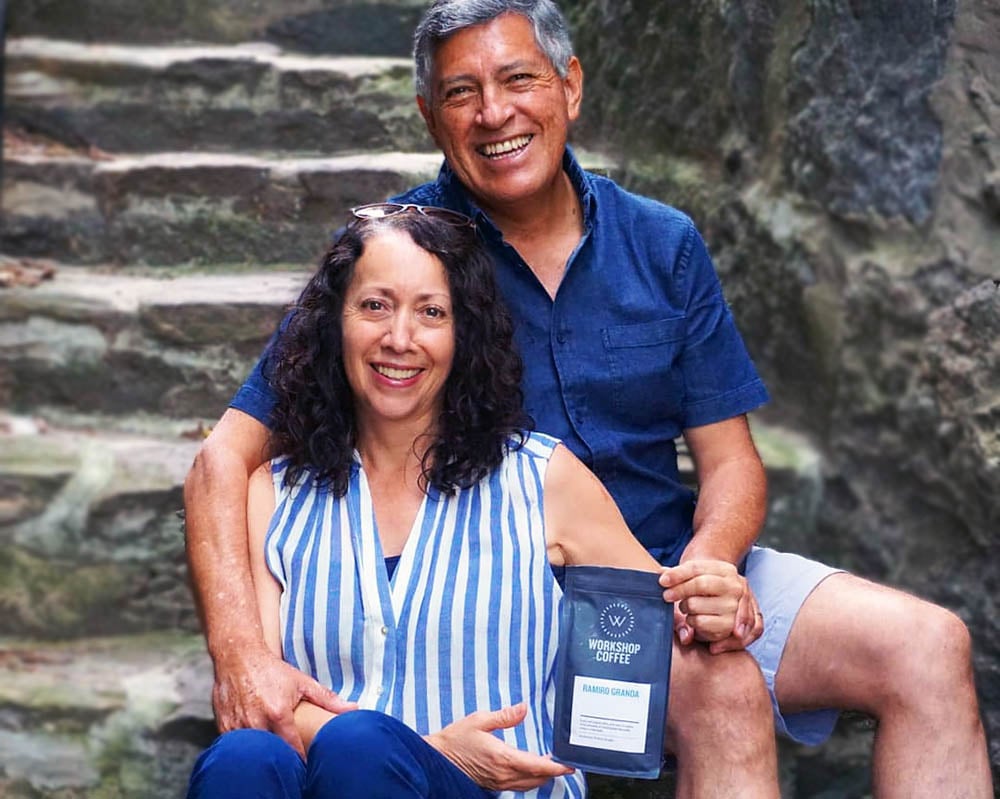 Vicky and Ramiro Granda, the power couple behind the farm (Photo: Siempre Verde)
---

Fair Wages for Coffee Workers

Siempre Verde is also a stable employer for other members of the community. Like Monica, Vicky's right-hand woman. She manages post-harvesting and other daily coffee tasks.

"The farm has a direct social and economic impact on the community around us and it has provided employment opportunities for generations. This is very important to us. One of our main emphases is fair wages and stable job opportunities. We rarely hire seasonal workers because we believe in the power of full-time employment," the family writes.

Being a responsible employer means the Grandas make a "conscious decision to provide full-time employment and consistent schedules". They also make sure their staff can receive healthcare and retirement benefits from the Ecuadorian government.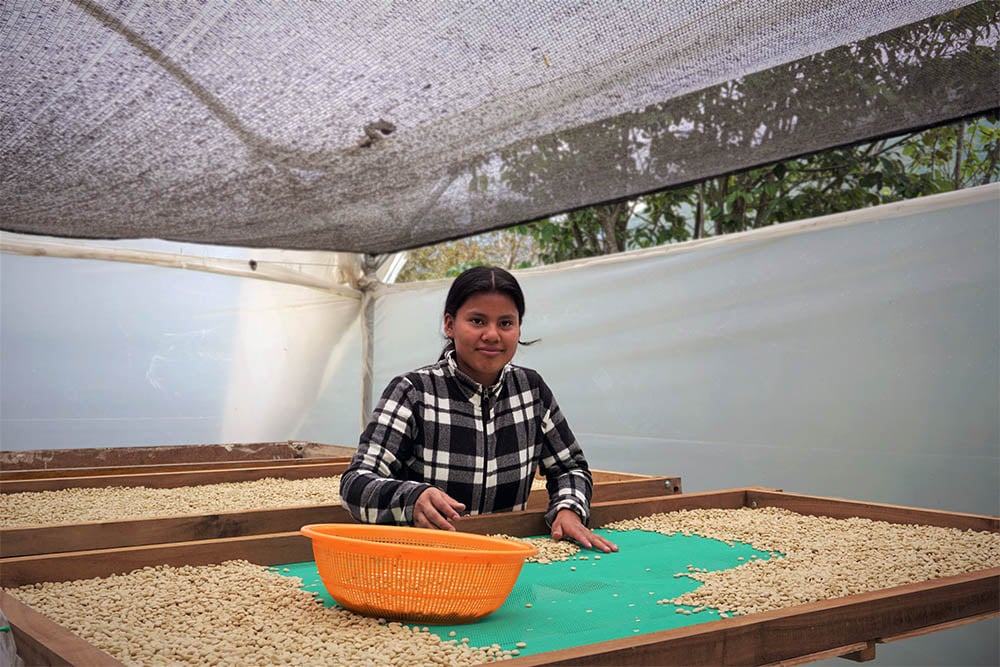 Monica is Vicky's right-hand and manages post-harvesting at the farm (Photo: Siempre Verde)
---

Running on Solar Energy and Native Plants

The family watches over their environment with the same care they have for their workers. For the Grandas, quality control starts at the plant. "Part of our approach is putting back into the soil what we take from it," they start.

"We make sure to constantly replenish nutrients and, while coffee needs certain parameters to thrive, we also make sure that the natural flora and fauna are cared for. Our coffee lots share space with native plants and are managed with partial shade from the same native plants."

The farm's location is so remote that the family was forced to use solar panels to generate part of the energy they need. This goes back to 2015 when the third-generation coffee producers returned to coffee after a period of growing ferns and other greenery (hence the farm's name).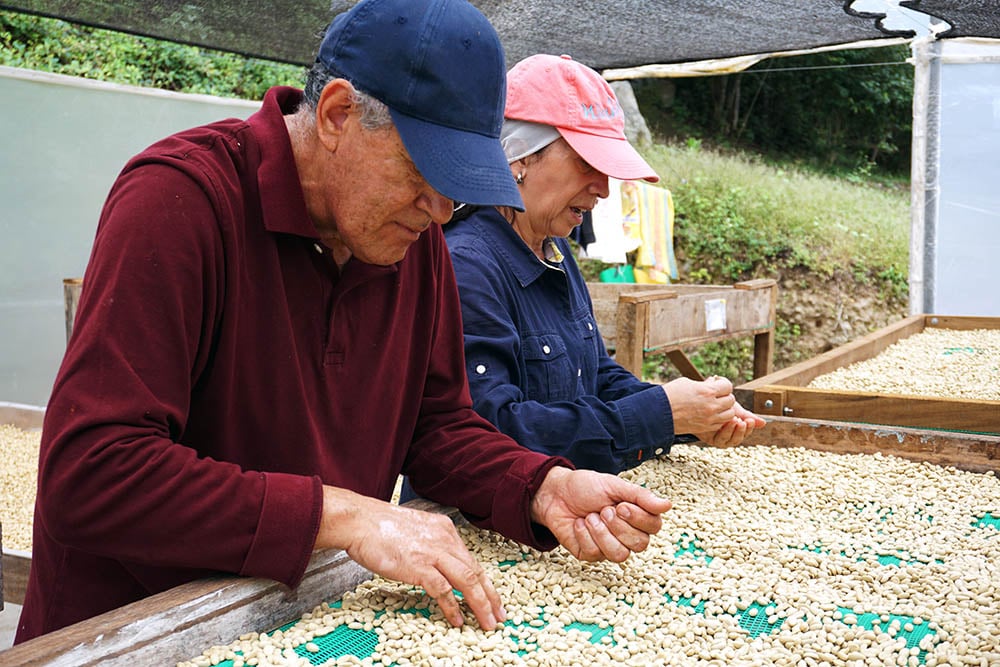 The farm employs only a small number of full-time workers with regular hours and fair wages (Photo: Siempre Verde)
---

Coffees That Taste Like The World's Best Roses

Coffee re-entered the family life at a point when the Ecuadorian government decided to promote the production of specialty coffee to make the national sector more competitive. But coffee had been central to the Grandas before.

In 1965, grandparents Pepe and Mariana sold conventional beans to cooperatives. "The coffee would travel two hours on a mule to a nearby farm where a car would pick it up and three more hours to the milling station in Santo Domingo," they recall.

In 2015, they focused on improving the post-harvest of their Washed coffees to yield better results. By 2020, "we turned our focus to controlled fermentations". This is when the family developed their current Washed Anaerobic process, one of their greatest achievements.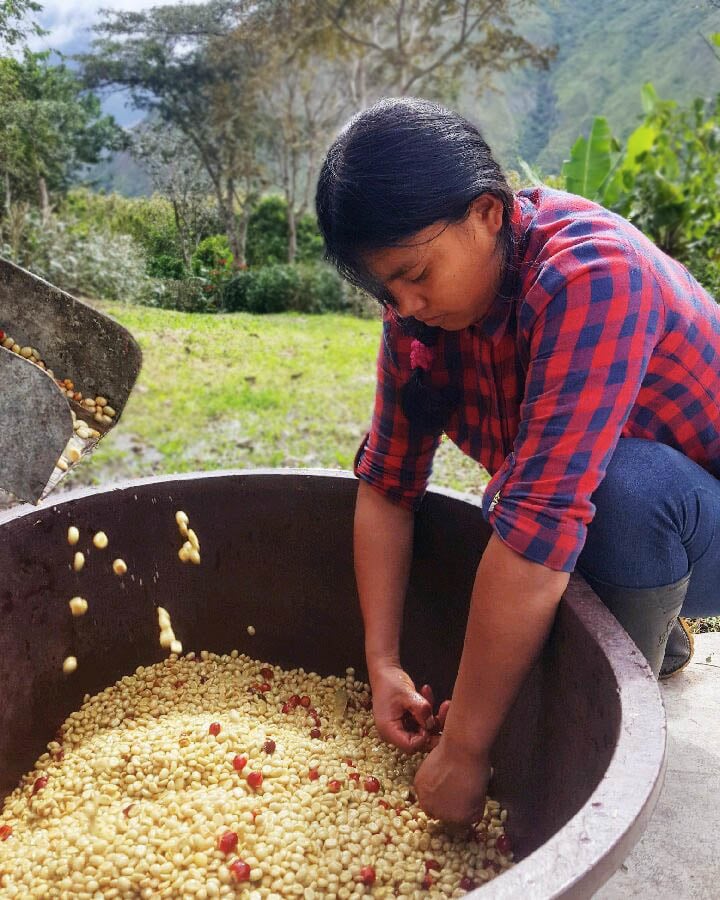 Initially producing only Washed coffees, now the farm has Honeys and Anaerobic lots (Photo: Siempre Verde)
---

As part of their onboarding with Algrano, Siempre Verde shipped some of their samples to our quality lab in Zurich. Their Double Fermentation Anaerobic was a great example of the potential of coffee from Ecuador. It tasted like jasmine and rose (coincidentally, Ecuadorian roses are considered some of the best in the world), green tea, white tea and even matcha-like.

"All of our coffees are fermented in sealed tanks regardless of the processing method and are dried on raised beds in our greenhouses," they explain.

🗓️ Important dates
Harvest: June to September (until December in some areas)
Samples: Early October
Sales window: October to Mid-November
Shipping period: December to February 2023
Delivery: March 2023