This June 23rd, Algrano won the Best New Product Award in the Technology category with the Customer Relationship Management (CRM) software "My Customers", designed to put coffee producers at the forefront of the sales process. The award was granted by the Specialty Coffee Association at World of Coffee Milan 2022.
From the backwater to the centre of the supply chain

Despite being the backbone of the supply chain, coffee producers have traditionally occupied a backseat in the trading process. They have had limited access to the international market and, moreover, struggled to build and maintain commercial relationships in destination countries. Selling directly to roasters has been the domain of traders, who keep expert sales teams close at hand to help buyers with their sourcing needs.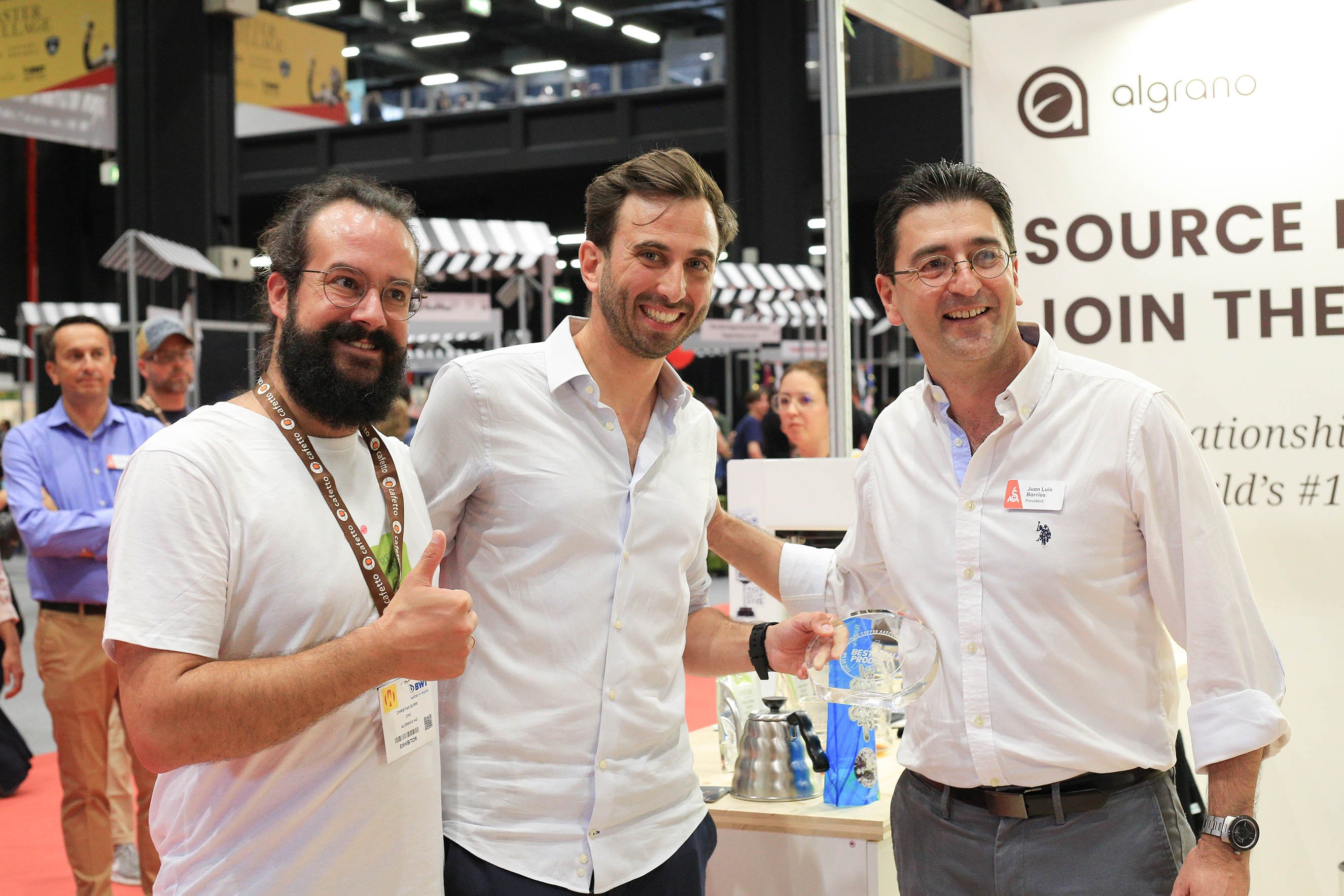 Founders Christian (left) and Raphael (centre) receiving the award (Photo: Specialty Coffee Association)
---

The direct trade movement tried to change that in the 2000s but has been unable to move the needle. As the Coffee Guide puts it, direct trade needs "a great deal of input, a solid infrastructure and a high level of know-how and business skills" to work. "My Customers" allows producers to access and organise market data to develop expertise and ownership over the roaster's journey, making direct sales a much-improved experience. The coffee sector is ripe for change, and "My Customers" is here to make it happen.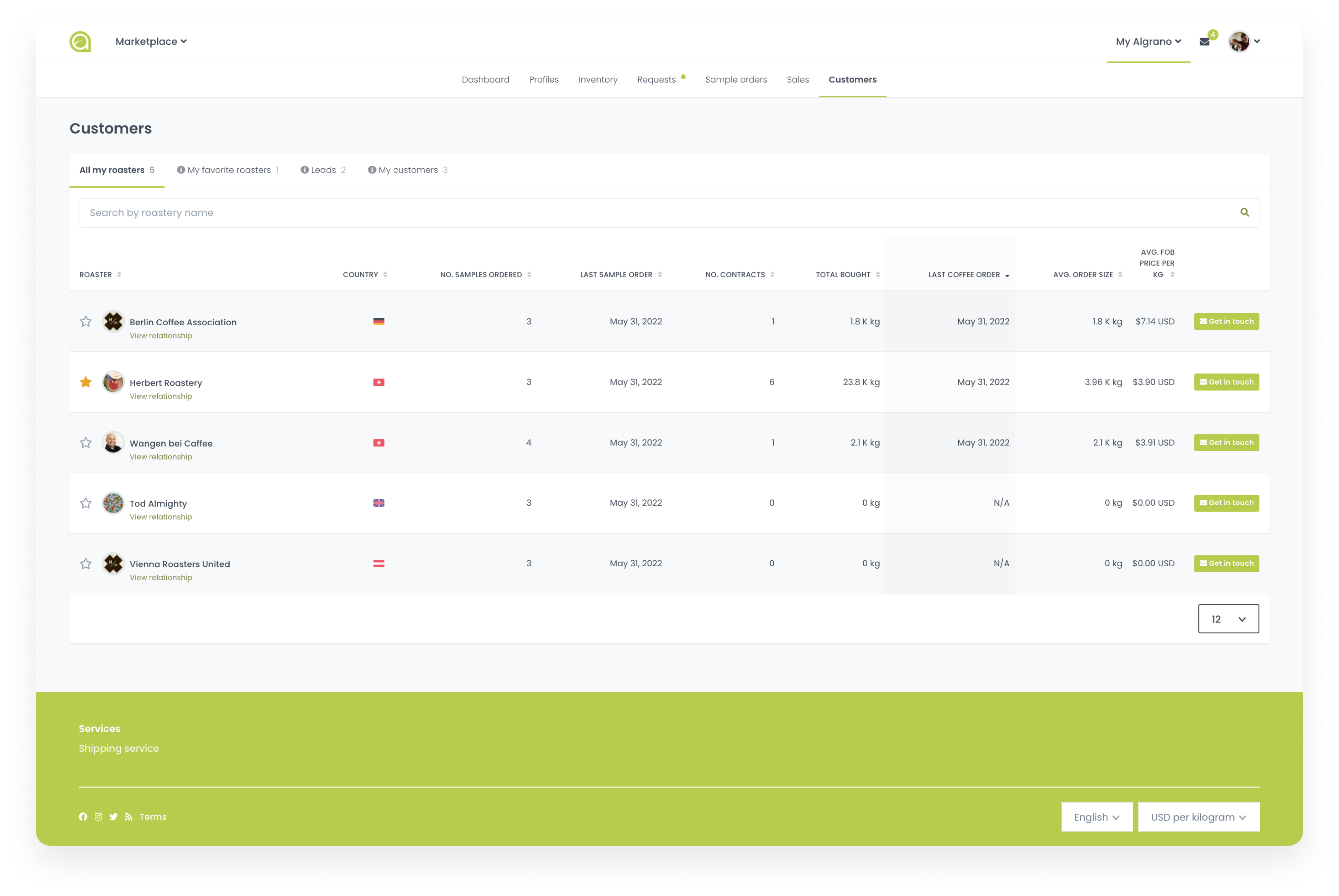 The Customers tab gives sellers an overview of all roasters who ordered samples or purchased coffees via Algrano
---

A paradigm shift, driven by technology

Coffee producers are seen as the makers of a product, but often not as brands or even businesses. Where the industry sees growers, Algrano sees entrepreneurs and sellers, ever closer to roasters through the internet and able to access new markets within clicks. And if the internet shortened distances between people, "My Customers" can help businesses at origin shorten the coffee supply chain.

The CRM software was developed with producers as co-creators and originally launched on October 22nd 2021. The version awarded by the Specialty Coffee Association has seen multiple updates - and there are more to come. With the latest version of "My Customers", producers gain a full overview of their direct sales to roasters in Europe with actionable data to help them find new buyers and maintain existing relationships.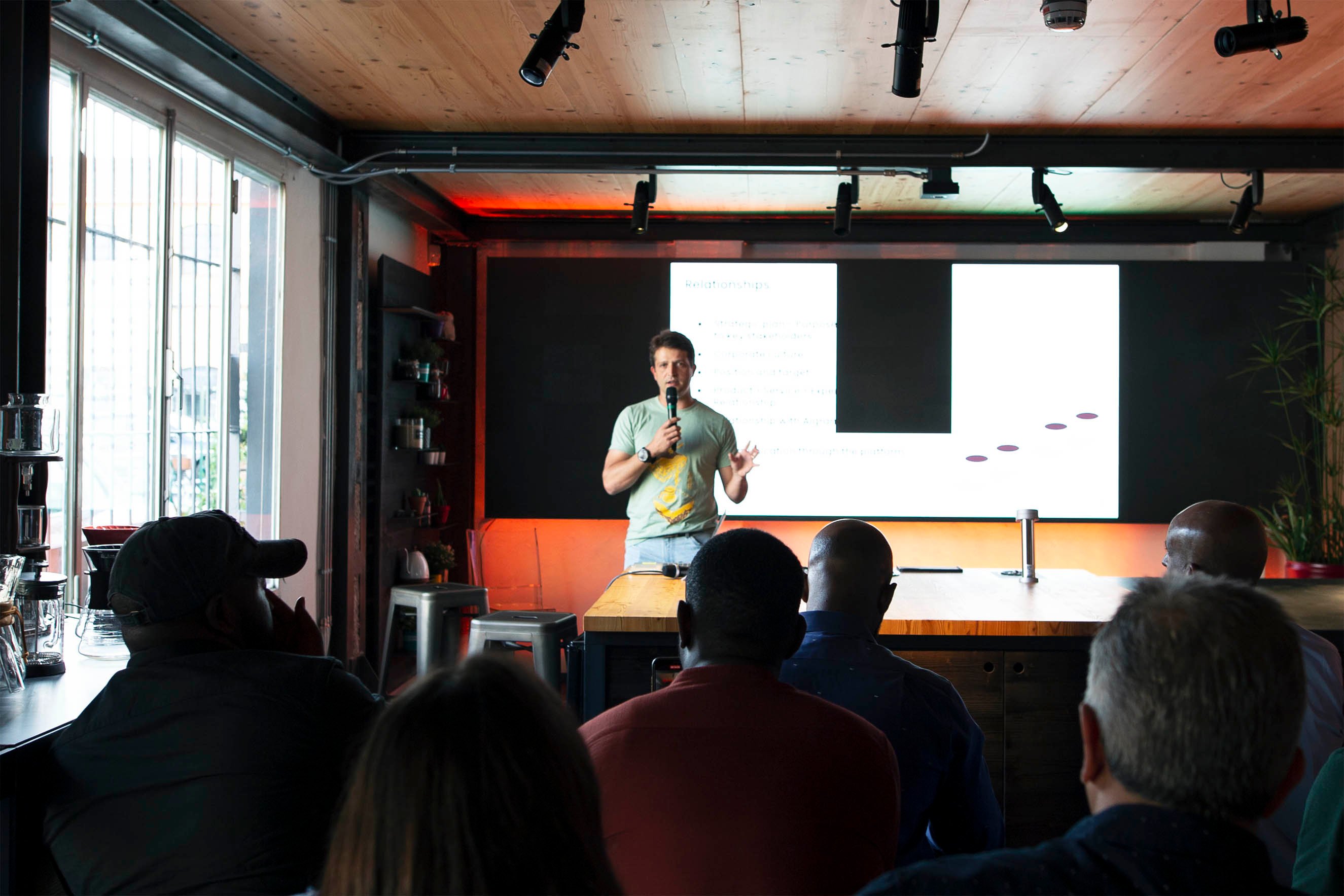 At Algrano's event for producers, they shared tips on sales, branding, strategy and how to leverage the digital marketplace. Above, Fabrício of Sancoffee, Brazil (Photo: Algrano)
---

Seamlessly integrated with the Algrano marketplace and inventory management features, the CRM pulls data automatically from sample orders and contracts, organising customer data to improve acquisition, retention and satisfaction. It also allows producers to manage leads. They can interact with roasters before a sale takes place and receive feedback that will help them understand the market, make better business decisions and build commercial sustainability.

The new role of coffee producers

By changing the role of coffee producers in the supply chain, Algrano brings innovation to the industry once again and further embeds impact into its model. This is why "My Customers" was chosen by the Specialty Coffee Association to receive the industry's most prestigious award. With the CRM, Algrano becomes more than a platform for market access but also producers' go-to place to maintain and grow relationships over time.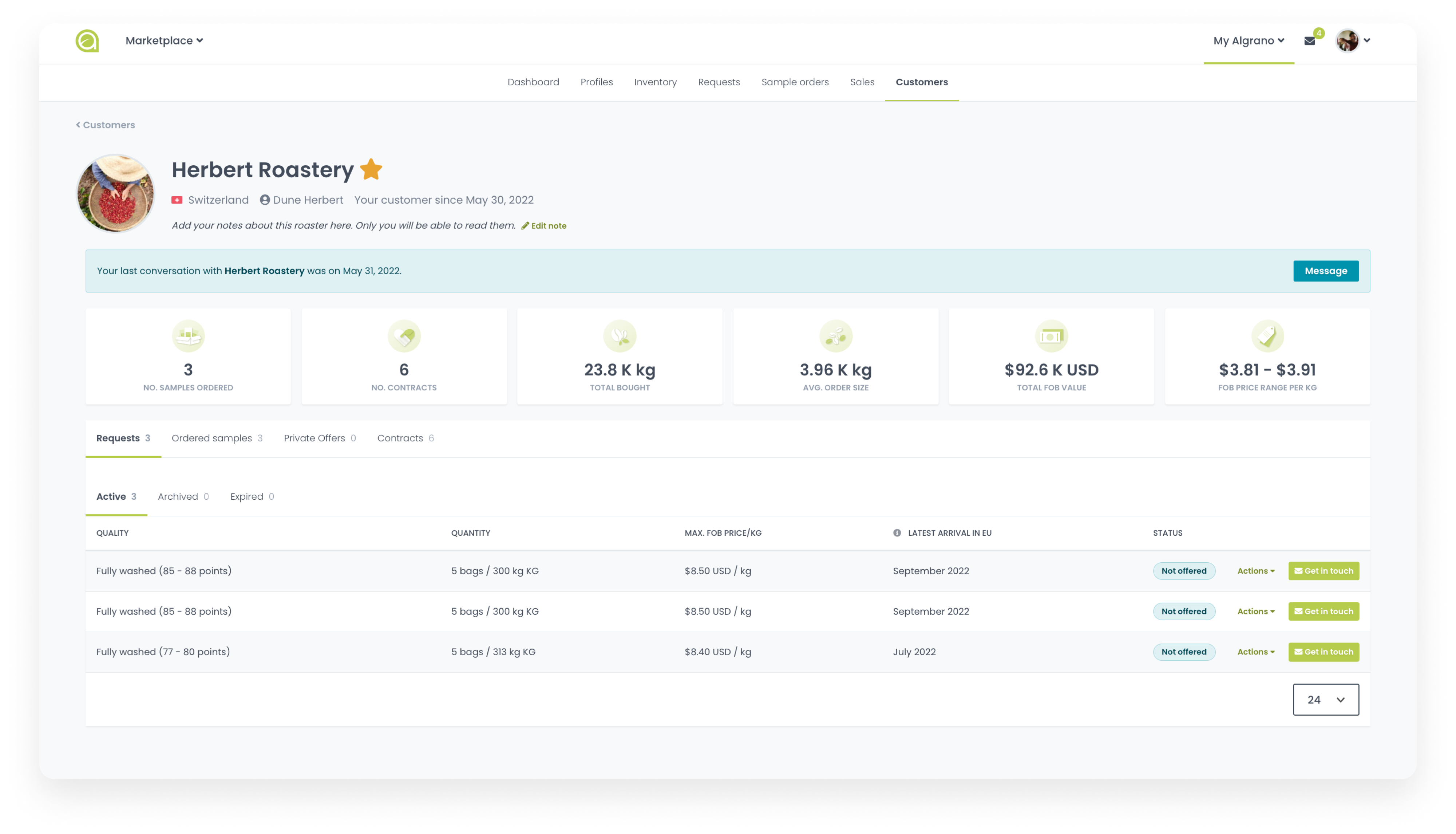 For each buyer, sellers have a dedicated page with detailed order information so they can evaluate the performance of different coffees and make better business decisions
---

Initial data shows the CRM is already working: sellers who focus on customer interaction drive the number of sample orders, grow volumes and have higher percentages of long-term buyers. As we could see on Algrano's Producers Evening at FAEMA's Flagship Store in Milan on June 22nd, coffee sellers are starting a new chapter. From passive price-takers, they are becoming active sellers, building brands, analysing the competition, looking for strategies to stand out online and investing in customer experience. It's the beginning of a new wave.

"My Customers" is currently available for free to any seller registered on Algrano. New sellers need to be verified by Algrano to access the marketplace and customer data.